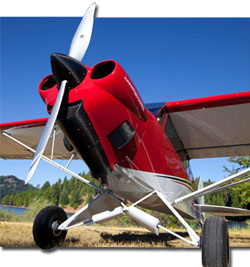 CubCrafters Set Records In a second year of modest recovery for the LSA sector, most companies were happy to sell the same as the year before. Against this plain backdrop CubCrafters stands out sharply. The company announced that it delivered 58 new airplanes (52 of which were LSA models), a 23% increase over 2011, and more units than any year in the company's history. They're aiming for deliveries of 66 ready-to-fly aircraft this year. CubCrafters' 2012 deliveries are divided among their three models: Carbon Cub SS, Sport Cub S2, and Top Cub (the latter not a Light-Sport). • They also reported shipping 24 of their Carbon Cub EX kits in 2012, another record. That's 82 aircraft and makes them likely the light aviation leader for the year (we hope to publish our customary market report soon). CubCrafters General Manager Randy Lervold said, "Despite the economic climate, we've managed to defy industry trends." Congratulations, Team CubCrafters; job well done!
Randy Babbitt to Speak at LAMA Dinner Each year, LAMA, the Light Aircraft Manufacturers Association, hosts its annual dinner on opening night of the Sebring LSA Expo and 2013 will be the sixth annual event. Following AOPA president Craig Fuller in 2011 and then-EAA president Rod Hightower in 2012, the association is pleased to offer former FAA Adminstrator Randy Babbitt for 2013. Now a senior VP with Southwest Air Lines, Babbitt will speak to more than 300 LSA professionals expected at the invitation-only dinner on Thursday evening, January 17th. As a strong supporter of the Light-Sport concept, LAMA is especially pleased to bring in Babbitt. On several occasions, he has publicly supported the concept of self governance by an aircraft sector. Babbitt was also instrumental in moving forward the agency's decision to allow a new ASTM committee to write new perscriptive portions of Part 23 aircraft certification, the first major change in how this is done in many decades. • Welcome all LSA businessmen to the free dinner but please RSVP at this website operated by the dinner sponsor Aviators Hot Line (only minimal information is requested).
Paradise City Total Makeover Big things are happening to the location formerly known as the Ultralight Area at the Sun 'n Fun airshow and convention. First, the area will now permanently be known by its longtime affectionate name: Paradise City. Once a place of great charm and thick crowds, the area suffered from the dual effects of the economic recession and the arrival of Light-Sport Aircraft. Many vendors of LSA never exhibited in Paradise City and regard the location as out of the mainstream. However, major revisions to the paved east-west Doolittle Road to allow for TSA fencing has the road — heavily used by entering vendors and many others — dipping deeply down into Paradise City (see drawing). This will dramatically change the dynamics of Paradise City and significantly enhance its visibility. • Another major change is operational: aircraft will be allowed to fly all day — even during the main airshow (except when the Thunderbirds fly). They'll use the 1,400-foot turf runway, which has seen major improvements at each end of the runway. It now provides more than 2,400 feet of unobstructed access. LSA vendors who meet new rules of operation will be permitted to conduct demonstration flights most of the day right on the grounds of Sun 'n Fun and far more easily than using the main runway. Active demo operators can give multiple flights per day to prospective customers and then invite them to visit the LSA Mall right in the center of the newly revised area. Many other vendors will also conduct flights and have their exhibits in the area. C'mon over to the all-new Paradise City and watch the action in 2013.
AirBorne News Weight shift aircraft, commonly known as trikes, don't get their fair share of news and we want to update you on one of the leading producers: Australia-based AirBorne with representation in the USA by companies like Precision Windsports. I greatly enjoyed flying AirBorne's Thermal-Lite trike with its excellent Bailey single-cylinder four-stroke engine. AirBorne reported, "All T-lites are now going out with the latest Bailey V5E engine. The V5 is the fifth generation of the Bailey Aviation four-stroke engine." Revisions include a two-piece CNC machined cast-alloy crankcase at 195cc using two valves operated by a chain driven overhead camshaft. The oil system is fully pressurized to maintain constant oil pressure regardless of the oil temperature or RPM. • If the T-lite is too big and heavy for you you could try AirBorne's new V-lite. "The V-lite single seater soaring trike is perfect for hang glider pilots as it fits into the sub-70kg (154-pound) category," said AirBorne. Hang glider pilots can fly it with minimal instruction. V-Lite uses AirBorne's F2T wing based on the F2 hang glider wing (photo); it can also be used for foot launch free flying. • As if they didn't have enough to do making two-seat trikes, light trikes, trike wings and hang gliders, AirBorne is also representing the Magni Gyro company down-under. A first shipment of Magni Gyrocopters will arrive at Airborne in January including two M24 Orions and an M16.
Wills Wing Celebrates Turning 40! At the lightest end of flying, one company in the USA excels like no other. For hang glider and paraglider enthusiasts the brand name Wills Wing is as good as it gets. I have long known and admired the owners of this well-run California company so I am very pleased to offer my congratulations to Wills Wing on their 40th anniversary. Five years ago I reported the company had produced more than 22,000 gliders and they must now be reaching or exceeding 25,000 … a remarkable accomplishment for any aircraft company. • You can see their line near and close to Sun 'n Fun at one of my very favorite places to go in Florida. Wills said, "Our Wallaby Ranch 2013 Demo Days and Fly-In will be held Wednesday, April 3rd, through Saturday April 6th, with our traditional party and dinner on Saturday night. (Sun 'n Fun 2013 runs 9-14 of April, so you could make both.) • The company had a very special celebration this summer when Wills Wing Team pilot Dustin Martin set a world record flying his Wills Wing T2C 144 hang glider 475 miles from Zapata, Texas. The previous record stood for 11 years. Most powered pilots are amazed to hear hang gliders can travel so far. The company's top-of-their-line T2 wings run $6,575 to $8,585. They can achieve sink rates of only 175 feet per minute.
As I close out this first-of-2013 LSA news wrap, I want to extend a Happy New Year greeting to all our loyal readers and to most sincerely thank you for making 2012 by far our best year ever! We were up in every measurement category from 21% to 58% over our best prior year. Given the sluggish economy we're pleased to evidently be offering what you want and we plan to keep it up. Watch for fresh news and videos from Sebring starting in just days.