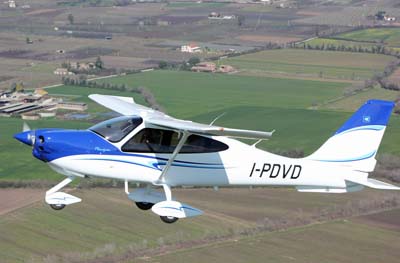 Tecnam has become widely known for its extensive fleet of Light-Sport Aircraft designs (meeting ASTM standards) and for their popular twin-Rotax 912 Twin model (using traditional certification). At Sun 'n Fun 2015, visitors can expect to lay eyes on the P2010 or as Tecnam usually calls it, "P Twenty Ten."
I have told you that ByDanJohnson.com expects to cover Light GA Aircraft — or LSA 4.0, as my journalist pal Marino Boric christened them — in addition to our on-going coverage of Light-Sport Aircraft, light kit-built aircraft, and ultralights including microlights and electric-powered aircraft. You can hardly miss the theme: "light" aircraft but the coverage is meant to be of affordable aircraft brands this website often covers — and is supported by — including all American and international producers of LSA.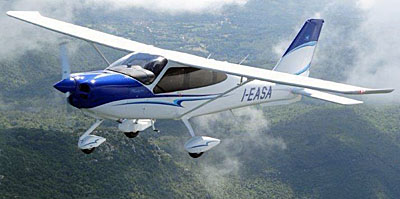 As you look at the photos in this article and compare them with the P2008 (bottom photo), you see the resemblance clearly. One evolved from the other. "P" refers to Pascale, specifically Professor Luigi Pascale, the 90-year-old designer of all Tecnam aircraft, a diminutive but impressive man who I am told still does the test flying of his latest and greatest. His output is marvelous.
Today, Tecnam announced that the company will celebrate the first anniversary of its North American facility in Sebring, Florida with the "U.S. debut and special pricing for the P Twenty-Ten, Lycoming IO-360 powered, four-seat aircraft at Sun 'n Fun 2015."
A year ago, at Sun 'n Fun 2014, Tecnam announced establishing a center in a 21,000 square foot hangar and offices at the home airport to the Sebring Affordable Aircraft Expo, the new moniker for what most of us still call the Sebring LSA Expo. "Tecnam's facility serves as showroom, training center, maintenance center, spare parts warehouse and support for the North American sales and service centers," the company said.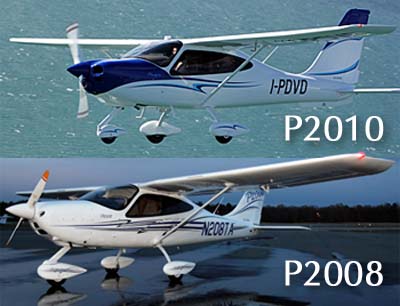 At their space at Sun 'n Fun, expect to see P2010, the Twin, and several Tecnam LSA including the high wing P2008 (photo below) and low-wing Astore (video). Another Tecnam will be on display in the LSA Mall in Paradise City.
"P Twenty-Ten is an all-new IFR high wing aircraft that uses a carbon fiber fuselage with a metal wing," Tecnam said. Deliveries have already begun to customers in Europe under an EASA standard type certificate. "The combination of carbon fiber and metal allows for an expansive cabin with three large entry doors without sacrificing the flight qualities of a metal wing." Some ready customers can take advantage of a special offer to order the Garmin G1000-equipped aircraft at substantial savings. List price for the P2010 is $379,500, but the first 10 customers to place an order at Sun 'n Fun will be eligible for a special Sebring-facility anniversary price of $345,000.
Test pilot Peter Collins recently commented, "P Twenty-Ten was genuinely a real pleasure to fly and future owners will be inspired by the aircraft's combination of advanced avionics, very short field performance, exceptional useful load capability and excellent cross-country range."
Tecnam's team, lead by Shannon Yeager, Director of Sales for Tecnam US, can be located at main aircraft display space MD-27 in Lakeland, FL during April 21 to 26, 2015. If you can't wait or want to get your name in line for one of the specially-price P2010s contact Tecnam US at 863-655-2400 or email Tecnam.