Light-Sport Aircraft comprise an diverse gaggle of some beautiful airplanes. Choices are available in a dizzying array of configurations and variations. In fact, so many selections are available to you (as Special LSA) that I created PlaneFinder 2.0 to help folks narrow the decision to a few that might best suit your needs, interests, experience, and budget.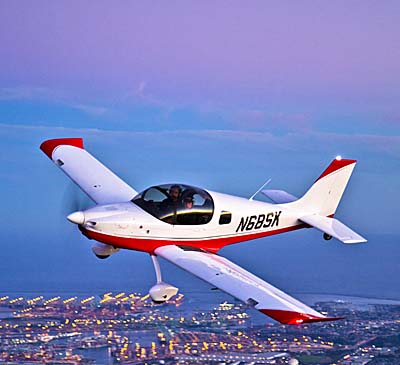 If you haven't checked out this cool feature, you should do so. You can click on and off more than 20 different aircraft characteristics, all simple yes-or-no type entries. As you do so, the "Matching List" changes to show the aircraft that meet your criteria. From that list you'll see links that let you read more content (written and video) available on this website. You must register to use PlaneFinder 2.0 (your email is all that is required and after you do so we'll send you a regular English-word password that you can change), however, PlaneFinder 2.0 is completely free, like most of our content. Go have fun!
Many LSA are available as nose wheel, tricycle gear airplanes. Some are taildraggers. Some go both ways. If you're not sure about your ability to fly a taildragger I have two things to say: (1) LSA taildraggers are not that challenging to fly for a variety of reasons (some of which I'll mention below), and, (2) taildraggers look so cool.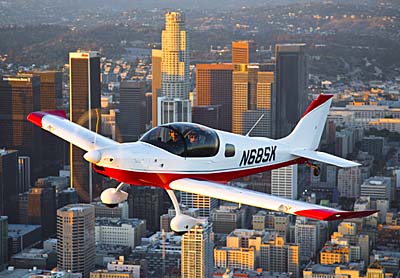 So, I don't know about you but when I heard about the Sling taildragger I almost started an involuntary Pavlovian drool. I've enjoyed flying Sling in nosedragger form — see this article — but, ooh la la, a taildragger … now that get's my blood flowing freely.
"I flew about 20 hours in the Taildragger while it was here [at our Torrence, California facility]," said U.S. importer Matt Litnaitzky of The Airplane Factory USA. He also reported flying a few more hours in South Africa a year ago. The Airplane Factory is a South African producer of Sling, Sling 4 — their four seater — and who knows what else might be coming from this hard-working manufacturer.
"The Sling Taildragger is almost identical to the regular [tricycle gear] Sling LSA, save for the landing gear configuration," Matt continued. "It features dual toe brakes, whereas the tricycle version is delivered standard with direct steered nosewheel and hand-operated brake."
As a taildragger, differential braking such as with toe brakes, is important to allow better ramp maneuverability. However this introduces the potential for the dreaded ground loop. So, let me address this for a few lines.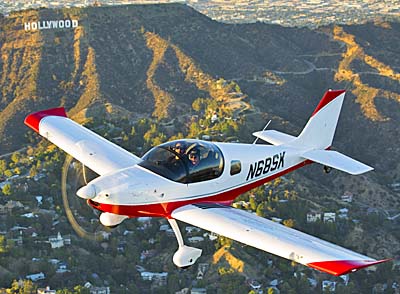 For those that may be new to taildraggers, a ground loop is not really a "loop" in the common aeronautical use of that word. It means that, due to the mass of aircraft aft of the main gear, should the pilot let the tail end move too far toward either side with some element of momentum in that movement, the tail can come more aggressively to the side.
With a high wing or low, a sideways moving tail can cause a wing tip to strike the ground, whether somewhat gently or more forcefully. When a wingtip located far from the aircraft center of mass drags on the ground, leverage causes even more movement the wrong way and that can result in quite a twirl on the ground … the "ground loop."
Usually the damage is not too significant and it is the pilot's ego that is more seriously wounded. However, with enough force and speed involved, it can be quite a bit worse. Being relatively light aircraft usually landing at fairly slow speeds, and often having a lower deck angle — meaning the nose is not particularly high compared to the horizontal — LSA ground loops are much less likely and not as much bad stuff happens when one occurs.
The solution, instilled by a quality taildragger checkout from a knowledgeable instructor or experienced pilot, often involves what is called "happy feet." If you keep your feet moving on the rudder pedals — using a series of small regular movements, to prevent the tail from getting too far to one side or the other — the ground loop is easily avoided. On something like a DC-3 this is a very big deal. On most LSA, it simply shouldn't dissuade you from trying a taildragger. Did I mention they look SO cool?
Until I can fly Sling taildragger, I'm happy to pass along Matt's further comments.
"During taxi, the Sling Taildragger provides sufficient visibility down the runway to see straight ahead without S-turning," said Matt. He elaborated, "The gear geometry is such that when the tail comes up on the takeoff roll, the aircraft remains extremely steady on the runway, with very little steering input required.
"In flight she shares the same light control harmony that the standard Sling has, since it is the same airplane. Three-point landings are a breeze in the Sling Taildragger and control is easily maintained on the rollout.
"The Sling LSA Taildragger [sells for] approximately the same price as the Sling LSA (starting at $135,000), but the gorgeous lines of the Sling are accentuated by the aggressive nose-up stance on the ground.
All photos with this article were captured by photographer Evan Byrne, whom interested parties can contact at his aerial photography web address. Thanks, Evan!