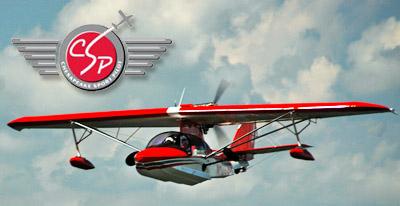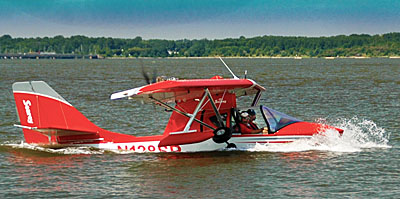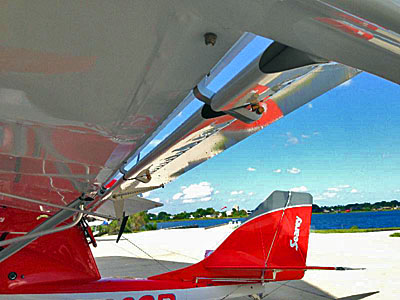 It's summertime and the flying is easy … especially when it's on the water. That's fine for everybody who is already qualified. What if you're new to seaplanes (or LSA in general)? How could you obtain instruction if you want to buy a new Searey? Training is optimal when done in a very similar airplane if not the same exact model you have in mind. Insurance companies may require aircraft-specific preparation. "With the addition of a [factory-built] Searey to its fleet, Chesapeake Sport Pilot flight school has become the first flight school in the world to offer flight training on the popular amphibious light sport seaplane," said spokesperson Helen Woods of the Stevensville, Maryland company. Chesapeake also teaches in other LSA models. Chief Flight Instructor Woods reports 300 Seareys flying in the U.S. and over 500 flying world wide. "Until now, it was often difficult to obtain quality training to fly a Searey," said Helen, "since a pilot had to own his own Searey before receiving training." Chesapeake supplies a Searey as part of their training course.
Chesapeake's Searey is well equipped for training: Rotax 912 engine; Advanced Flight Systems EFIS; Garmin GPS with XM weather and TFRs; and a carbon fiber hull. "It has all of the equipment we need plus a good useful load," explained Woods. Helen and fellow Chesapeake instructor Dan Wroe are both accredited as Searey flight instructors through the Searey Flight Instructors Association. This assures quality and standardization of training as well as offering better insurance rates from certain insurance companies for students who train under accredited Searey instructors. Chesapeake offers a variety of training options for Searey students including seaplane ratings, tailwheel endorsements, flight reviews, and insurance checkouts. Find out more at 410-604-1717, via email or Chesapeake's website.
Progressive Aerodyne, the Tavares, Florida-based designer and manufacturer of the Searey has been busy lately. While the marketing efforts have been establishing a base camp in China), engineers lead by founding designer, Kerry Richter have upgraded the well-established aircraft. The company announced a new Frise aileron design that can be fitted to all new factory-built and Searey kit airplanes. According to Progressive Aerodyne engineers, the freer airflow aileron "provides Searey airplanes with more balanced and responsive control, especially in severe conditions and wind gusts." The company reported that it conducted extensive static load and flight testing on the new aileron and the results exceeded design standards and expectations. Implementing such improvements is far less costly and time consuming for LSA under ASTM standards airplanes compared to Type Certified aircraft under FAR Part 23. Progressive Aerodyne said, "The new aileron can be retrofitted for experimental LSX and SLSA models and owners interested in retrofitting them may contact the manufacturer. • Engineers also created a new sliding canopy design that can be open in any position during flight and now offers an additional three inches in height. The prototype canopy will make its debut at AirVenture 2015 where you can take a seat and see for yourself. • Finally, Progressive Aerodyne will be previewing their 2015 look with a stylish new paint scheme. Seaplane and aviation enthusiasts are invited to space #12 at the Oshkosh Seaplane Base (free bus transportation is available from AirVenture). A Searey will also be on display at the EAA 10th Year Celebration of SP/LSA.