As the 2018 flying season launches, a long-awaited powerplant from Rotax Aircraft Engines is beginning to arrive in the USA and to be shipped on to customers for installation.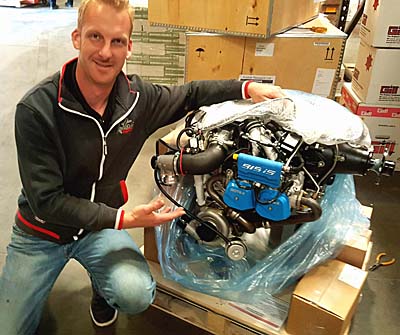 Pilots and builders seeking more power can welcome the Rotax 915iS fuel-injected, turbo-charged, intercooler-equipped 135-horsepower engine. Talk about a kick in the pants!
The engine recently won certification for use on aircraft where such approvals are valuable.
"California Power Systems is proud to announce the first customer delivery of a Rotax 915iS  going to Mark and Alina Pringle of Rocky Mountain Kit Planes to install in a Rans S-21 Outbound," reported Bryan Toepfer, operations manager of CPS, an enterprise related to mail order behemoth, Aircraft Spruce.
"We have another one shipping today for a customer building a Just Aircraft SuperSTOL," Bryan noted.
He continued, "Two more are on the way from Rotax in Austria to be installed in a couple of gyros."
According to California Power Systems — a major supplier and service organization for Rotax — customer demand has been high. "We have had many customers excited for this engine," Bryan explained. "I am very pleased to see this new market evolve for Rotax as well as CPS."
Flying 915iS
We've reported that several airframe manufacturers — "OEMs" in Rotax's preferred language — have been flying with the newest engine from market-leading Rotax. Enthusiasm for the 915iS is broad. The rollout of this engine was carefully planned by Rotax to ensure good end-customer experiences. As the powerplant has added complexity with the turbo charger and intercooler and carries a higher price tag, good preparation is essential.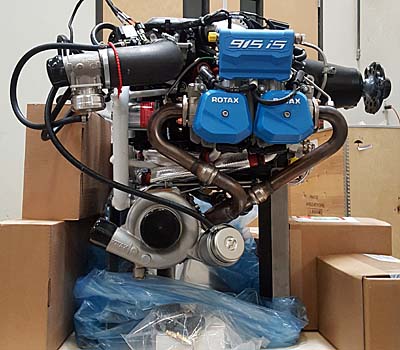 Bryan enthusiastically reported, "I had a recent opportunity to fly with the 915is on Rotax guru, Ronnie Smith's Rans S-7 that he is testing. I was very impressed!" Ronnie, proprietor of South Mississippi Light Aircraft has been a Rotax expert for many years and you can often see him and his signature smile — and his Mississippi drawl — in the Rotax booth just inside the main entrance at Sun 'n Fun.
Bryan is likewise doing his job as head of operations for CPS. "I was also able to visit the factory in October 2017 to do some training on the new engine." I am very pleased with the design and performance it offers."
So keen is his approval that Bryan added, "I am sure within the next few months one of these beautiful wooden crates will be arriving with my name on it." Can you feel his smile?

For pilots, builders, or repair shops interested in information on the 915is, or for those ready to place an order please visit the California Power Systems website, or call 800-247-9653.