Surely all readers know that Rotax-brand engines dominate the light aircraft landscape. The company owns something like 75% or more of the global market and close to that in the USA. Some worthy competitors are keeping the pressure on, but Rotax continues forward. The engine-to-follow is their new turbo-intercooler-fuel injected 135-horsepower 915 iS variant.
Rotax Aircraft Engines first announced this new model at AirVenture 2015; see our video interview for details and go to the official 915 iS page for even more.
In the press conference where the engine was unveiled, many in the standing-room-only audience were airframe manufacturers. As soon as the management and engineering team was done presenting, they quickly swarmed over the powerplant. You could almost see the wheels turning in their minds as they contemplated how they could fit and use this machine in their aircraft.
That was almost two years ago — AirVenture Oshkosh is only about 75 days away! The company said the 915 iS would be available in the last half of 2017. With that date approaching, how is it going?
Quite well, it appears. First, at the Aero 2017 show, Rotax was given a powertrain of the future award from Germany's large Aerokurier magazine for the 915 iS aircraft engine (photo).
"We are pleased about the great response of Aerokurier's readership, who voted for our Rotax 915 iS aircraft engine as "powertrain of the future," said Thomas Uhr, Vice-President Powertrain BRP. The reader's poll was divided into six categories to permit votes on the most innovative products that will influence on the aircraft industry.
Given the initial stampede to look over the 915 iS, which companies are actively working with the product?
Rotax agreed not to make public which airframe makers are investigating the new powerplant — doing so could affect their present-day sales and most may not want to answer customer inquiries about a project still in relatively early development. However, aircraft engines manager Marc Becker noted, "You will find that quite a few of them already announced it themselves so that it has become public information anyway," He identified several companies doing so: BRM Aero, Nogaro, Tecnam, Nikki, Zlin Aviation, Blackwing," and perhaps others as of this post time. "In total we have more than 40 OEMs started to incorporate the engine into their design, while the rest have not yet publicly announced their work."
One company has been explicit about their investigation of the new motor:
BRM Aero
, maker of the handsome Bristell available as a tricycle or taildragger aircraft. The current models and the new one to follow are represented in America by
Bristell USA
.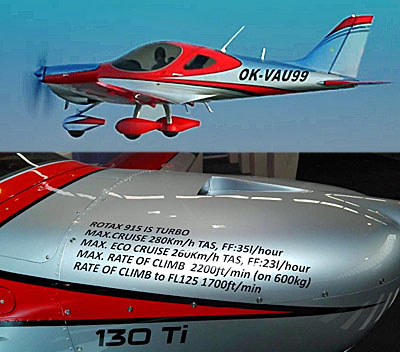 BRM has been flying a prototype aircraft with the 915 iS engine installed. Their preliminary flying shows some solid results.
As you can see in the photo of the engine cowling, the company discovered excellent performance (unknown if an adjustable prop was used). As others begin reporting their findings and as Rotax gears up to begin production of the 135-horsepower (100 kW) engine, the Austrian company can likely expect a swell of interest from both airframe manufacturers, kit builders, and end users… that is, we pilots, who seem always interested in more powerful engines.
Here's what early Bristell test flying showed:
---
Maximum Cruise: 280 km/h — 175 mph — 152 knots
Eco (lower fuel consuming) Cruise:  260 km/h — 163 mph — 141 knots
Fuel Burn in Eco mode: 23 liters/hour — 6 gallons per hour
Fuel Translation: 27.16 statute miles per gallon at 163 mph