What a great Christmas present for the Rotax Aircraft Engine team members (lower photo). The latest powerplant from the Austrian company that supplies a large majority of the powerplants for aircraft covered on this website will soon become available.
The company announced from their headquarters in Gunskirchen, Austria that on December 19th, 2017, they received a European Aviation Safety Agency (EASA) Type Certificate (TC) for its new Rotax 915 iSc3 engine.
Some companies, such as BRM Aero, have been testing the new advanced, fuel injected, intercooled engine. It is the most powerful model ever for light aircraft from Rotax. All airframe makers will probably be surprised that the final version yields even more power.
"The EASA TC allows BRP-Rotax to [begin] producing the certified 915 iSc3 A engine for the European market thus allowing us to fulfill the request of our customers for a more powerful Rotax aircraft engine with proven reliability," said Thomas Uhr, general manager BRP- Rotax, vice president Powertrain BRP. "Not only has the certification been achieved within the promised time schedule but the engine has been certified to even higher power than originally announced. Instead of 135 horsepower maximum power, the engine will offer 141 horsepower maximum power instead and 135 maximum continuous horsepower."
Having earned approval from EASA — roughly the equivalent of FAA for the European Union — BRP's Rotax  team will concentrate on getting the FAA certification*. Other countries will follow as each has its own validation process.
The increased 141 maximum horsepower is available up to at least 15,000 feet, said Rotax making the Rotax 915 iSc3 A engine a perfect powerplant for all fixed wings, gyrocopters, and more.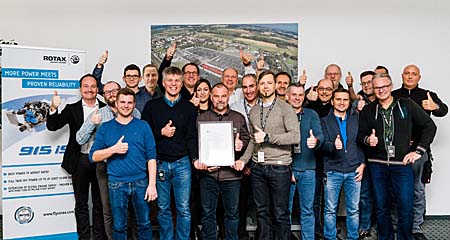 They added, "It will also offer the possibility to carry up to four persons" for aircraft such as The Airplane Factory's Sling 4 and similar models by other builders. When the 915 was first announced at Oshkosh 2016, TAF's Mike Blythe showed keen interest in the new engine.
"Up to this date," Rotax noted, "12 airframe manufacturers — Tecnam, BRM Aero, Niki Rotor Aviation, BlackWing, and Zlin Aviation — have integrated the engine and will make aircraft available [with the new engine] very soon." An additional 47 manufacturers are also already in the final stages of the integration of this engine.
With more than 180,000 engines sold in over 40 years, Rotax aircraft engines lead the Light-Sport and ultralight aircraft market. Worldwide, 19 authorized distributors and a network of more than 220 sales and repair centers support customers. "Rotax aircraft engines are supplied to more than 80% of all aircraft manufacturers in its segment," claimed the company.
* FAA certification is different from demonstrating ASTM compliance. Rotax has long made sport versions and certified versions of their powerplants, so they can be used on a wider variety of aircraft. The engines are essentially the same but go through further documentation to achieve full certification.