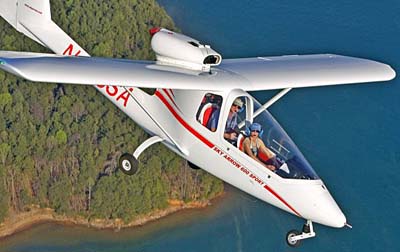 Light-Sport Aircraft have accomplished much in the 15 years this new class of aircraft have existed: • Lower purchase cost — with choices spread over a wide variety of aircraft. • Lower operational cost and ability to use auto gas, available everywhere on Earth. • Pilots no longer required to achieve an aviation medical. …and much more.
Light-Sport Aircraft may have enabled more than you know …literally enabled.
One significant way has been to offer the dream of flight to those who have lost some abilities. One organization has been in the vanguard of this positive development thanks to its capable, persistent, and motivated leader, Charles Stites. That entity is Able Flight, a worthy group that has attracted many friends and supporters (among them your humble reporter).
Able Flight Teams Up
with Sun 'n Fun & ACE
Recently, Charles was able to announce a new agreement with the well-known airshow event and its education arm.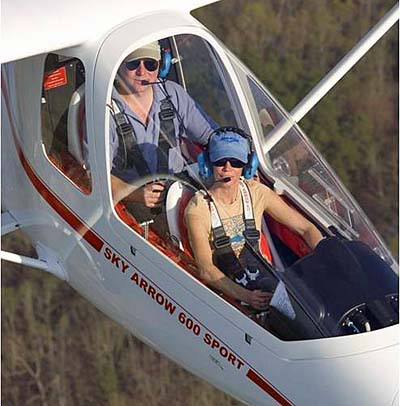 "Our new training partnership with Sun 'n Fun Inc's Aerospace Center For Excellence (ACE) provides an outstanding opportunity to build upon our successful relationships with Purdue University and The Ohio State University," noted Charles. "Able Flight can now send flight training scholarship winners to three training locations. Florida delivers an ability to train almost year round," observed Stites, adding, "Able Flight student pilots will benefit from the expertise of dedicated aviation professionals who have built a unique program."
Sun 'n Fun was pleased to lend support. "Aerospace Center for Excellence, the educational component of Sun 'n Fun, Inc., is excited to announce its partnership with Able Flight, a unique organization that shares a similar belief that learning to fly is a life changing experience," said Ed Young, Executive Director of ACE. "The partnership with Able Flight is a perfect marriage. Our mission at ACE is to engage, educate and accelerate the next generation of aerospace professionals. Able Flight's success educating individuals with disabilities in flight training is unparalleled. We have the opportunity to truly change lives by combining our core competencies."
The partnership is supported by Zenith Aircraft, which is providing ACE with a Zenith 750 kit that will be modified with adapted hand controls for use by Able Flight student pilots. The plan is to build the airplane in the Buehler Restoration Center on the ACE campus during Sun 'n Fun with the help of the Lakeland Aeroclub, the youth flying club on the ACE campus. Young said. "We are planning to name the aircraft the Spirit of Lakeland."
Tribute to a Friend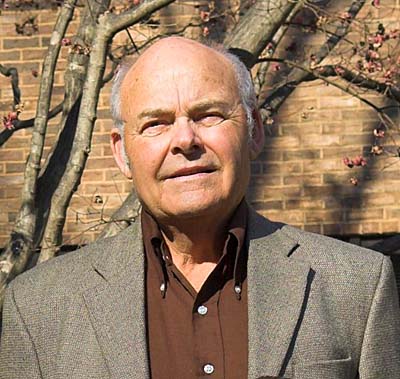 "It is safe to say that Able Flight would never have existed without the influence of Jon Hansen, wrote Charles. "After a career as a Navy carrier pilot and then airline captain, Jon was instrumental in getting the FAA to approve the Light Sport Aircraft (LSA) category and Sport Pilot certificate. That made it possible for Able Flight to offer scholarships and training to people with physical disabilities."
"Just as importantly," Charles continued, "Jon imported the first LSA with adapted hand controls and that prompted the creation of Able Flight. He was a generous supporter and friend who believed in our mission from the beginning, and his legacy lives on in every Able Flight pilot."
Jon's help to Able Flight was not his only support. He was also a great benefactor of Light-Sport Aircraft in general, to LAMA as an organization representing LSA, and to efforts on behalf of the LSA industry such as the LSA Mall at Sun 'n Fun. It is also safe to say these organizations would be less well off without Jon's interest along with that of his sons, Mike and Mitch, and his brother, Ron.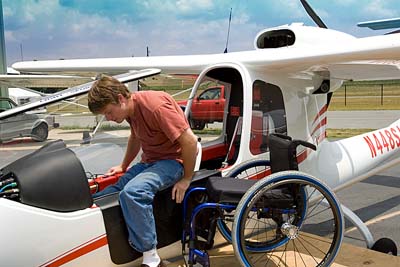 Jon passed away on February 15th at the age of 83. Aviation lost a good man after many productive years. Rest in peace, old friend.
Jon and Ron, twin brothers like Jon's sons Mike and Mitch, last year made another donation, this one to Mt. Vernon Airport, home of the Midwest LSA Expo where Jon was a regular participant. See the "jet on a stick" story here.
Learn more about Jon Hansen, SkyArrow, and Able Flight in this video from 2012.