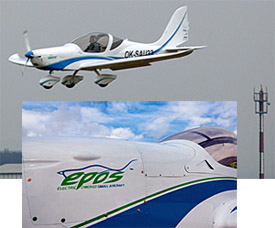 An "engine" is a machine distinguished from an electric, spring-driven, or hydraulic motor by its use of a fuel, by which most mean gasoline or diesel fuel. An electric powerplant is often referred to as a motor to make it distinct although "motor" is defined as a device that converts any form of energy into mechanical output, which would include engines.
Without fretting over the definition, Evektor flew their new "motorplane" (my word) recently and this post presents our view of this accomplishment. We've reported several electric aircraft projects, for example, Yuneec's Spyder and their larger e430 mentioned in my full-length article on electric aircraft. We've also covered Randall Fishman's ULS (which will be on display in the LSA Mall at Sun 'n Fun) and several others. To read all our 37 articles of coverage, type "electric aircraft" in the Full-text Search box on our Search page. However, one thing we have not seen is a fairly stock Light-Sport Aircraft adapted to electric power … until EPOS.
Evektor EPOS stands for "Electric POwered Small aircraft" and the design made its first flight from the Kunovice airport in the Czech Republic on March 28, 2013 flown by factory pilot, Radek Surý. He made two flights that day, one of ten minutes and another of 30 minutes. Evektor reported that EPOS is powered by a Rotex RE X90-7 50-kW electric motor, equivalent to a 68 horsepower combustion engine. (Rotex is not affiliated with Rotax Aircraft Engines.)
"I perceive a close parallel with the automotive industry. In that field, electromobility also struggles for its place on the market, which it deserves, but in doing so it must overcome a number of technical problems. I am convinced that the range of potential electric driven sport aircraft is very wide," said the manager of the EPOS project, Martin Dr|tička. "Now we have to pass through the period of tests and improvement of technical parameters which will enable us to achieve our goal: a fully operational sport aircraft powered by an electric motor," said Evektor Managing Director, Václav Zajíc. The company added that the experimental operation of the SportStar EPOS was done in cooperation with the Czech Light Aircraft Association.
Evektor said the objective is to develop an aircraft which can be used both by private customers, as well as flight schools as a suitable aircraft for initial pilot training. The EPOS project is made possible through financial support of the Technology Agency of the Czech Republic. People attending Aero Friedrichshafen in Germany from April 24-27, 2013 will be able to see EPOS on display. The first flight video appears below. To read all our 37 articles of coverage on ByDanJohnson.com type "electric aircraft" in the Full-text Search box on our Search page.