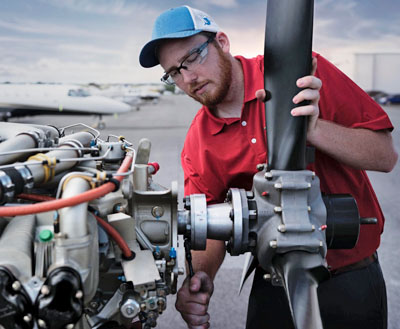 A few years ago, I visited Continental Motors in Mobile Alabama on the Gulf coast of the southern U.S. state.
Here's what I wrote about that tour. The factory was a World War II-vintage facility. I saw many new CNC machines and they were humming with activity. I also saw acres of the earlier generation of engine-manufacturing equipment. Nearly all of this hardware was idle even as it occupied large amounts of space. Times have changed. Continental changed, too, but the old tooling still rested in position
Now, that is changing. Last year the company announced their new "green field" construction project, one of the largest in the state. It was clear that …well, let's hear how the company describes it.
"This Is a New Dawn"
"We're proud to introduce you to the new name and brand identity of a company that has been a major leader in the world of aviation for over 110 years." said Continental.
"With this new dawn comes a new name and brand identity for a major leader in the world of aviation. Introducing Continental Aerospace Technologies," stated their press release.
However, they're busy doing much more than rebadging the company with a new, modern look. Their video below helps tell a fuller story.
The new company name and graphic "clarifies Continental Aerospace's industry sector and the refreshed logo amplifies the theme by evoking flight, motion, and looking to the future."
"Join us as we write the next chapter of a story that already spans over a century," continued Continental, "where our reputation for exceptional service and engine solutions is combined with new ambitions, new innovations and new foundations upon which Continental Aerospace Technologies™ can establish a new era in general aviation."
Continental has a strong relationship with the city and region around Mobile, as noted in this article.
Officials report the Alabama company is evolving rapidly, adding more products to their portfolio incuding gasoline and Jet-A fuel engines. "While we continue to innovate and bring new technologies to the market, we are also working to enhance our service, support and manufacturing," said Christopher Kuehn, vice president of sales, marketing, and customer support.
Continental has a strong relationship with the city and region around Mobile, as noted in this article.
Continental has been a leader in general aviation throughout its 115-year history. It began with radial engines in 1905. Over the ensuing years, Continental's "firsts" include bringing fuel injection, turbocharging, FADEC, and Jet-A piston engines into the general aviation market.
The company's video, featuring President and CEO Rhett Ross and many employees reveals the global nature and footprint of this stalwart of aviation. In it, you see their brand-new factory under construction.