If you know the Part 103 category of the FAA regulations, you know these are the lightest aircraft in aviation (that is, man-carrying aircraft; drones excepted).* After years of disappearing, Part 103 entries have come back more recently and at AirVenture Oshkosh 2017, we saw another.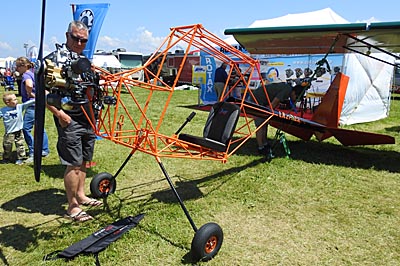 This is the Just Aircraft Superlite, except that name was never certain and has (since Oshkosh) been taken off the list as a model name. Until they put a fresh name on it, I will call it Just 103.
Part 103, as most readers may know, requires no pilot certificate (really, none!). They also require no FAA registration or N-numbers. Since 1982, you need no aviation medical to fly one. Plus, they can be built ready-to-fly… or in kit form of any percentage. For 35 years now — the rule went effective in September of 1982 — Part 103 ultralight vehicles have been part of the aviation firmament.
I emphasized the term "vehicle" deliberately. In FAA's regulatory world, definitions are paramount and any "aircraft" must meet certain conditions. Those requirements vary depending on the aircraft size and use but certain classes, like drones and ultralights, are specifically not called "aircraft" so that the regulation can be simpler. Indeed, the entire Part 103 regulation can be printed on the front and back of a single sheet of business letter paper. Amazing!
The category has also endured. Part 103 aircraft are single seaters as defined by that super-simple regulation. Two-place ultralights came later to allow proper training but that was supposed to be their sole purpose. When two seaters became airplanes for other than training, the move toward what became Light-Sport Aircraft was born… although that process took more than ten years.
However, LSA did emerge (in 2004) and took the spotlight, relegating ultralights to barns and the back of hangars. It appeared ultralights were gone for good. Not so!
In recent years we've seen increased life in Part 103 ultralights. Besides weight shift trikes or powered parachutes, you can choose three axis airplanes from U-Fly-It (Aerolite 103), Kolb (Firefly), Belite, Fisher Flying Products (multiple models), Hummel Aviation (Hummel Bird), Aeromarine-LSA (Zigolo), M-Squared (Breese SS), and possibly more that I am not recalling.
Now Comes Just
We don't know too much about Just 103 yet but it won't take long before we get plenty more. Designer Troy Woodland — of SuperSTOL fame — said he almost got the new bird in the air before Oshkosh and will certainly do so in the next few weeks. It should be market ready by end of year. From some folks I'd find that a rather bold promise but Troy has a proven track record of getting flying machines to market.
Up front, Troy mounted the Polini Thor 250 engine, which provides 37 horsepower at 7500 rpm. With an engine weight of barely over 40 pounds and the proper Part 103 airframe weight, this Thor engine should provide spirited performance. Fuel usage is very low; remember, these engines got popular on powered paragliders where the pilot carries engine and fuel on his or her back, so big gas tanks aren't needed.
Troy went with a boom tube to the tailplane to keep weight down and to maintain a genuine ultralight look. Readers who have followed this sector may recognize both the Capella Javelin and TEAM's AirBike. (Also see this Zlin airplane.)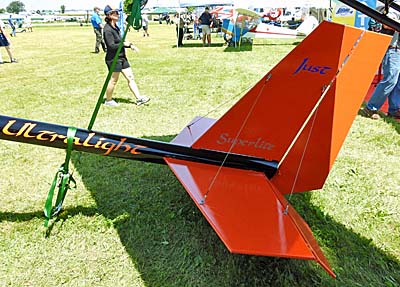 The latter comparison is especially apt because this is one of those airplanes you get on rather than in. Pilots side astride the welded steel forward fuselage with their feet on the rudder pedals out in the breeze, although at a top allowed speed of 63 mph (55 knots), that breeze won't be particularly windy.
Troy indicated they have done all the analysis and much of the testing (wings are done even though they weren't brought to Oshkosh). He is sure it will make the empty weight challenge of 254 pounds.
Before it even flies, no price has been set, but with an engine price well under $4,000 and a simple airframe from a very established builder, it is reasonable to think Just 103 will be quite affordable. Stay tuned!
* I did not write Part 103 vehicles are the lightest powered aircraft as Part 103 also covers hang gliders and paraglider, which are commonly unpowered.