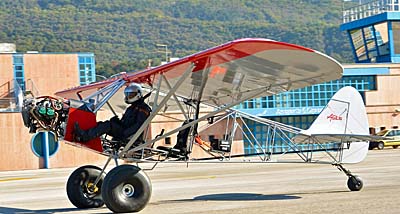 Thanks to powerful Cubalike airplanes — those vintage yellow taildraggers types with huge engines up front to make them perform more energetically — 2014 saw increased attention to the Savage Cub S. The Czech company offered their 180-horsepower version of the Cubalike phenomenon albeit at a more affordable price. The leading brand of Cub-like airplanes has pushed prices beyond $200,000, which strikes plenty of people as paying a premium, though most agree the design is handsomely achieved. They continue to sell well so vintage style appears to hold appeal.
Meanwhile, Zlin engineers aren't sitting still. This company has quite a flock of intriguing models, including Savage Classic, Savage Cruiser, Savage Cub (marketed as iCub in the U.S.), Savage Cub S, and Bobber. All these are now represented in America by SportairUSA, which also imports the TL Ultralight Sting and Sirius as well as selling Searey amphibious kits among a variety of other products of services they've assembled. Last year, I focused on the Bobber model variation and since then, engineers saw a way to take the lean concept even further.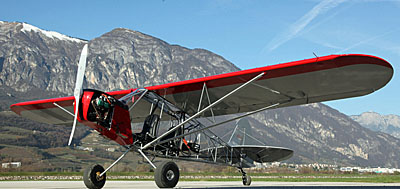 It's so new that we don't know much about Agilis, so let's look at somewhat similar model, Bobber. At Aero Friedrichshafen 2013 we spoke with SportairUSA boss, Bill Canino and produced this video on Bobber, a form of customized Zlin Cub that deliberately lacks an exterior covering but offers many other special finishing touches. It can be customized in some 60 different ways, including fancy paint finishes, thick leather carry bags, chrome component parts … much like a "Bobber" motorcycle, thereby explaining the choice of names. U.S. importer Bill Canino helps us understand the thinking. As with most of the Zlin line, Bobber is fairly modestly priced, in the $90,000 range before you start adding your choices of personalized equipment. Click this link to see the many ways you can make a Bobber totally your own … to "bobberize" it, using the motorcycle enthusiast's term. Owing to Zlin director Pasquale Russo's interest in radio control model airplanes, the company even offers a Bobber R/C. Bill said that Pasquale looked at the R/C and thought it could be made even simpler. Presto! Agilis was born. Indeed, Canino said, "Agilis is the Bobber's baby."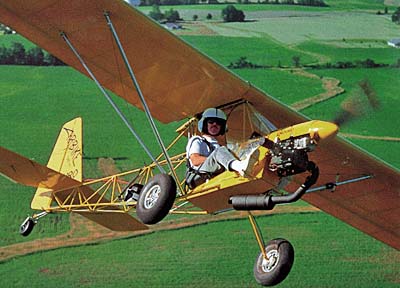 Agilis (which Bill pronounced "Ah-JILL-iss") may look vaguely familiar to you. The nearby photo of a Team Airbike is surely the reason why. Agilis, like Airbike, is an airplane you "ride" more than "enter." The Team example introduced 20 years ago, has a very narrow fuselage on which you literally sit astride. Both your legs remain outside the aircraft. Coming from the often-open-cockpit ultralight industry this didn't seem unusual and having flown it, I can attest that on a warm summer day, Airbike was a superb experience. Check my mini-pilot report on Airbike from 1995. When you compare the two airplanes, you quickly see the similarity. What you may not sense is how much fun it can be to "wear" an airplane more than being contained within it. Think of riding a motorcycle. Some of this appeal may stem from Zlin owner Russo's driving interest. Bill Canino said Russo is an accomplished driver who owns a BMW M-series high performance automobile.
The Team Airbike is no longer in production and was powered by a two-stroke engine that may be less popular today. Agilis uses the ubiquitous Rotax 912. "As light as the Agilis airframe is and with 100 horsepower," Canino observed, "it should have outstanding performance."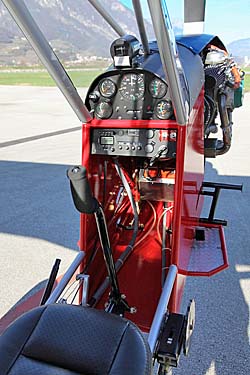 Speaking of outstanding performance … the attraction of the 180-horsepower Cubalikes has been a compelling reason for many buyers to select one of those potent (if rather costly) models. Zlin joined the ranks with its own 180-horsepower Savage Cub S (see our video). Since it sold for a $130,000 base price, people included the model in their search. Even well equipped the powerful airplane retails for about $160,000, offering a large difference from the leading brand.
However, while Zlin can call their airplane a "Cub" outside the United States, SportairUSA was notified that CubCrafters had bought the name Cub from Piper and that SportairUSA had to cease using the name. To make lemonade out of that lemon, the Arkansas company decided to offer a "Rename the Cub S" contest and offered an iPad prize to the person submitting the chosen name. The contest has been a hit. "We receive 10 suggestions a day," said Bill. "We have received more than 800 names offered." He admits some are silly or repetitive but they will definitely pick one — and a winner — when the contest ends in mid-December. If you'd like a free iPad for Christmas, you better act soon (here). Come to Sebring 2015 and see the airplane formally known as Cub S that will be emblazoned with a new name.
Be one of the first to view Zlin's new Agilis that even American importer SportairUSA has yet to see: