One of our most popular articles of 2019 involves FAA's plans for refreshed regulation. To save you a click or tap, my best guess is that we will see an NPRM (Notice of Proposed Rule Making) in 2021. Though it could possibly be sooner, it's still many months in the future.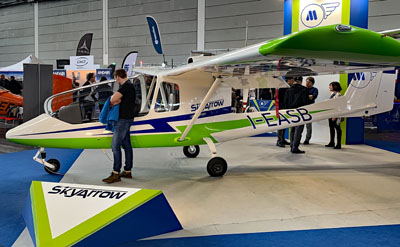 Sky Arrow producer Magnaghi Aeronautica of Italy will be ready before the regulation is ready. That's because the builder of this handsome composite aircraft already has a very rare approval: Part 23.
Part 23 is also going through a major rewrite so some companies planning to enter this space are continuing their development work while they wait the final version of the regulation. The current Part 23 has been used to approve every Cessna, Piper, and Cirrus for decades.
Similarly, LSA producers are digesting the news about sweeping changes that have potential to greatly improve the LSA market. Those airframers cannot yet act to sell aircraft for commercial use because the rule is still in development. Nonetheless, they need to be ready when it is released. Meanwhile…
Sky Arrow Ready for Takeoff
For years, Sky Arrow was ably represented in the USA by Hansen Air Group, lead by LSA enthusiast, retired airline captain, and general good guy, Jon Hansen. Regretfully, Jon passed away earlier this year.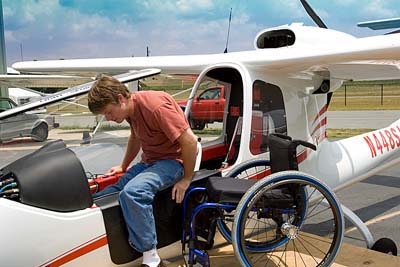 Thanks to his work with more good folks at Able Flight, Sky Arrow has firmly established itself as an ideal trainer for persons who have lost the use of their legs. Able Flight, in concert with Purdue University and others, has provided scholarships to people needing a hand-controlled airplane. Their successes have been significant and the organization lead by Charles Stites continues strongly in this field.
One reason why Able Flight, Purdue, and Hansen Air Group promoted Sky Arrow is great flight characteristics. I flew with Jon Hansen in the East and with a former partner in the Western U.S. My quick reaction was that Sky Arrow is a terrific flying aircraft, full of good qualities and exhibiting no bad habits.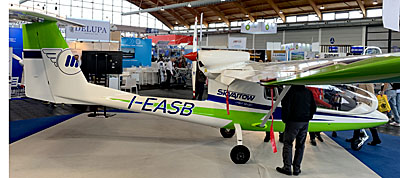 No wonder Sky Arrow was able to win Part 23 approval for Sky Arrow. This achievement is unusual because — at least until the rewritten Part 23 becomes law — the process that put tens of thousands of GA airplanes in the air has been breathtakingly expensive. Cirrus claimed the effort took tens of millions of dollars after the design work was completed. That's too expensive for LSA builders. If you think some LSA are too costly now, let me try assure you that they would have far higher prices if they had to meet Part 23.
Yet, here we have Sky Arrow, with full Part 23 approval accepted by FAA.
Very Capable Aircraft
One of the hoped-for attributes of the new LSA regulation is a potential for "aerial work" or "commercial use." Presently LSA are restricted, not only to 1,320 pounds of gross weight, but to flight instruction, rental, and towing as accepted "comp/hire" activities FAA permits for a Special LSA.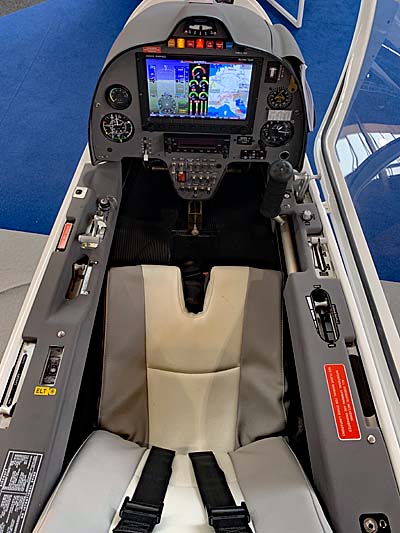 As most of the industry waits for FAA to complete their work, Sky Arrow USA has some luxury of time to plant their seeds.
Helping seeds grow is something Sky Arrow USA is presently focused on like a laser beam. Agricultural use of Sky Arrow is a present goal for U.S-built models.
"We have completed paperwork for a production certificate," said Marco Cavazzoni, Chairman of Sky Arrow USA. "Next we'll build a conforming aircraft and validate our build process and our facility." He is serious about manufacturing in America, but this is not the stretch it has been for other would-be U.S. builders.
Magnaghi Aeronautica is a "minority partner" of Sky Arrow USA, Marco clarified. Since the Italian manufacturer is a shareholder, the U.S. operation is in control of the design, a key requirement for FAA to consider a U.S. operation to be the official manufacturer of a design. This is essential as it allows them to make changes as needed to quickly address market desires.
"For the LSA market, we are nearly ready. We are creating a sales team and seeking distributors for all the Americas from the north of Canada to the tip of South America."
At the same time, their Part 23 aircraft focus is on "precision agriculture," Marco noted. This employs a system where sophisticated sensors, cameras, and technology aids the pilot to spray crops with great exactness. "Our technology can direct the spray system where to spread, where not to spray, and it can log places where the farmer needs to inspect more carefully."
The big difference here is that Sky Arrow may get in the business years ahead of other LSA players because Magnaghi already has Part 23 approval so they can perform commercial operations years before a manufacturer wanting to do so with a Light-Sport Aircraft model. "Also, because our airframe is tested to a 2x factor of safety, where most aircraft meet a 1.5x factor, we can carry the loads and do the work with greater assurance," Marco explained.
"We basically have a Part 23 aircraft operating at LSA weights and speeds. We offer a sturdy aircraft that can deliver the goods while also providing a stable, secure platform to do the imaging that is a big part of precision agricultural work."
While the working capability of Sky Arrow should help the company grow their business, it is the sheer joy of flight that will attract buyers to Sky Arrow. Watch for U.S. rep Marco Cavazzoni at airshows in 2020 and take a flight when you can. You may not smile as broadly as Able Flight's scholarship winners, but I'm betting you will love the experience.
Examine the aircraft more fully and come along for a flight in the subject aircraft in this short video…