Let's return to affordable aviation after two wonderful shows full of shiny new aircraft. Turbine engines and sleek composite fuselages interest plenty of pilots but then most of us come back to reality and start looking at aircraft we can afford.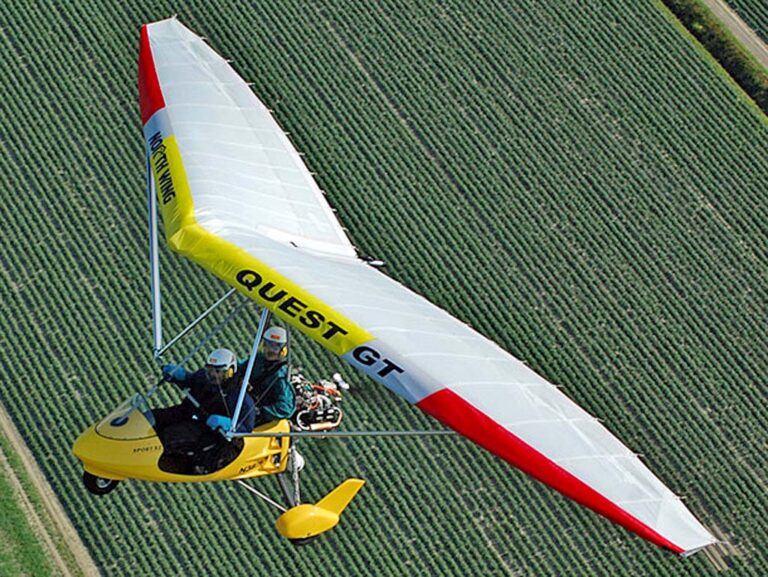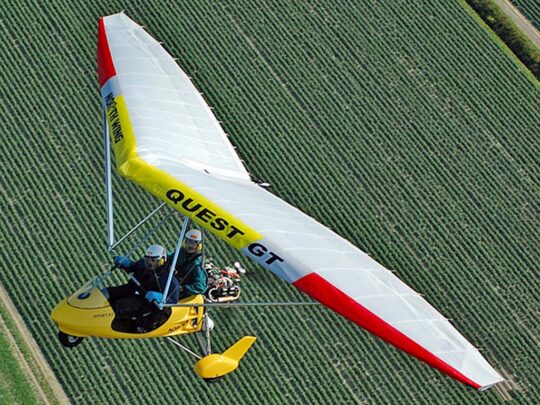 Some can pay the invoice on a high-end aircraft to enjoy its capabilities. That's terrific. Who knows… you might score their used aircraft for a large discount in a few years. For many, though, new is nice yet something much more modest will suffice if it gets them safely up and down to enjoy the view of their surroundings or simply practice a few touch and goes. Any way you can fly is a good way, I'd say.
I've been around recreational aviation a while. So has been North Wing, the company formed by Kamron Blevins. He started building wings for trikes 26 years ago in 1996. He expanded from earlier years of experience with hang glider wings. If you pay attention to this corner of aviation, you either know Kamron or you know his work. He's a full-line supplier from factory-built aircraft to flight clothing but he made his mark by building some of the finest delta wings in the business. Many other trike carriage makers have employed his wings with great success.
Kamron has built a following for his responsive wings and sturdy trikes at prices most of us can afford. Let's check out some of his current-generation trike designs.
Magical Weight Shift
I love the handsome, innovative European designs reviewed recently (Aero Day 1 and Aero Tour and Aero Wrap-up). I am pleased these companies continue to show their passion and technical prowess. However, I live in America so I also like to boast about our home-grown companies. North Wing is a gleaming example.
Note to fixed wing pilots: If you haven't flown weight shift you may not appreciate the simple elegance of this control system. No, the controls are not really "backwards." Pulling the control bar toward you is not like pulling the joystick aft; what you are really doing is moving your weight (and the trike carriage) forward relative to the wing.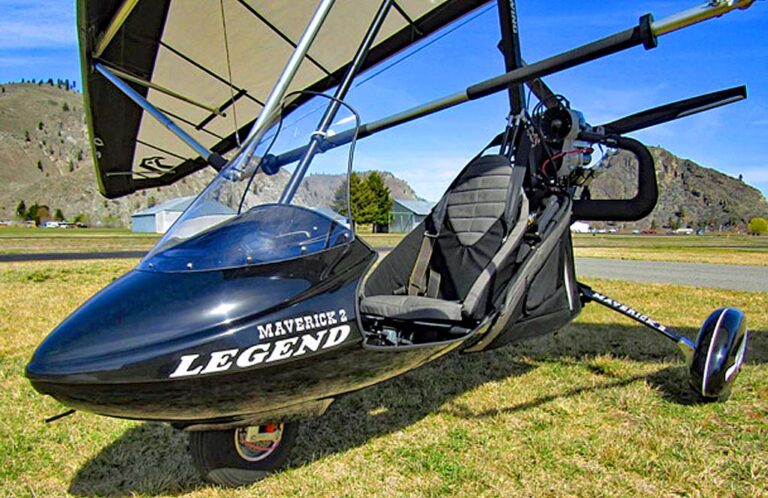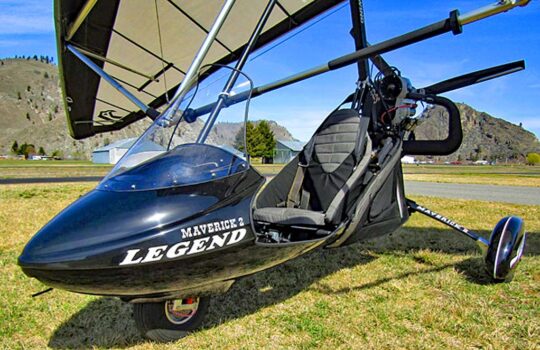 "In 1998, we designed and built our first single place trike (the Maverick) featuring a strutted wing," related Kamron. He was first to use struts on a delta wing, he reports. Yet even while Kamron created a growing number of trike models, he kept supplying the wings for other trike builders in the USA and other countries.
"At North Wing, our main design criteria is to offer … a choice of wings that deliver easy handling, making them fun to fly," said Kamron. I can confirm his opinion; I have described the wonderful handling his wings offer in numerous articles (on Apache or Maverick or his Solairus).
"On our quest for optimal safety, we feel our #1 goal when designing wings is precise control and handling even at low speeds," he elaborated. "When conditions out there get a little rough, we hope you will agree handling is going to be your biggest concern."
Trikes can be flown in fairly windy conditions but handling can then be more challenging because they are weight shift, relying on the pilot's technique and muscle to control the wing (technique is the more important; trike flying is a thing of finesse).
Easier handling is a godsend. "Each wing design must pass specific parameters such as coupled feel in handling between pitch and roll, and a nice gentle stall," Kamron concluded.
North Wing's Full Line-Up
The Washington state company is one of the most successful trike producers not only in the U.S. but in all of recreational aviation history. "We have manufactured thousands of wings and hundreds of trikes," North Wing noted.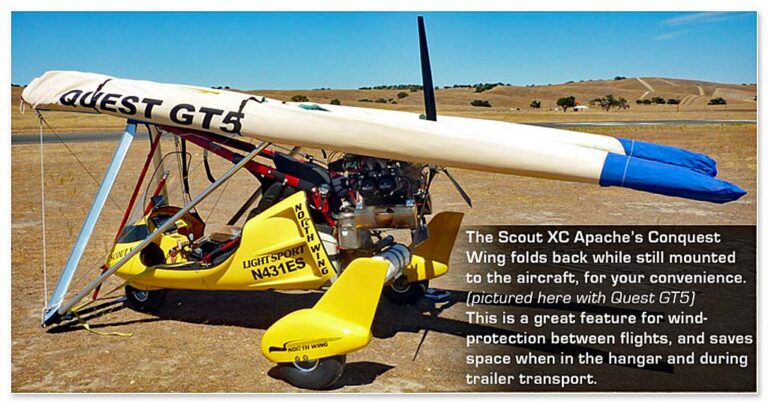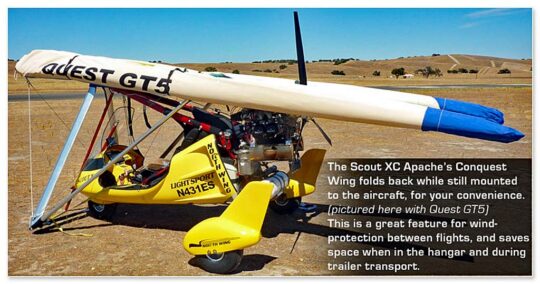 For many Americans, buying in the USA is important. "North Wing is an American company, and we maintain a large inventory so parts availability is only a few days away," assured North Wing. That in-country service and availability will relieve you and can help keep your insurance cost lower.
When you visit the main North Wing website, you'll be quite amazed at the volume of information available. Yet they also have another site that deals with some of their accessory, clothing, spare parts, and other elements business. Check out North Wing Sports for even more information. Seriously, you can spend a while on these two websites and learn about everything you could want.
The chart below shows the extensive list of weight shift aircraft North Wing presently manufactures. As their voluminous website demonstrates, it would take a long article to cover their entire line, so I'll select one of their top designs for a quick review. Those that want more have only to visit their websites; that will keep you busy for some time. Lots more information on North Wing can be found here on ByDanJohnson.com or on Videoman Dave's YouTube channel.
Before getting into some additional detail, let's check the price point (although, as always, for current information contact the manufacturer because prices change over time). North Wing's top-of-the-line Scout XC Apache is a Rotax 912-powered trike that lists for $59,890. This is the most expensive aircraft North Wing offers. Single place trikes from North Wing are priced as modestly as $16,900, ready to fly. Somewhere in that range you might find something you like and can afford.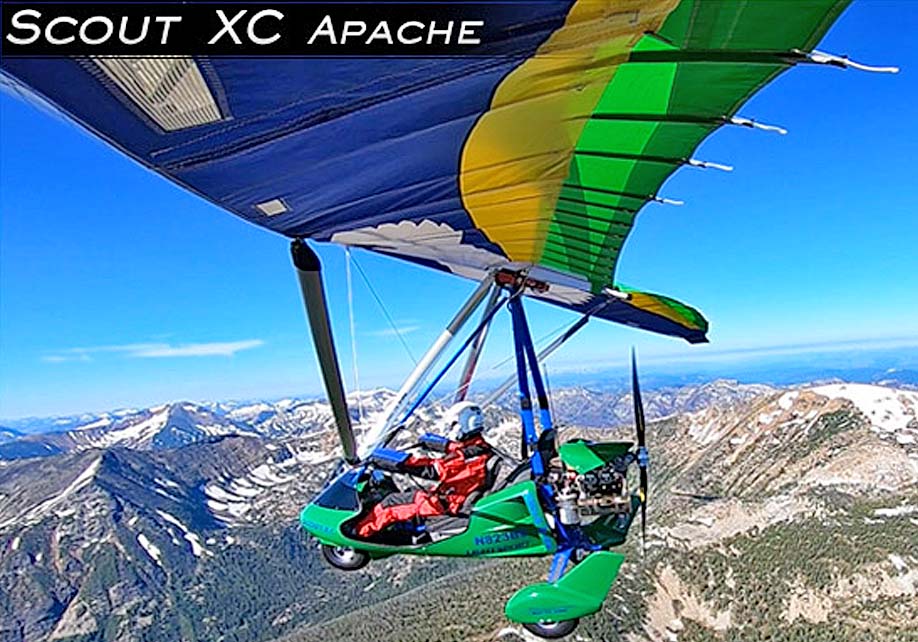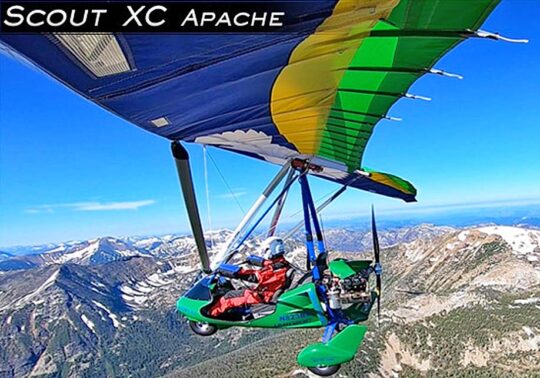 Scout XC Apache — This LSA airframe is a "revolutionary design" said North Wing, incorporating Scout aircraft design suspension, welded 4130 aircraft steel main structure (back frame), a 4130-steel dual mast, and trailing link front steering. "Unlike trikes constructed using a tube-and-gusset-plate configuration with their single support mast, drag struts, side support cables and bungee cord suspension, the Scout XC airframe will maintain its structural integrity for years to come," boasts North Wing. "You can enjoy years of sturdy and confident flying knowing your trikes' rugged and well-designed suspension won't get worn out."
Scout XC Apache features as standard equipment several design elements that have arrived over the years…
An airfoil mast that reduces drag and improves tracking at higher speeds by reducing yaw and twist of the mast thanks to a stronger, more aerodynamic mast profile. The airfoil mast shape provides extra space for your passenger and eliminates the "helmet buzz" of the aft seat occupant touching helmet to a single mast that transmits engine vibrations.
A nosewheel steering dampener provides adjustments to reduce the "shimmy" that may occur during landing. You will appreciate the solid yet responsive feel of its trailing link suspension. The front suspension works so well, it can survive a full front wheel landing at 60 mph!
"Finned wheel fairings also reduce drag and improve tracking, and look great too, believes North Wing. Aircraft-grade Matco brakes ensure firm control on the runway. Aluminum leaf spring suspension reduces drag with a slim profile, and is built from rugged and strong 7075 Aluminum. An adjustable front seat conveniently changes the position of the front seat, very handy when using Scout for flight training. Prices for all North Wing trikes can be found at the end of this article.
Scout XC Apache can be ordered with a variety of options. Scout XC is accepted by FAA as a Special Light Sport Aircraft when paired with the powerful and reliable Rotax 912UL engine — the 100 horsepower Rotax 912S is also available — and their Conquest Light-Sport Aircraft wing. For more details, see the video below.
"You can also fly the Scout XC as a Experimental LSA when using any other engine and/or wing configuration," said North Wing, noting they supply kit versions plus ready-to-fly models. Scout XC Apache provides a nice layout of gauges with room left over for your custom needs. Visit their comprehensive website to see all the ways you can personalize your North Wing trike.
---
North Wing is very upfront about it prices. Every item they sell is on one page for your easy comparison.