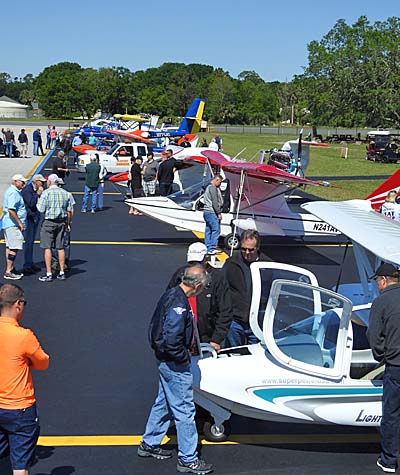 Sun 'n Fun 2018 ended a great event on Sunday. After traveling home Monday, plans called for a very quick turnaround to jet across the Atlantic for Aero Friedrichshafen 2018, which started Wednesday. For an aviation buff, the month of April is something like being a kid in a candy store.
So many fun airplanes. So few days to absorb the images, stories, people, and excitement.
Sandwiched in the 24 hours between getting home from Sun 'n Fun and blasting off to Europe, one more cool thing happened: a gathering of LSA or light-kit seaplanes. Seven brands were invited by Spruce Creek Fly-In airport manager Joe Friend but rather ironically, two that are quartered closest to Spruce Creek — American Legend's AmphibCub and Brazil's SeaMax — were unable to make it. The five who did make the effort right after Sun 'n Fun were rewarded with a beautiful day and good interest.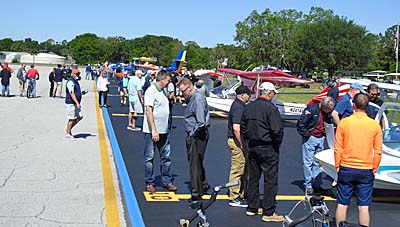 Joe knows his light seaplanes. He's built at least one Searey and he used to fly it daily from Spruce Creek to a lake in Tavares, Florida where Progressive Aerodyne manufactures Searey. For a couple years, Joe was CEO of the operation making him highly aware of this niche of airplanes.
Droolworthy Collection
Not unlike Sun 'n Fun or Aero, the waterbird gathering extended the candy store experience. I wanted to buy them all, but like the kid, my wallet is not big enough for that. Therefore, the chance to compare them side-by-side was very useful.
As you can see in the photos, Joe's effort paid off with a nice crowd examining the selection. For someone in the airplane selling business, Spruce Creek is what some would call a target-rich environment. That means lots of pilots, pilots with cash, and pilots with places to keep or build a light seaplane.
So despite the challenges of making an appearance immediately after a major week long air show like Sun 'n Fun five companies were lined up and ready.
Spruce Creek Fly-In — an airport community I call home — quarters an estimated 700 airplanes, more than nearly any other airport I've ever visited in a career that has taken me to more aerodromes than I care to count. The chance of a sale or two or more is what prompted so many vendors to show up immediately on the heels of an air show that wore them out for seven long days.
Of course, not all resident airplane owners were present; some are focused on other airplane types.
Yet in a warm climate with bodies of water all over the place, and a generally supportive atmosphere for recreational aviation… well, no wonder all seven invited vendors have bases in Florida.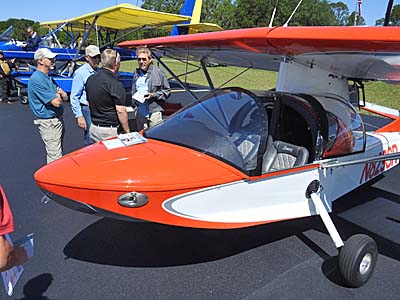 Searey — The most established of the collection is this veteran design from Progressive Aerodyne in nearby Tavares, Florida (about 45 minutes north west of Orlando). However, despite its long history and nearly 700 satisfied customers — mostly kit-built until more recently — Searey has benefited from many changes and upgrades. It has the distinction of being one of the FAA's success stories regarding how well they prepared for their audit to become a fully built LSA.  Searey was also one of the first LSA to become to win Type Design Approval in China.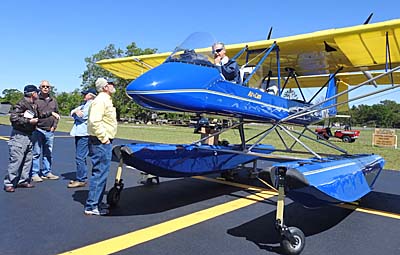 AirCam — The lone floatplane of the group is also the only twin engine of the group yet this larger-than-life airplane still qualifies as a light aircraft, easily so. Given its modest weight, the presence of two Rotax 9-series engines on this kit makes it a formidable performer but one that can use that capability at slow speeds, making the airplane an absolute delight for the kind of low-elevation flying that many others aircraft should not attempt. Around 200 are flying. Kit builder Lockwood Aircraft is based in Sebring, Florida.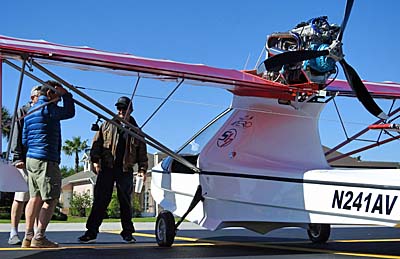 Aero Adventure — The Aventura model, seen here in its new S-17 configuration, dates back as far as the Searay but because of ownership changes the design also evolved uniquely. Originally known as the Buccaneer, it became of the Aventura when Carlos Pereyra added his exceptional fiberglass skills to the hull. Current owner, Alex Rolinski, has taken the design into the CAD age and beefed up its performance. The S-17 model boasts a 117-horsepower AeroMomentum Suzuki-based engine and attractive options; the package has been attracting strong interest for Aero Adventure of Deland, Florida.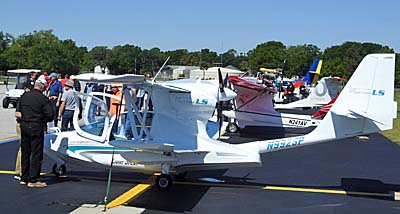 Super Petrel — One of the most unique entries is the bi-wing Super Petrel LS from Scoda Aeronautica in Brazil. Another well-established model with a history involving Canada, the South American company has now opened a facility at the Ormond Beach airport to support U.S. customers. Powered by Rotax as are all these LSA seaplanes, except for Aventura S-17, Super Petrel uses side-by-side seating in an aircraft with excellent manners in the water.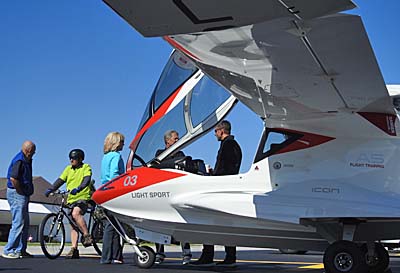 Icon A5 — Thanks to sophisticated, California-style marketing, Icon Aircraft A5 is one of the best known models in the Light-Sport Aircraft space. Their prowess proved itself as the model drew steady interest during the hours on display. This particular aircraft crossed the state so Spruce Creek residents could check it out. Based in the Tampa, Florida area where Icon Aircraft operates a training and demonstration base, A5 flew in from beautiful bayside Peter O. Knight airport.
Thanks to Joe Friend for arranging and to all the vendors for attending.