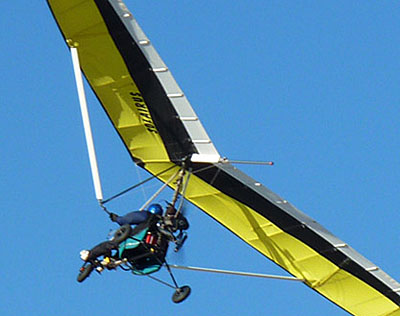 I've been writing about very affordable aircraft•, specifically about Part 103 ultralight vehicles. I know some readers prefer speedier or fully enclosed aircraft. Those people are fortunate as many choices are available and, of course, I will continue writing about them frequently. However, many pilots in the USA and around the world do not have a budget for a magnificent carbon fiber personal aircraft that costs $150,000. Even among those who can afford such aircraft, I'm amazed at the renewed interest in these simplest of aircraft.
In addition, aircraft as shown in the nearby photos have seen considerable development since the early days of weight shift trikes. In my view, America invented these aircraft back in the late 1970s but as three axis ultralights developed, interest from American pilots drew away from weight shift and the best new ideas seemed to come from Europe, Australia or other countries. However, I now see the freshest developments coming from U.S. producers such as North Wing, Evolution, or FlyHard.
In this article, we will look at products from North Wing, based in Chelan, Washington. Fortunately, despite a very long journey from the opposite corner of this big country, North Wing again brought their products to Sun 'n Fun for all to examine. Here's a link to all North Wing trikes and wings
North Wing is what might be called a full-line trike maker. The company offers a SLSA version called Scout in two models, Apache and Navajo, powered by either the Rotax 582 or 912. The most deluxe of these is the Scout XC Apache 912 (video) and while it is nicely finished with most desirable features, Scout sells for a fairly modest $52,000. For those wishing to spend less, other models run as little as $36,500 and even kit versions are available.
In the range of ultralight trikes, North Wing offers three models: Maverick, Solairus, and ATF. The latter is essentially a powered hang glider with landing carriage and the lightest engine available (photo). Solairus is similar but features a sleek composite carriage in lieu of simpler tube-and-gusset construction. For more on Solairus, check out our configuration video or our mini pilot report video.
If you are soaring enthusiast like me, super lightweight trikes like ATF and Solairus may be of great interest. To many others, though, a more substantial rig is desired. That might suggest the two seat and powerful Scout series but North Wing has another in-between model called Maverick.
Maverick is also Part 103 eligible, though like all such aircraft it is possible to push them out of Part 103 by adding too many options. Fortunately, unlike fixed wing Part 103 vehicles, trikes have greater weight allowances available so a Part 103 trike can still be fairly deluxe. Maverick is such an example.
Somewhat like the Evolution Rev I recently wrote about, Maverick drew my attention when I approached it as it appeared, well, different. That's because North Wings' new Maverick had its main gear folded up into what might be called trailer transport mode. The main gear legs on Maverick swivel upward by removing one bolt on each side which exposes two small wheels that I hardly noticed. In such configuration, Maverick can still be pushed around in a hangar or into a trailer; folding the mains considerably narrows the gear stance so it can fit in more confined spaces. North Wing also had a form of two wheel truck (photo) that could be used to make the maneuvering easier.
Maverick 2 also has some other new qualities such a zippered storage area aft of its single seat and a nicely fabricated fairing with a well-designed parachute cover. Parachutes have a close relationship with Part 103 aircraft as they are the only FAA-acknowledged flying machines that give a weight credit for using the safety equipment. Adding a canister parachute like Maverick had installed adds about 18 pounds of weight but then qualifies for a 24-pound weight allowance so that the operator can be said to gain six pounds for other purposes without exceeding part 103's maximum empty weight (278 pounds with parachute versus 254 without).
Maverick is base priced with the weight saving yet powerful Kawasaki 440 40-horsepower, two-stroke engine and in its simplest configuration sells ready to fly for only $17,900. Even with the 35-horsepower Verner JCV-360 four-stroke engine, Maverick is just a hair over $23,000. Get more Maverick info in this video.
At the very least costly end of North Wing's broad-shouldered line is the ATF mentioned above. About this diminutive rig, North Wing said it, "adds power to your hang glider so you can climb to the thermals and power-off for lightweight trike soaring!" This is music to the ears for some of us.
ATF is available with no less than four engine choices: Simonini Mini2; MZ 34; Vittorazi 185; or the four-stroke Bailey V5E engine. All are used by producers of powered paragliders and for the same reason: they are extremely lightweight.
North Wing makes sure ATF has lots of choices and possibilities. Explore these at this link Here's the best news for those on a budget for aircraft: You can purchase an ATF with Simonini 26-horsepower engine and a new Solairus 17-meter wing for just $13,990. Fantastic!
•A reminder to readers that at some time in the future, ByDanJohnson.com will start a transition to a new domain name: AffordableAviation.com because … whatever the selling price of aircraft we cover, our focus remains on the affordable end of aviation.