In the last couple months as we've all been struggling under the lockdowns happening across the country (and around the world), some of our best-read articles have been about going fast using the most powerful engines.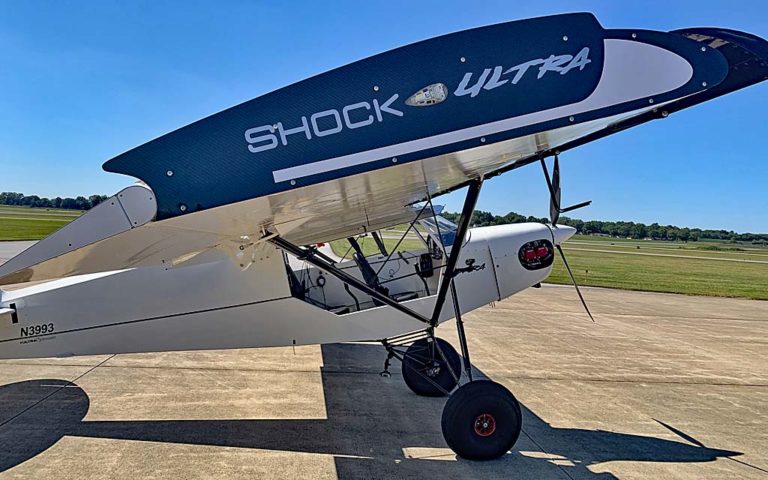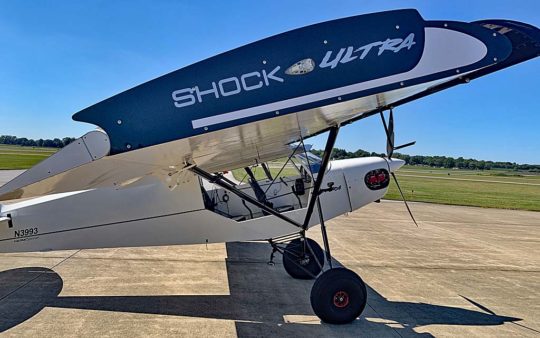 What pilot doesn't want more power? Or speed?
The trouble with more power allowing more speed is that old auto racing line: "Speed costs money! How fast do you want to go?"
How about a not-so-expensive option?
U.S. importer Sportair USA has you covered.
Ultra Shock
If a name has "ultra" in it, the name implies the most of what you should want, right? Wrong! In this case, as famous architect Mies van der Rohe noted, "Less is More."
It seems all the talk is about Rotax's 915iS or Titan's X340, or most recently Continental's CD-170. All these engines share at least two things: (1) They are awesomely powerful, and (2) they might bust your budget.
Not so many years ago, a 65-horse Rotax 582 (still available) was a potent engine. Then came the 9-series and everyone got spoiled on 100 horsepower. That engine ruled the LSA world — literally, all around the globe — for more than a decade since Light-Sport Aircraft burst upon the aviation scene.
Nonetheless, somehow 100 horsepower began not to seem enough. I blame CubCrafters who began pushing 180 horsepower but the Jabiru 3300 (120 hp), the UL Power engines, and the Viking 130 (horsepower) also helped push the envelop. Finally, a mere 100 horsepower didn't seem so much anymore.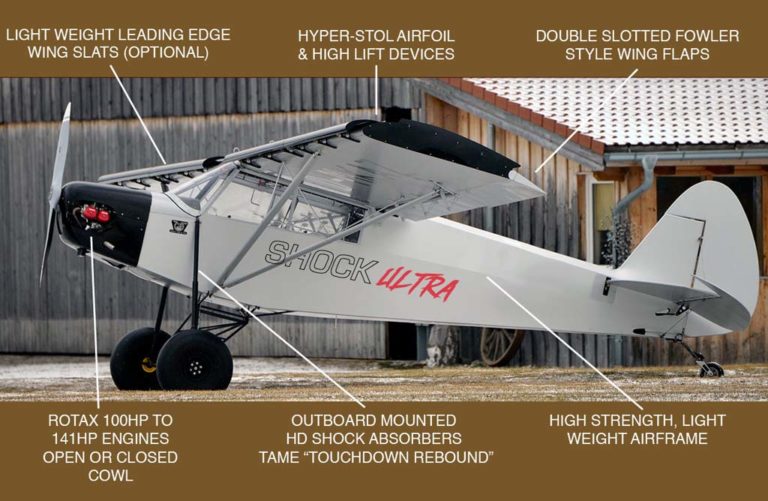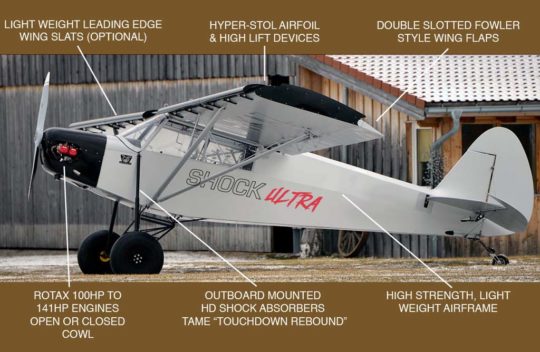 However, as power went up, so did prices. The 915, 340 and 170 mentioned above carry significantly higher price tags, and honestly, not all light aircraft need that much power. Plus, bigger engines are heavier so some of the added power is used to lift the extra engine weight.
Zlin develop Pasquale Russo and U.S. importer Bill Canino think the familiar and proven Rotax 914 Turbo offered a "best of both worlds" proposition.
For 2020, Zlin introduced the Norden concepts. Read our earlier article about it and see the video below for about Shock Ultra.
Coming To Be
"The natural evolution … of our Shock Cub, an aircraft created in 2016, developed our vision about an ideal bushflying aircraft," Pasquale told me at Aero Friedrichshafen. "Adventure yet with maximum safety  (a protective cockpit cell and ideal aerodynamics of high performance at low speeds) represents the key."
Minimizing empty weight is critical for some buyers and led Pascale and Bill to seek a lighter version of the Shock Outback that is powered by the potent Titan X340.
"We asked ourselves how much weight it would be possible to save, while maintaining the excellent performance of the Shock Outback," explained Pasquale. "It was clear to us that some of the fundamental Shock features — a wing with slats on demand, landing gear equipped with long-stroke shock absorbers, deep Fowler flaps (nearby image) — should be integral parts of our project."
Through a general weight saving campaign involving the whole airframe, Zlin engineers managed to reach a demonstrated minimum empty weight of around 650 pounds when minimally equipped. This is far less than most other "Cubalikes."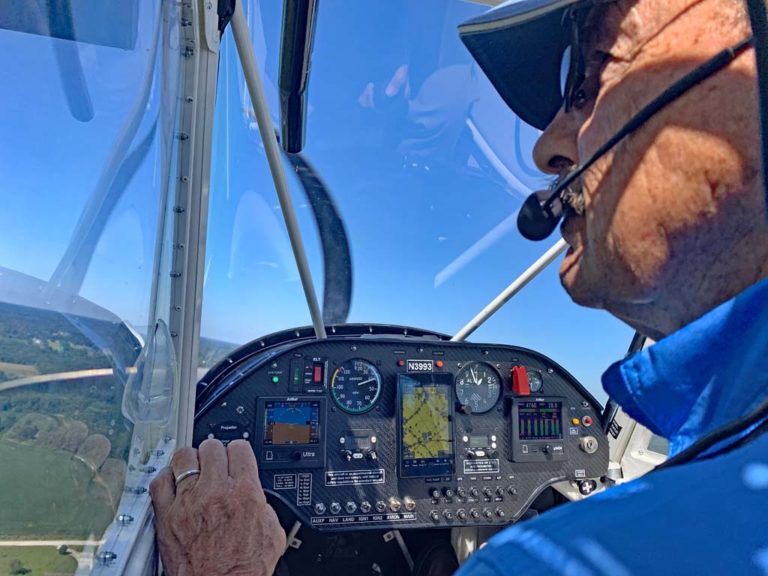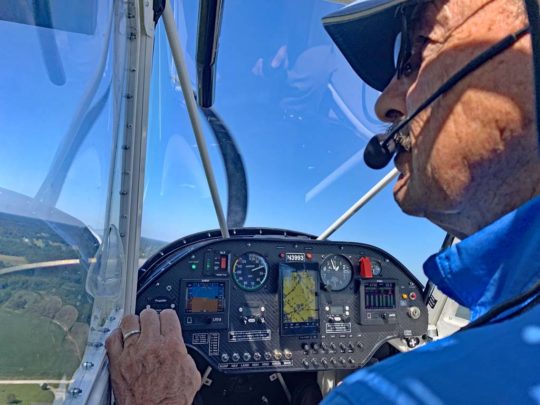 "This required a long, meticulous revision and optimization of the whole airframe," said Pasquale, including fuselage, empennage, landing gear, nose cowl, fuselage skin, the cockpit interior, brakes and control surfaces. It became a reconfigured airplane from spinner to tailwheel.
Careful weight reduction dropped the weight while keep their "hyper STOL" wing performance that can sustain speeds of barely more than 30 mph. "This is more typical for a powered paraglider than for a robust three-axis aircraft while maintaining interesting cruise speeds" Pasquale observed.
U.S. representative Bill Canino offered this list of worthy features for Shock Ultra: short takeoffs, quick climbout, short landings, tame landings, authoritative control, minimal touchdown rebound, safe slow flight, low stall speed, spin resistance, responsive controls, plus simple, strong construction that can be repaired by almost any qualified mechanic without special training.
How much? While everyone's budget is different (and changes), the Rotax Shock series offers choices and one of them may meet your needs:
$117,125 with Rotax 912 (100 horsepower)
$132,895 with Rotax 914 (115 horsepower)
$146,345 with Rotax 915 (141 horsepower)
Prices subject to change — contact Sportair USA for the latest info
---