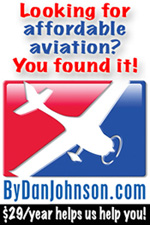 April 2023 will be fantastic with not one but two great affordable aviation events: Sun 'n Fun and Aero Friedrichshafen 2023. Until then, we have plenty to report; 2022 was a very active year. Keep clicking or tapping back here…!
You can read everything on this website completely free of charge — though we appreciate your support through membership.

Learn which companies lead the light aircraft sector — Tap or click the big blue button.
Thanks for your visit. We genuinely appreciate those of you who have become members!