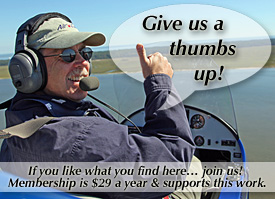 Sun 'n Fun 2021 may be over but the news and video from the spring show continues. Watch for our ongoing reports.

We have huge amounts of Light-Sport, Sport Pilot kit aircraft, and Ultralight information here; you could read for weeks and hardly scratch the surface. Also, check our growing library of short videos on the ByDanJohnson Affordable Aviation YouTube channel.

In addition, you can find nearly 1,000 LSA and Sport Pilot kit videos featuring Dan on Videoman Dave's "Light Sport and Ultralight Flyer" YouTube channel + view hundreds of our best videos archived here in a searchable format.

Thanks for your visit. We genuinely appreciate those of you who have become members!