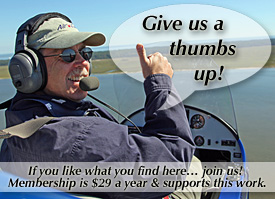 Coming: Fall 2022 Show — Aero Showcase. This is the restart of the DeLand Showcase, reorganized and with a fresh focus. Please come join us next month in Florida — October 21 & 22, 2022.
Do you like affordable aviation? Then our Part 103 List is for you. Find ALL Part 103 ultralights!
Read everything on this website with NO PAYWALL — though we appreciate your support through membership.
VIDEO — Short features on ByDanJohnson Affordable Aviation YouTube channel and nearly 1,000 LSA and Sport Pilot kit videos featuring Dan on Videoman Dave's "Light Sport and Ultralight Flyer" YouTube channel + view hundreds of our best videos archived here in a searchable format.

MARKET INFO — Tap or click the big blue button to study FAA aircraft registration data for every, single aircraft in the segments covered on ByDanJohnson.com.
Thanks for your visit. We genuinely appreciate those of you who have become members!