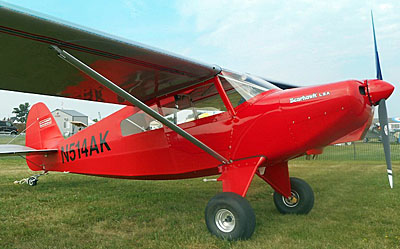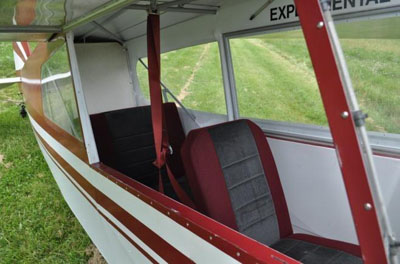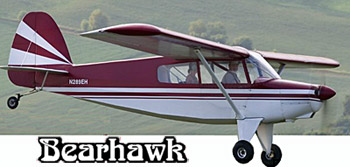 Are you lusting after a Cub lookalike but can't afford the steep price tags these popular flying machines carry? How about something much more affordable? A taildragger called Bearhawk has picked up accolades from AirVenture judges and owners appear very loyal. Sometimes those of us close to factory built Light-Sport Aircraft tend to forget about the homebuilt community. However, more pilots exercising the privileges of Sport Pilot are flying kit-built airplanes than ready-to-fly models, a trend that is likely to continue because a kit represents a lower cost option and one where the owner can more easily do all repair work. Let me clarify, though. Bearhawk is Sport Pilot eligible (using a term my longtime EAA friend, Ron Wagner, coined); it is technically not a Light-Sport. Bearhawk LSA made its debut at AirVenture two years ago as a prototype constructed by its designer, Bob Barrows. Recently a customer flew the first completed kit.
Bearhawk Aircraft owner/builder Mark Goldberg completed the first Bearhawk LSA quick-build kit, N514AK, and flew it to AirVenture last month. The trip from Texas took 9.7 hours cruising at just under 100 mph while burning 4.5 gallons per hour. Portions of the flight were done at up to 118 mph consuming 6 gph Mark said. Goldberg's Bearhawk uses a Barrows-engineered 105-horsepower Continental Motors O-200 engine under the cowl. Following a four seat model, Bearhawk LSA is "a clean-sheet design with an all-new airfoil, developed by Harry Riblett," said Barrows. Construction is similar to other Bearhawk aircraft, with fuselage and tail surfaces of welded 4130 chromoly frames covered in fabric. The all aluminum, flush riveted wings are supported by a single strut. Bearhawk designs are popular for their solid performance and pleasant flight qualities. The designs are known for short field capability, gentle slow speed manners, yet manage reasonably high cruise speeds. The legions of folks buying Cubalike designs can consider Bearhawk and save a bundle while flying faster, not a bad combination. Bearhawk is available as a quick-build kit from the Austin, Texas company.
Empty weight of Bearhawk LSA is 750+ pounds, depending on equipment an owner installs, yielding a useful load of 570 pounds. With 30-gallon tanks full of fuel, payload calculates to 390 pounds. Of course local flying can be done with less than that large amount of fuel; the 31-inch-wide cockpit will accommodate a couple big fellows in tandem seating (photo).
As the airplane is designed for a maximum weight of 1,500 pounds, Bearhawk boasts an additional margin at the 1,320-pound LSA limit. A quick-build Bearhawk LSA with no welding required and wings completed to a significant extent — including full riveting of the top skin, fuel tanks, and ailerons — costs $36,000. The welded steel frame has all tabs in place and is primed and painted. Even with exterior paint, avionics, and a new O-200 engine, a completed airplane may cost less than $80,000 or about half of a basic model CubCrafters. Other engine choices (65 to 120 horsepower is supported) can further hold down the expense, especially if you find a good used powerplant. Here are additional specifications of Bearhawk LSA:
Cruise Speed — 115-125 mph (100-110 knots)
Landing Speed — 30 mph (26 knots)
Range (with tanks full at 30 gallons) — 650 pounds
Wing Span — 34 feet
Wing Area — 171 square feet
Length — 22 feet, 3 inches
Height (in three point position) — 75 inches
Cabin Width — 31 inches
Cabin Length — 97 inches
Bearhawk LSA nearly achieves the design holy grail of 4:1 top speed to stall speed (118 to 30 mph) but most importantly, here's an unpretentious aircraft you can probably afford. If you want to study first, plans-only are available at just $275. For more information on Bearhawk Aircraft visit the company's website, contact Bearhawk by email, or call 877-528-4776 (Central time).