Sometimes a new Light-Sport Aircraft producer bursts on the scene in dramatic ways. Think of Terrafugia and their folding wing flying car or Icon and its sexy A5 LSA seaplane. Others enter from different positions of strength. One of the newest of these is Vashon Aircraft with their Ranger R7 (here's our earlier reporting on Ranger).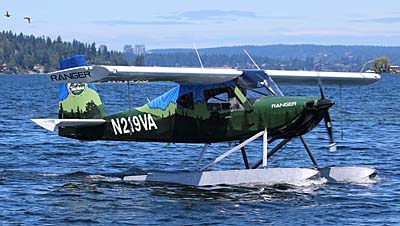 While organized as completely separate companies, Vashon shares common ownership through the name John Torode, the founder of Dynon Avionics. The two businesses work hard to stay separate but it's clear one success might help the other just as John's earlier success in the tech industry lead to Dynon being formed.
When you check the Tableau Public tally of market share information — you can select to show only Light-Sport Aircraft, Sport Pilot kit aircraft, or modern gyroplanes, or any combination, but the link defaults to all aircraft. When you look you'll find Vashon ranking well in 2019 and continuing to up their production game. The company presently has 20 Rangers on the FAA registry.
Vashon Ranger FAQs
The success of Ranger R7 begged the answer to some questions submitted to the company by Kent Misegades of Seven Lakes, North Carolina. Kent posed the questions to Ken Krueger, chief engineer of the Ranger R7, to get the following answers. Krueger formed his own company called Sky Designs after leaving Van's Aircraft. Kent's questions are shown in colored text.
---
Number sold and delivered since AV18.

We've delivered 14 airplanes since AV 18 and we have a sizeable backlog of customers who've put down deposits.
Estimated production numbers in 2019, if this is something you wish to divulge. We've produced 12 aircraft so far in 2019 and are working to get the production rate to 4 aircraft per month.


Where are the delivered airplanes based, in a general sense. How are they being used?

Most aircraft are personally owned and used for sport flying although our very first customer airplane went to a flight school at our home airport near Seattle. Our customers are spread across the USA, we've delivered airplanes to Arizona, California, Florida, Georgia, Kansas, Kentucky, Massachusetts, and Ohio. We also have one airplane in Canada.

Interest among flight schools to replace C150/C152?

As already mentioned, our first delivery was to a flight school, but, yes, lots of interest from other flight schools and flying clubs.
Is the R7 only for those interested in Sport Pilot/LSA? Emphatically, no. One of our design goals was to have an airplane that appeals to many different segments of the market. Ranger's cabin is large and comfortable, everyone who's flown in the airplane has praised it's flying qualities, and I think we've done a nice job of integration with Dynon avionics. Plus our price point is quite competitive.

What have you learned since AV18?

With the increasing number of customer airplanes flying, we're gaining a better understanding of what customers want and the environment they are operating their airplanes in. Also we're learning that it takes effort to efficiently build the airplanes while maintaining consistent quality.

What new topics are you focused on at AV19?

Product awareness, we are here to let folks know about the Ranger and Vashon Aircraft. As the aircraft itself is maturing, that allows time for us to develop necessary accessories like tow-bars, windscreen/cabin covers, and the like.

What has changed in the specifications / pricing / offers since AV18, ie obvious from your web site and literature?

Nothing, pricing and options remain the same as last year.
Anecdotes from customers/operators and how you have addressed requests/problems (the true indicator of excellence). We've had a couple of ground handling mishaps with customer airplanes which resulted in bent metal. It was gratifying to go through the process of assessing the damage, deciding which parts would need replacement, and seeing the repair process move so quickly. With our pre-painted metal and since all the parts are manufactured on CNC machines, the speed and accuracy with which repairs can be made is pretty amazing.

Where can a person get a demo flight?

Here at AirVenture 2019, simply swing by our display and ask as we will be offering demo flights in our company aircraft. Otherwise, just call Vashon and talk to Kurt Robertson or Kelsey Hickman.
More FAQs
See Vashon at Oshkosh 2019
How are purchased aircraft delivered to the customer? Do they receive any introductory flight or light maintenance training?

Customers can either travel to Paine Field, near Seattle, to pick-up their new airplane or we can deliver it. In any case, included with each airplane is up to ten hours of transition training with one of our CFI's.

What sort of manuals come with the aircraft?

The Pilot's Operating Handbook, Flight Training Supplement, Maintenance Manual, plus manuals for the engine, prop, and other equipment on the airplane.

What has the reliability record been so far?

Good overall. No major airframe or powerplant issues.

Where is your exhibit located and who will a person meet there? Vashon is in the Main Aircraft Display area, booths 17 & 18. Vashon (and Dynon) CEO John Torode, General Manager Scott Taylor (each pictured nearby), Marketing Specialist Kelsey Hickman, Marketing Manager Kurt Robertson, and Chief Engineer Ken Krueger can all be found there.

At what other public events can one see an R7 this year?

We will be at the Arlington, Washington fly-in in August. With more airplanes being delivered each month, folks will start seeing Rangers dropping-into airports for fly-in events and/or fuel stops.

What are the sales/support/service channels for the R7?

Right now, all this is handled through our main office in Woodinville, Washington.

Any plans for a kit version?  Tailwheel version?   Float version?  Other powerplant?

  No current plans to offer a kit version, or tailwheel version of the Ranger. As for powerplants, we will be staying with the Continental O-200-D for the time being. We are, however, pretty excited that our prototype airplane, N219VA, has been mated to a set of Edo 1320 floats and is now flying off Lake Washington. The airplane was designed from the beginning to a floatplane and, as such, it looks great both on the water and in the air.


What is the 'sweet spot' / advantages of the R7 compared to the competition?

Affordability both in terms of purchase price as well as operational costs, integration of modern avionics, and the well proven direct-drive, air-cooled engine.

Are any customer-owned R7s coming to AV19?

Yes, we're expecting a couple of customers to fly in with their airplanes. N133VR, one of the customer airplanes seen last year is here again on display.

What positive surprised have you experienced since AV18, beyond sales.  For instance positive comments from customers who had not expected.

One customer has commented to us that he has to budget at least a half-hour to fill-up his airplane. This is because wherever he stops, folks come out to look at his Ranger and ask questions.

How well is the vinyl wrap holding up?  Can a customer get any design he wants?  (We don't have mountains down here in the South.)

The wraps are holding up well to environmental conditions such as sun, heat, cold, moisture, and bug splats. Vinyl has been in use on cars for many years now, so it is very much a known quantity in terms of durability. It isn't a whole lot different than paint, however, in that you still need to be careful when installing/removing the cowling to avoid causing damage. As for custom designs, yes, customers can get anything they want. There have been a few custom-wrap airplanes delivered and it was fun to see people getting creative with their design.


Anything else readers should know?

We will be giving a forum at AirVenture 2019 — Friday July 26th from 11:30 am to 12:45 pm at Forum Stage 5. There will be time at the end of the presentation for questions and answers. I hope to see everyone there!