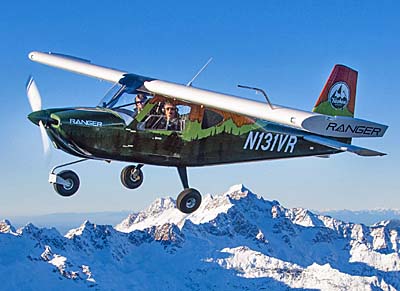 From Washington State arrives a fresh, new airplane created from scratch to enter the Special LSA space. You don't know the company but you may know the people, at least indirectly. Welcome to Vashon and their new Ranger R7!
Ranger R7 is an all-metal, two-place, high-wing, single engine airplane equipped with tricycle landing gear and castering nose wheel. The company says Ranger has been in development for five years and has been flying for more than two.
Vashon Aircraft was founded by John Torode, and the Ranger R7 was designed by Pacific Northwest aeronautical engineer, Ken Krueger. Does the name Torode sound familiar? It should. This is the man behind Dynon Avionics. Other key players are General Manager Scott Taylor and Marketing Manager Amy Bellesheim.
Starting Clean
According to Bellesheim, "Ranger R7 is a clean-sheet design. Ken Krueger, our chief design engineer, comes to us from many years at Van's where he worked on the RV-12. He consulted with our owner John Torode on coming up with an airplane that had big flight control surfaces, a giant cantilever wing, and bigger than normal vertical stabilizer." She clarified, "Ranger is not based on any of Van's aircraft."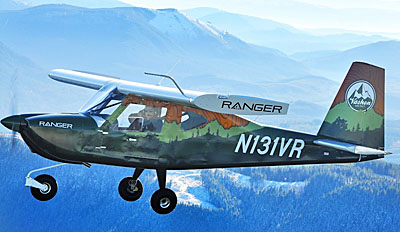 The team picked the name Vashon Aircraft because "we wanted to give it a Pacific Northwest rugged, utilitarian 'jeep' feel," said Bellesheim. "You can go out in nature, get dirty, and get back in the airplane without worrying about messing the airplane up. We live among national parks so the name Ranger comes from [these] parks. We chose R7 because it sounds modern and cool."
The design goal appears to be a rugged outdoor-action airplane but with sophiciated avionics, a natural if unlikely pairing resulting from the close relationship to Dynon Avionics. Aiding the rough-and-ready approach are easy-loading doors that open 180 degrees; seats that fold down 90 degrees to facilitate camping and large cabin volume capable of holding such gear.
"Another thing that we wanted to accomplish with the airplane was to make very rugged landing gear," said Bellesheim. The main landing gear is a fiberglass leaf. It's very similar to what Jim Bede did on the Grumman American airplanes.
A key goal was holding down the price. Owner and CEO John Torode expressed, "I firmly believe cost is the biggest inhibitor of aviation today and our goal was to build an airplane under $100,000 that was very capable [with features] today's customers really want: autopilot, glass cockpit, radio navigation capabilities."
Torode further clarified, "I started Dynon to bring affordable, advanced technology to the aviation community, yet there still remains a need to innovate beyond the panel to bring affordable flight to more people. With Vashon Aircraft, I hope to empower the next generation of pilots with the tools they need to take to the skies."
Vashon manufactures about 90% of its own parts, the company suggested. "We invested heavily in the manufacturing side so that we could build parts as efficiently and effectively as possible," said Bellesheim. "This allows us to control the cost."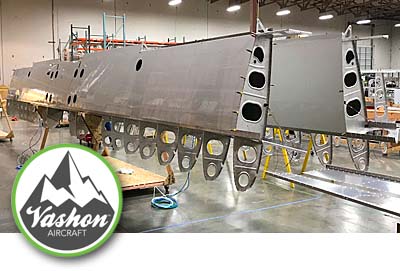 Vashon claims to be one of the first companies to form pre-painted metal. "We purchase sheets of stock aluminum that have been painted and then form them into parts using a modern turret punch, laser, and hydropress technology. Because of that we have taken a whole step out of the airplane building process by eliminating the need to paint after assembly," reported Bellesheim. "We also spent a lot of time developing painted rivets so that they match the airplane."
For power, Vashon chose Continental's O200-D 100-horsepower engine swinging a Catto composite fixed pitch propeller.
Ranger R7 was designed, engineered, and tested, and will be manufactured at the Vashon Aircraft factory headquarters near Seattle, Washington. The new model will be assembled at Paine Field "…just down the
taxiway from the Boeing wide body plant."
As Ranger has been kept a secret, only select people have flown it. "The handling qualities are very smooth and forgiving," said Scott Taylor, Vashon's General Manager. "[It's] easy to fly [and has] very little friction in the control system. Stalls are benign and predictable."
With a castering nosewheel, steering is by differential braking. Dual toe brakes are supplied and pilot height is accommodated with adjustable rudder pedals. Ranger's cabin is 46.7 inches wide.
Ranger R7 

Specifications

Vashon released dimensions on the airplane: Wingspan — 29 feet 6 inches; Wing Area — 135.6 square feet; Empty Weight — 875 pounds; Gross Weight — 1,320 pounds; Useful Load — 445 pounds; Fuel capacity — 28.1 gallons

Performance Data: Takeoff distance — 315 feet; Landing Distance — 475 feet; Rate of Climb — 1,035 feet per minute; Top speed at gross weight — 119 knots; Cruise Speed at gross weight, 2750 RPM, 7,500 feet density altitude — 117 knots; Range at gross weight — 430 nautical miles.

Significant Speeds: Stall with Full Flaps at gross weight — 41 knots; Normal Operating Range (green arc) — 45-103 knots; Maneuvering — 90 knots; Never exceed — 131 knots; Best angle of Climb — 60 knots; Best Rate of Climb — 75 knots
Pricing and Terms
Pricing for the "Yellowstone" base model is $99,500. Ranger comes with complete Dynon SkyView HDX-equipped panel including two-axis autopilot, 2020-compliant ADS-B Out, and ADS-B Traffic and Weather. For a full list of what is included, visit Vashon's website.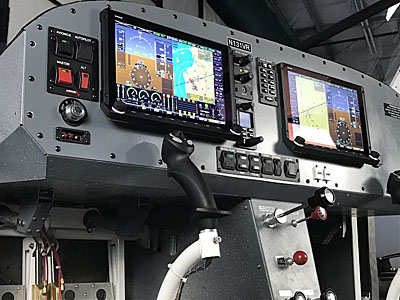 The prototype Ranger has "canvas slate gray upholstery, light gray floor and sidewalls, a gray instrument panel, and gray center console. At higher price points, you can add other colors and accents. As they move into producing additional aircraft, "the colors for interior will be either gray or black or a combination of both."
In progressive upgrades, you can get more goodies in their "Glacier" package for $107,500; or their "Redwood" upgrade for $114,500, or the "Appalachian" for $129,500, a variant described as their "flight school model."
"We won't take deposits," said Vashon. "We won't take your money until we have an airplane for you."
Learn more about Vashon Aircraft and the Ranger R7 and see some video clips of the new bird in flight. The official launch and public unveiling will be at AirVenture Oshkosh 2018.