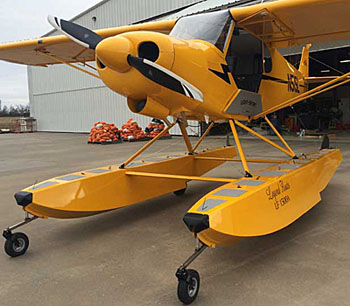 Whoa, big boy! When you have huge power available, you need to … well, go have fun! I've covered the Super Legend before (article & video), which had the multi-fuel, electronic ignition 115-horsepower Lycoming O-235 installed. Certainly that was and remains a solid powerplant but now the company has added a Titan engine that pulls like a team of stallions. Call it the Super Duper Legend Cub.
As sales of Legend Cubs and similar aircraft have shown, pilot interest in Cubalikes is strong. American Legend recently logged their 10th anniversary; they've been around since the LSA sector first arrived on the scene. However, they haven't simply made the same old airplane in the same old way. Now welcome Super Legend HP.
Before Sun 'n Fun 2015, the Sulphur Springs, Texas company announced they had added, "a host of new features for our Super Legend, adding functionality, comfort and safety to the lineage of Legend Cub aircraft. Standard and optionally available, these features range from advanced carbon fiber components, including the company's new carbon fiber amphibious floats, to the latest in NextGen and touchscreen electronic flight displays."
Super Legend HP, the new top-of-the-line model for American Legend's stable of Cub aircraft, was introduced at the Lakeland, Florida event featuring a 180-horsepower Titan O-340 engine. Get this: Super Legend HP can leave the ground in a mere 35 feet and climb at 2,000 feet per minute, according to American Legend. The HP model can clear a 50-foot obstacle in 200 feet, said the company adding, "The Titan O-340 offers fast cruise speeds of up to 104 mph TAS at 2150 rpm."
"The four-cylinder, 340-cc Titan engine is a stroked derivative of the Lycoming O-320. It weighs 245 pounds, which is 20 pounds less than the similar O-360," reported American Legend.
The HP derivation is an upgrade of the Super Legend that was introduced in 2011 (when the video above was shot). With more carbon-fiber components and expanded avionics options Super Legend HP is available as an LSA, with certain restrictions to comply with the rules, or as an experimental kit airplane.
To qualify as a Special LSA, Super Legend HP has a maximum takeoff power limitation of five minutes with continuous cruise operations limited to 80 horsepower. This procedure is used by other LSA that employ high-powered engines. For the SLSA model, American Legend uses a special lightweight custom paint and avionics packages to assure Super Legend HP weight stays under SLSA certification rules of 904 pounds. However, the company noted, "Super Legend's strength-tested airframe, up to 1,750 pounds." When sold as an Experimental, the same airframe may use the higher gross weight." To benefit from a higher useful load that comes with the increased gross weight, buyers will need a Medical and will build their own airplane.
A very familiar supplier to the LSA community, American Legend is a leader in a crowded Cub market. Over a decade, the Texas outfit has built well-regarded product support for its line of Legend Cub aircraft. Launched as the SP/LSA rule was introduced by FAA, American Legend has firmly established itself as one of the most successful manufacturers in the space. "We have built a reputation among our Legend Cub owners and operators, guest pilots, passengers, and within the industry for designing aircraft that are true to the Cub form yet are modern, competitively priced, and built to last," stated the company.
In addition to being a solid player in the light aircraft industry, American Legend has developed a full line of aircraft and components. Beside the open-cowl original and offering several engine choices, you can buy Legend Cubs in ready-to-fly or kit form plus you can choose AmphibCub. While floats have been available for some time, AmphibCub has recently received the full American Legend treatment and now sports in-house-designed Legend Floats.
American Legend recently completed certification of its own Kevlar and carbon fiber LF1500A amphibious float design. Purpose-built for the Super Legend, the company's amphib floats use a manual gear mechanism that also offer watertight storage compartments. Focused first on strength and performance Super Legend AmphibCub is available with a wish list of features such as the much-revered touch screen Garmin G3X display. These options are available on most Legend Cubs.
Garmin's G3X brings the latest in advanced avionics to Legend Cub aircraft. Available in 7-inch or 10.6-inch displays, G3X has been called "more advanced than modern airliners," reported American Legend. Synthetic vision, a two-axis autopilot, and fuel flow metering are just a few of the features.
Keeping their vintage-appearing aircraft fully up with the times, American Legend recently installed and received approval of an ADS-B system. The company observed, "A far cry from early Cubs that flew without radio and transponder, the installation meets the FAA's 2020 mandatory compliance requirements for NextGen ADS-B equipage. The option includes a FreeFlight Systems Model 1201 WAAS GPS sensor and a Trig Mode S and 1090ES ADS-B Out capable transponder."