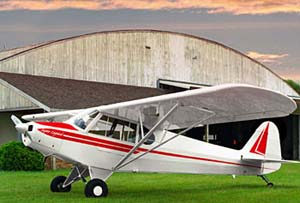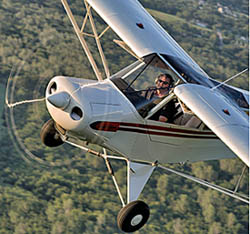 Available previously as a kit (more on that below), American Legend recently provided photos proving that the Sulfur Springs, Texas company has now won a Special LSA certificate for the Super Legend, topping our SLSA List at number 133. The model has other differences but a key reason for the name is the Lycoming O-233 engine supplying 115 horsepower that gives a nice boost to its performance on wheels or floats. Super Legend will go up against the CubCrafters Carbon Cub SS (with 180 horsepower) and the Zlin Cub-S (also 180-hp). While it may not provide the same excess of power it is more affordably priced than Carbon Cub SS, although the latter is a highly developed offering that is generous in its use of carbon fiber, as its name implies, and in an overall sense of stylized design.
American Legend noted, "The closed cowl Super Legend has the same power-to-weight ratio as a 150-hp Piper Super Cub. The Lycoming O-233 delivers 115 horsepower and delivers unlimited performance in a classic Cub platform." The company reported standard equipment includes: ground adjustable composite prop, traditional white paint with red striping, adjustable seats, basic panel (altimeter, airspeed, inclinometer, tachometer, oil pressure, oil temperature, voltmeter), 406 MHz ELT, 6.00 x 6 tires. As the order form for either kit or fully built suggests you can add a wide range of options including Dynon or Garmin glass panel packages (including radios and more) for $24-26,000, TruTrak autopilot for $8,000, AmSafe airbag seat belts for $4,000, lighting packages for $4,000, or floats at $28,000 for straight floats or $38,000 for amphibious versions. Other than the floats, all these deluxe packages take the lovable Piper Cub concept into the new millennia. Options also take the price toward $200,000 yet the appeal of the design is strong with both American Legend and CubCrafters reporting good or strong sales in a otherwise sluggish LSA environment.
A fully built AL18 Super Legend Cub in the look of a Super Cub lists for $146,800 and as referenced you can bid that base price up a great deal if you wish. Those who want a new Cubalike but can't swing two hundred grand could opt for the kit. The airframe components start just above $50,000 and you add the Lycoming O-233 for $25,000 plus could choose a builder assist program for $18,000. The latter can help you build in as little as 21 days American Legend specified though they indicate "Extra building days may be required depending on options." Individual aptitude and degree of motivation would also be a factor. Pre-wired instrument panel packages will add $23-25,000 but speed the kit assembly process. However you may choose to select from the taildragger offerings from American Legend, you now have more choices and it seems likely that more of this iconic shape are destined to populate the skies.
Legend president Darin Hart is pleased with the company's efforts of late, passing an FAA audit this fall amid the government shutdown and now winning SLSA approval for the Super Legend. Hart noted that the new model came in with "an empty weight of 862 pounds equipped with common accessories and lighting, giving a useful load of 458 pounds." He added, "The big differences, compared to other Legend models are flaps and aerodynamic tail surfaces plus the more powerful and multi-fuel O-233 engine supplied with 30 gallons of fuel instead of the 20 gallon capacity of the other Legend models. Super Legend first flew in January of 2012. For more details, please check our video interview.