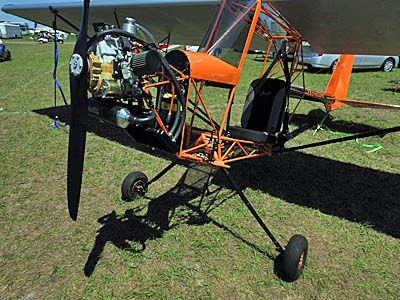 After a damp opening day, the sun returned on day #2 at Sun 'n Fun 2018. A beautiful blue sky was enjoyed by crowds that appeared to grow quickly. Many likely saw yesterday's forecast and put off attending for that day. By the end of Wednesday, though, parking aircraft filled the grounds, nearly every one of 58 display spaces in Paradise was occupied, and campgrounds were reported so full that additional area was opened.
The LSA Mall hosted by LAMA also filled up to include quite an eclectic collection of light flying machines from a 140-pound twin-engine genuine Part 103 ultralight homebuilt (Lightning Bug), a one-of-two-in-the-USA motorglider to highly affordable choices, speedy LSA cruisers, and bush-ready aircraft.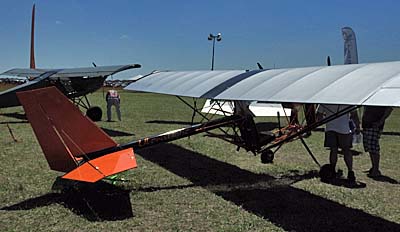 DeLand Showcase, the new airshow in early November (1st-2nd-3rd in 2018) sponsored a reception and attracted a large crowd that was fed a wonderful meal, served drinks, and entertained by live music all within clear view of the light plane area turf runway.
Videoman Dave and I were able to collect a fresh batch of seven new videos. One of these was about Just Aircraft's new Part 103 entry that may be called Just 103 Solo (though the name is still in discussion).
Just 103 Solo Proves Renewed Ultralight Interest
Unveiled only nine months ago, Just's Part 103 unfinished prototype generated a surprising amount of interest, as measured by Just Aircraft comments and response to my article linked above.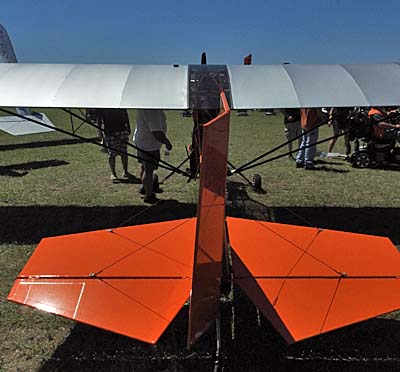 Overall this seems part of a surge in Part 103 interest, for plenty of good reasons: • greater freedom (no license or registration required, • no medical of any kind needed, and • the aircraft can be delivered ready-to-fly. The best news for budget-minded flying enthusiasts is truly • low prices for these single seaters that typically fly 40-55 mph. Companies like Kolb Aircraft and U-Fly-It — maker of the Aerolite 103 — report good sales activity and a number of producers are lining up to offer choices.
Just isn't quite done with the Solo (or whatever its final name) but they are flying the model, still powered by the Polini single cylinder engine. "It performs quite well with this engine," said principal developer Troy Woodland. He said he has logged a few short flights of early testing and one hour-long flight. More testing will follow.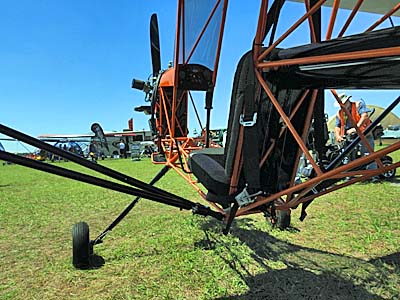 Additional changes are likely, for example:
A boom tube will likely give way to a welded steel structure supporting the tailplane. Welded fuselages are very familiar to Just and they're sticking with their core competency.
Earlier plans for spoiler controls gave way to conventional ailerons but spoilers and a slotted wing may come later.
Simpler brakes will be offered in addition to the deluxe Beringer wheels and brakes on the prototype.
Troy also plans to fly with a brand-new Rotax 582 he has available; this would give such a light aircraft incredible performance (though it would not qualify as a Part 103 with that powerplant).
The prototype Just 103 Solo doesn't presently make Part 103's tough weight limit, but Troy is sure they can trim the few pounds needed to qualify; they will also likely offer a parachute, which can "buy" a few extra pounds according to FAA guidance on the matter (Advisory Circular 103-7).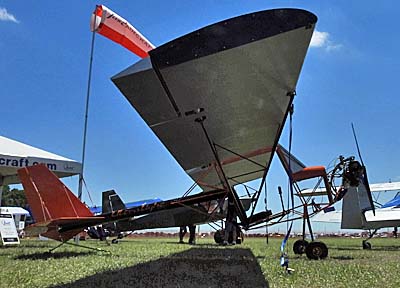 By the time a new AirVenture rolls around this summer — barely over three months away — Just should be ready to start deliveries to selected customers who will build kits and offer Just feedback on the aircraft. After a short period of evaluation, Just plans to offer fully-built models if the buyer selects appropriate engines and options.
As one who enjoys genuine Part 103 vehicles, I am excited to see this resurgence in aviation's lightest powered flying machines and I bet Just will sell a good many of their new entry.
Weather looks good for the next few days so come join us at Sun 'n Fun 2018. If you cannot come to Florida, stay tuned to this website for more updates (even if it does keep me up late to provide these updates). Sure, these shows make for long days but what better way to enjoy life than watching airplanes fly all day and talking to our flying buddies.
Here's a one and a half minute swing by the LSA Mall at Sun 'n Fun 2018: