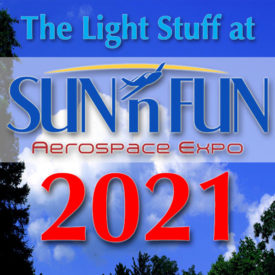 We continue with further coverage from the first major airshow in almost two years… THANKS to Sun 'n Fun 2021 for helping present these interesting aircraft and more.
This article has news …about two aircraft in a category I refer to as "alternative aircraft" …about an easily-mounted autopilot you can actually afford …and the success story of a French prop maker now well established in the USA.
Alternative aircraft is my umbrella term for weight shift aircraft (trikes), powered parachutes, gyroplanes, carriage-equipped powered paragliders (not the same as powered parachutes), Light-Sport motorgliders, and Light-Sport Lighter-than-Air flying machines. These unorthodox, not-mainstream aircraft have maintained a steady share of sales; around 100 new such aircraft enter the U.S. market every year.

Counting all types, the "alternative aircraft" sector may account for a quarter or more of all LSA sales. Alternative aircraft have attributes that drive customer inquiries: better affordability and unique flying qualities.
Not interested in alternative aircraft? That's hardly surprising as most American pilots were trained in conventional, three-axis, tractor-engined aircraft, usually with a control wheel and rudder pedals. Most of those pilots will stick with a familiar configuration and therefore the LSA market caters to that large pilot community. Others yearn for something different or something more affordable.
---
Looking Further


Sun 'n Fun 2021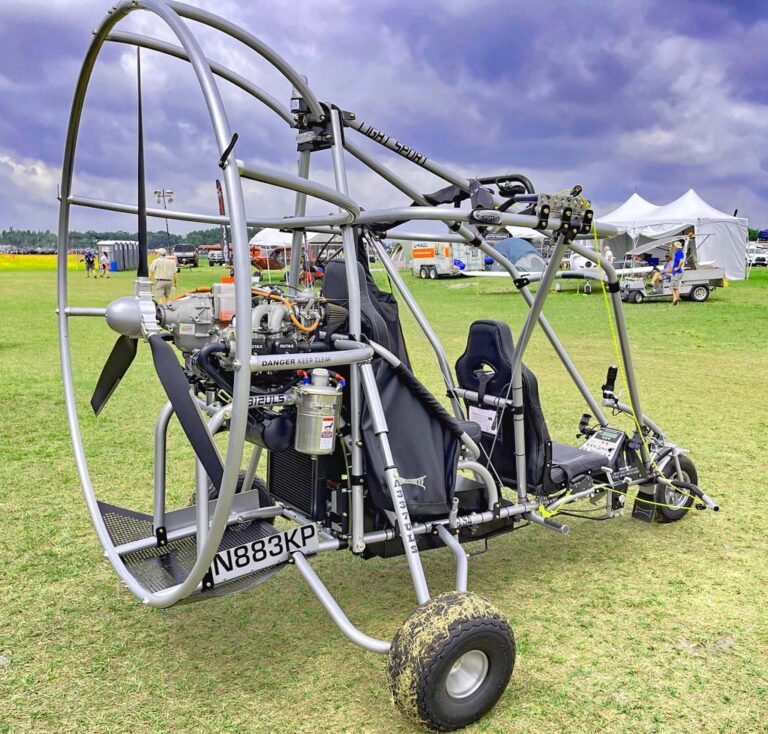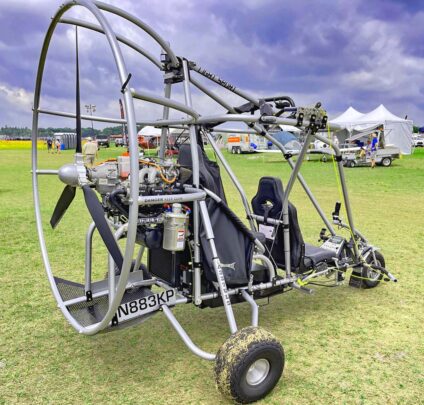 Powrachute Powerhouse — Powered parachutes (PPCs) grew nicely last yet after a dip in 2019 registrations, but nearly all of that came from the Powrachute brand. This Michigan producer — which does significant work for Evolution Trikes and manufactures parts for other producers — nearly doubled its registrations from 2019 to 2020.
From its heyday back in the '90s, powered parachutes have become a "mature" segment within recreational aviation. You can get a Sport Pilot certificate in a PPC in just 12 hours (assuming an apt student). Cost of a 912-powered rig is less than $40,000 for a well-equipped 100-horsepower Rotax 912-powered Airwolf; the engine alone is nearly half the total, making this machine "affordable." Even if you are most tuned into fixed-wing flying, those facts may get your attention.
Other active PPC developers and producers include SkyRunner and it's gnarly, large, and "twin-engined" combo powered parachute and ground vehicle; several sales are underway to the U.S. government and military. Infinity Powered Parachutes has also been active at airshows, including last year's Midwest LSA Expo.
If a $38,000 aircraft with perhaps the broadest viewing platform in aviation catches your interest, how are you going to learn to fly one? As powered parachute manufacturing has matured the training market has tightened …yet gotten better. Roy Beisswenger's Easy Flight — which sells the Powrachute line including Airwolf (pictured nearby) — offers a premium course in two locations: Illinois in the summer, or Florida the rest of the year. Roy knows what he's teaching …heck, he wrote the book on it, a veritable PPC Bible.
For More Info: Powrachute — A video interview with Galen Geigly of Powrachute will follow.
•    •    •    •    •    •   •
Gyro Technic's VX1 Gyroplane — In the rush to build ever-slicker models, the gyroplane industry has dedicated itself almost exclusively to two-seat aircraft. Some are now side-by-side though much more common is tandem, fore-and-aft seating. Enclosures have become common.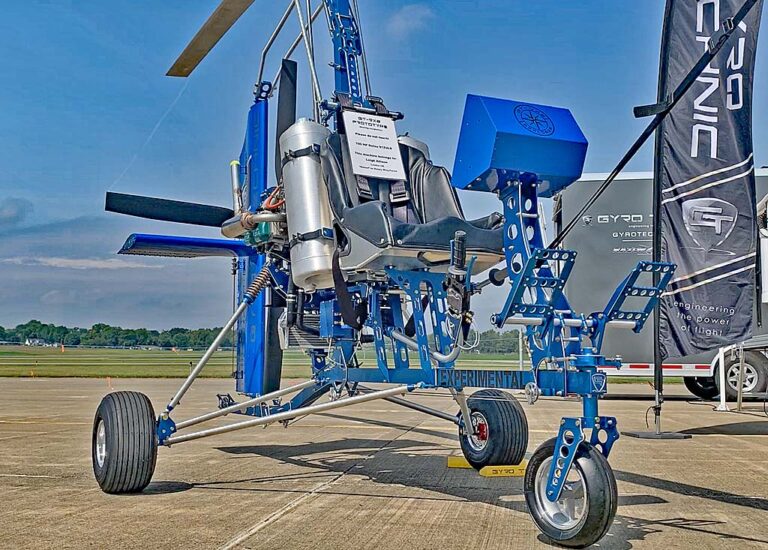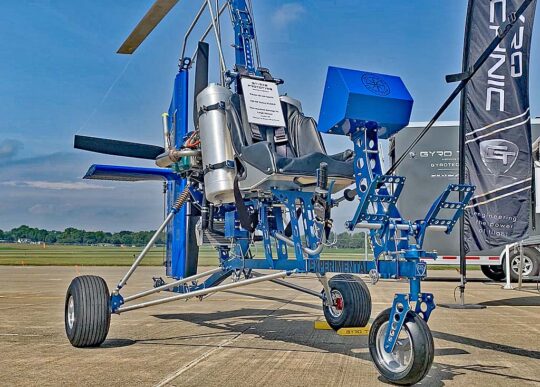 While the idea may have been invented many years ago in the USA, Europeans adopted the type in the 2000s and took the idea further. They also worked out flight characteristics to make these contemporary machines easier to fly. My experience with them (see this AR1 video pilot report) suggests they are almost like flying a three-axis airplane although with a few obvious differences. Gyroplanes distinguish themselves by flying cooperatively in windier conditions. Most modern gyroplanes may be two seaters …but not all.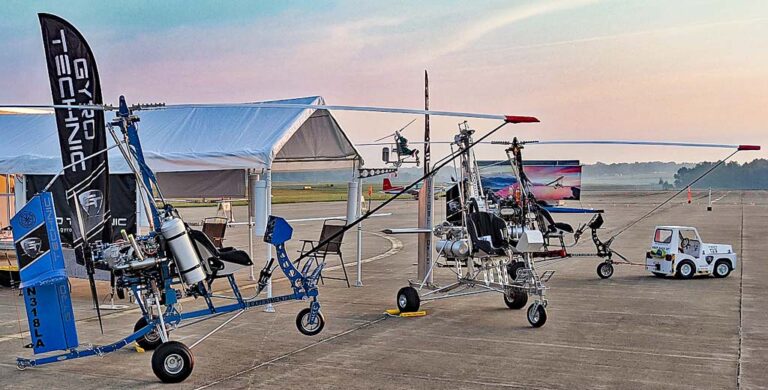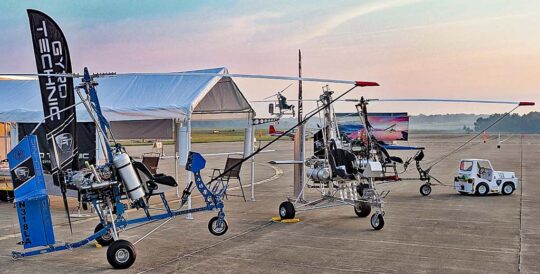 Those older American gyroplanes — think: Bensen Gyrocopter — were nearly all single seaters. Maybe that was best then, when stability was different than today. Then I discovered the VX1 at the Midwest LSA Expo. Hmmm, a modern gyroplane with all the present-day knowledge but in single seat form. Intriguing. It doesn't look like other modern gyros and the video below will explain.
Lots of buyers want a second seat for a friend or their spouse yet more often than not aircraft are flown solo. A single seat aircraft has some advantages and the pilot can merely enjoy him or herself without have to assure their passenger is comfortable. Single seaters can also cost less partly because they don't need as much engine.
Combine these attributes with some of the finest, beautifully-accented machine work you'll ever see and Gyro Technic truly has something in their VX1. Finally, the Minnesota company is rare in that it also makes its own rotor blades and can supply other producers.
For More Info: Gyro Technic — see video below
•    •    •    •    •    •   •
Levil's Sticky-Backed Autopilot —Ruben Leon, the leader of Levil Aviation, nearly always wears a friendly, excited smile on his face. He also seems to always have some new development of interest and Sun 'n Fun 2021 proved this theory once again.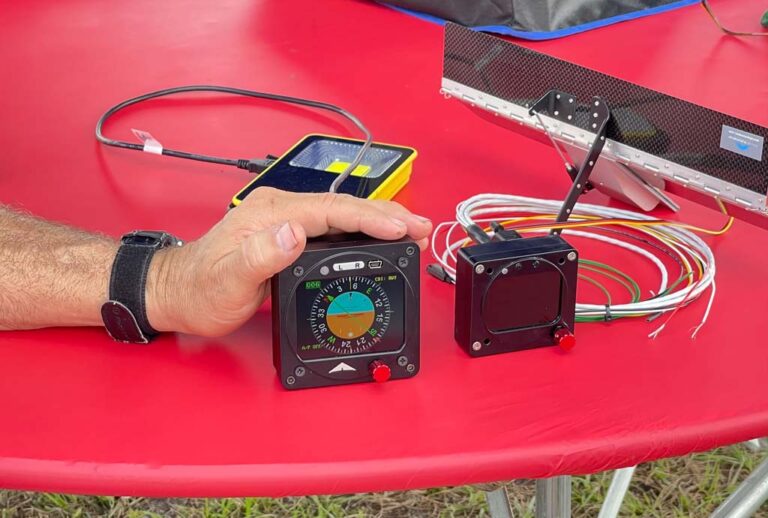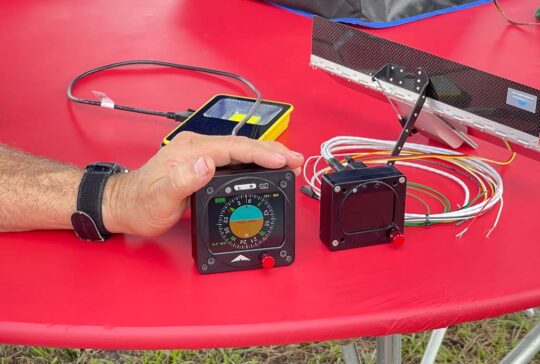 Levil Aviation greatly empowered the role of tablets in the cockpit today by pioneering the first iPad-compatible wireless avionics suite in 2009. Today's iLevil Sport ($795) is a portable unit bringing AHRS, GPS technology, and data recording. Compatible with both iOS and Android, this friendly user device can connect with a wide variety of apps in the market.
You might pair iLevil Sport with ADS-B receiver Astro Link ($599) to have real-time weather and traffic. Link both to your iPad and have a full-fledged panel for less than $2,500 that can compare to panel-mounted digital instruments costing two to ten times more in LSA. Astro Link boasts a low power consumption, has no need for remote antennas, and Levil said, "It captures the weather and traffic information even where other devices won't reach."
A few years ago, by collaborating with TruTrak, Levil was a partner in developing the Eco, a simple autopilot that some have called an "anti-servo tab." This is a simple, carbon fiber, electric tab that can literally (and advisably, to avoid drilling holes) be stuck to your aileron and elevator to produce a low-cost ($2,700) autopilot. The cockpit control for the unit is itself a fairly capable instrument.
"Autopilot HSI AP2000 controls the airplane by the sole use of trimtabs," said partner Aircraft Automation. "[This] makes it extremely reliable, light, safe and easy to install. It also serves as a nice backup instrument for your EFIS [or iPad]."
"Super Eco is supplied with two model airplane servos, wiring harness, pushrods, and respective trim tabs for the roll and the pitch axis," said Carlos of Aircraft Automation. "Since Trim Tabs are used for primary control there are no mechanical links with flight controls, pilots can override the trim tabs easily. Control links and cables are free to move with no additional friction since there are no conventional servos installed. The aircraft will be automatically return to trim should the autopilot disconnect."
For More Info: Levil Aviation
•    •    •    •    •    •   •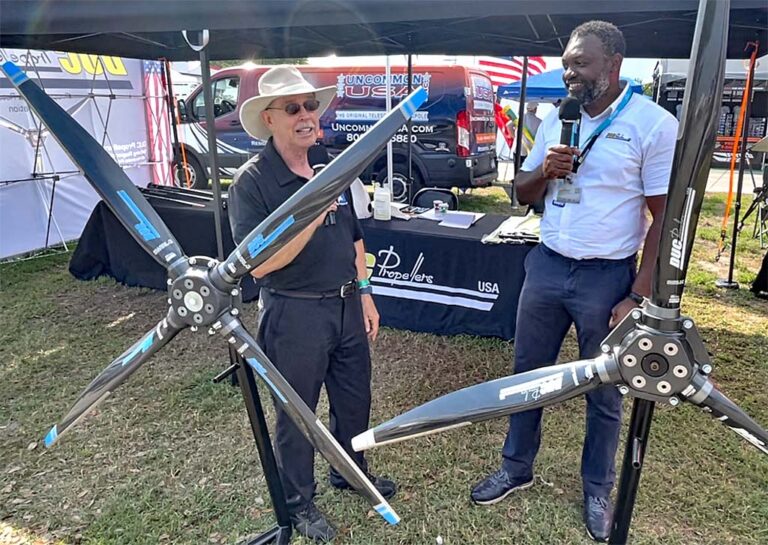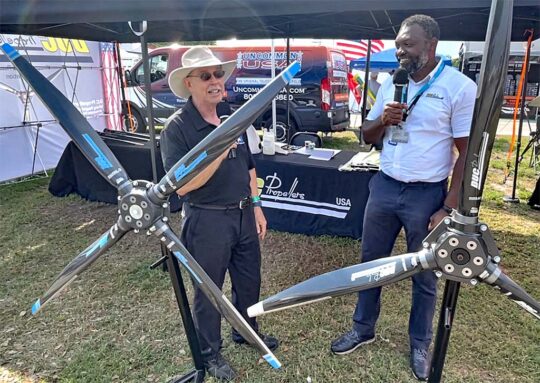 Duc Prop Success Story — Industry observers have seen this unfold before. An international company enters the U.S. market but comes to recognize the complexities of a large, mature aviation culture as exists in America. To do it right, you really need true U.S. presence. A few years ago, Duc Hélices set up shop in Sebring, Florida as Duc Propellers USA. Up against many solid players lead by Sensenich providing vigorous competition, Duc has worked hard and it's working.
Duc took the challenge in hand and found in Gaetan Fouozing (photos) the right manager for the job. The company has gone from sales in the low hundreds of thousands into a low multimillion dollar enterprise. Plus, these days, Gaetan is the man. He does it all.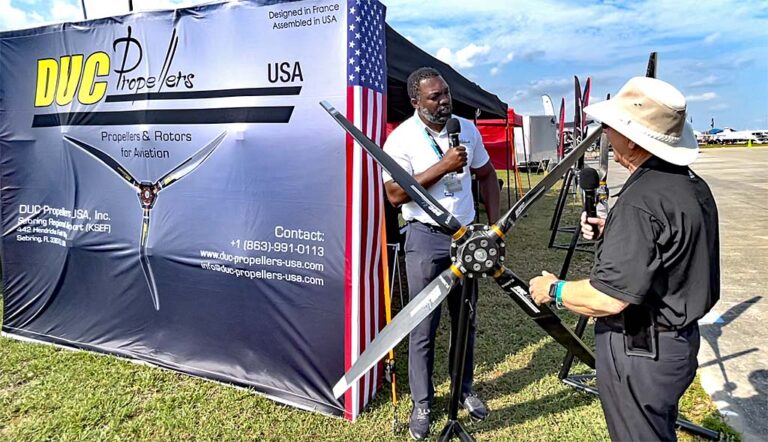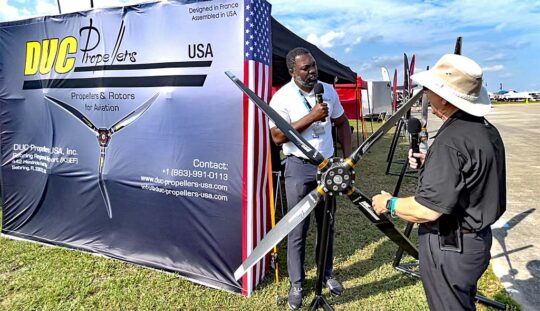 Of course, he is a sales and service outlet for Duc Hélices. Manufacturing occurs in Frontenas, France. According to Gaetan, the French enterprise is humming at its still-new headquarters with new space and new personnel. Good for Duc!
For more about Duc props see this 2019 review or this video.
Of course, think about it. Whatever the powerplant, a prop is needed. Rotax power. Continental power. Viking or Aeromentum power. Electric motor power, single engine, twin engine, multicopter …they all need props (or rotor blades) — and in the case of the multicopters, they'll need six, eight, 10, or more, a gold mine for a prop maker. Duc also makes rotor blades for gyroplanes and specialized blades for eVTOLs.
To reach all this action in the USA, you gotta be here. Duc is home in America.
For More Info: Duc Propellers USA — A video interview with Gaetan Fouozing of Duc Props USA will follow.
---
Here are two videos on the Gyro Technic VX1 — an interview with developer Denis Schoemaker plus a fun flying video.