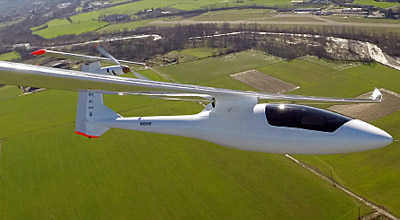 The developer refers to this long sleek flying maching as, "the first solar powered airplane with a passenger seat." After his many years of development — longer than other projects that have captured more media attention — Eric Raymond's Sunseeker Duo may be the most advanced solar powered airplane in the world and … he adds, "the first that might be suited to production." True, with its 71.5-foot span, this may not be your ideal cross country machine for a family of four. However, soaring enthusiasts should note the resemblance to the top-of-the-line Stemme S10 motorglider. Indeed Sunseeker can soar with the best of them. Electric powered aircraft fans may also want to look closer. For that I direct you to the developer's website. One more group might also be interested: green tech companies or component suppliers that would like to assist further development while getting themselves some fine publicity.
The project is run by husband and wife Eric and Irena Raymond. I've known Eric for decades as a champion hang glider pilot and more. After flying in contests when we were youthful, Eric turned his keen powers of concentration on more efficient, more sustainable flying. Today, he announced that his company, Solar Flight, has been extensively test flying their new solar powered Sunseeker Duo. A first flight, in Voghera, Italy, happened on December 17th last year, on the same day the Wright's took to the air 110 years earlier in a unimaginably less efficient Wright Flyer. You can readily see how smooth the fuselage is and observe it's long slender wings covered from tip to tip in solar cells. What you may not know is how challenging it is to make a solar-powered aircraft. Eric said, "The structure must be incredibly light and aerodynamically efficient to perform well with only the power from integrated solar arrays." He added that because of the difficulty, solar powered airplanes have primarily been built as engineering programs that seek to break records or win prizes. Eric's mission is to make a high performance, practical sport plane.
Eric explained the history of his family of Sunseeker airplanes, "Sunseeker I first flew in 1989 and during the summer of 1990 it became the first solar powered airplane to cross the United States. A long series of modifications resulted in a new airplane, Sunseeker II, which was completed in 2006. In 2009, Sunseeker II made a tour of the European continent that included the first solar powered crossing of the Alps. Eric said the original airplane has logged more time than the combination of all other solar powered airplanes. Sunseeker Duo is the most advanced airplane to date. It uses all of the lessons learned during 25 years with the original Sunseeker and implements new materials and new technologies." Modern lithium batteries have seven times the capacity of the nickel cadmium batteries Raymond used in Sunseeker I. Eric reported that back then he couldn't imagine solar cells with the efficiency of contemporary panels. In 1989, 5% efficiency was considered good for thin film technologies needed for application to airplane surfaces.
Sunseeker Duo has a wingspan of 22 meters (71.5 feet); an empty weight of 280 kilograms (616 pounds) and uses 1,510 solar cells that offer an impressive 23% efficiency. The motor has a maximum output of 25 kilowatts (33 horsepower). The airplane is able to cruise directly on solar power with two people on board and is capable of durations longer than 12 hours. Sunseeker Duo uses a battery pack located in the fuselage to store energy harvested from the solar cells which line its wings and tail surfaces. "Flying a solar powered airplane really can't be compared to anything else; it's totally unique. In sailplanes you are usually stuck under the clouds and in conventional airplanes you have terribly noisy cockpits. In both you have a sense of urgency about energy that detracts from the experience. In a solar powered airplane, you fly on top of the clouds. The horizon looks a little different when you're flying with an unlimited supply of free energy." stated Eric Lentz-Gauthier, one of the pilots of the original Sunseeker.
If interested to help Solar Flight bring their product to market, contact Eric Raymond. Meanwhile, enjoy this video of the Sunseeker Duo in flight.