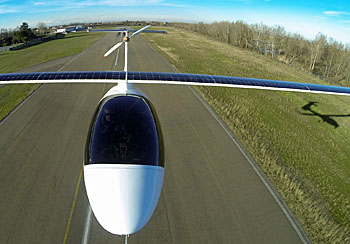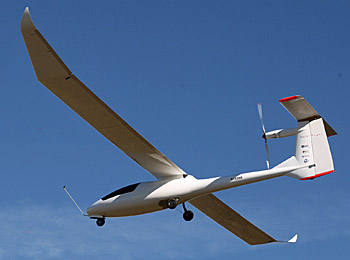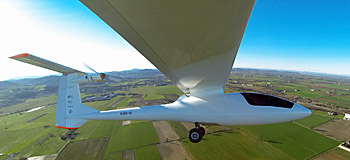 Years ago when we were just getting started in our flying careers, one fellow I paid attention to was Eric Raymond. Eric was a very talented hang glider pilot who strove to fly in the highest performing aircraft … at that time the Manta Fledgling, a "fixed wing" hang glider with a category leading glide angle in those days. (Today's "flex wing" hang gliders significantly surpass the Fledge'.) Eric was also a daring aerobatic hang glider pilot long before most folks knew you could fly a hang glider in that manner. In other words he's been a leading edge pilot for a long time. In recent years he's been flying an all electric, solar-boosted glider across Europe. Yet he remained restless, seeking the very most he could do with electric power, which as most readers know, is still in the rapid development, not-quite-ready-for-market stage. Thanks to Flight Design USA boss Tom Peghiny for alerting me to Raymond's latest progress. Tom was a contest-winning hang glider pilot some years back; he remains active today and closely follows developments like Sunseeker.
Eric's website — Solar Flight — reported, "Flight testing of Sunseeker Duo is underway." He indicated the goal is, "to achieve maximum performance without using fossil fuels." As Eric describes it, Sunseeker Duo is "not only the fastest solar-powered airplane ever built; it is the first solar powered airplane to offer a seat for passengers." Duo incorporates the best features of Eric's earlier Sunseeker I and II aircraft while adding numerous refinements. That Sunseeker Duo bears a resemblance to the exotic Stemme S10 motorglider is a credit to Raymond's project (in fact, Solar Flight lists Stemme as one of their "partners"). Stemme features a most unusual retracting propeller on a tractor engine; the prop blades pull inward and the forward fuselage closes up to completely hide the existence of an engine.
More than a lovely, two-seat aircaft, Sunseeker Duo employs improved electric-aircraft technologies. "The solar cells used by the Duo are 50% more efficient than those used by Sunseeker II," Eric stated. "While Sunseeker II is able to cruise in level flight on direct solar power, the Duo will have enough power to maintain a steady climb on direct solar power." A tricycle landing gear arrangement familiar to all pilots ensures that the Duo will operate normally at any airport in the world. In addition the shapely long wings fold to give the airplane a hanger footprint no larger than a Cessna 172, the developer said. The airplane can also be quickly disassembled and packed into a custom trailer.
Sunseeker Duo is advanced enough to achieve Solar Flight's dream of a "practical, high performance, two-place solar powered airplane." Sunseeker Duo weighs 616 pounds empty, has a wingspan of 71.5 feet, has a 20 kW (29.5 hp) electric motor powerplant, and is supplied by solar cells achieving 22.8% efficiency. With the US and Western Europe already well explored by Sunseeker I and II, Solar Flight said it is "looking towards the dramatic landscapes of Eastern Europe and Western Asia for possible expeditions with the new airplane." The Yankee inventor active in European skies these days added, "Whether it is a day of local flying above the clouds, or a transcontinental adventure freed from the constraints of fossil fuels, the Sunseekers are ready."