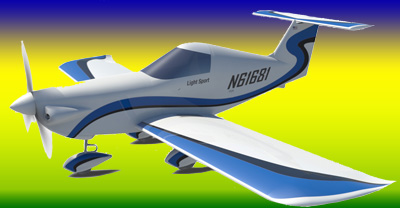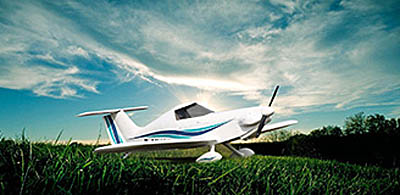 While so many continue to say you can't buy a Light-Sport Aircraft for less than — pick a number … $100,000 … $150,000 — the truth is something else. We already have modestly priced entries from Quicksilver, BushCat, X-Air, M-Squared, plus several weight shift or powered parachute entries. Another that burst on the scene a couple AirVentures back was SkyCraft. The Czech design that a group in Utah are Americanizing is a fully enclosed, well-equipped single seater. Not many singles have been offered (Tecnam's aerobatic Snap is one such) yet the fact remain that much flying is done solo anyway, so why not have a sharp airplane for your own aerial enjoyment. Plus, what if you can fly it away for less than $60,000? Not every pilot will find SkyCraft SD-1 Minisport sufficient and lucky for those aviators, plenty of choices are available if you have to have 1,000-mile range, autopilot, big dual glass instrument panels, and of course, two seats. However, I for one can't wait to fly SkyCraft and now it looks like the wait is getting shorter.
In June 2014, SkyCraft Airplanes filed a declaration with FAA that their SD-1 Minsiport is fully compliant with all ASTM standards used to gain acceptance by the agency as a Special or fully-built LSA. This news comes only one year after SkyCraft announced at AirVenture that they would produce the airplane ready-to-fly. "We now await an FAA audit, after which we will be able to make our first aircraft deliveries to eager customers," stated SkyCraft Director of Marketing, Paul Glavin. The company reported that FAA has scheduled SkyCraft's audit for September 2014. As they prepare for production after FAA's audit and presumed acceptance, SkyCraft purchased a new factory and hangar (photo) at the Provo, Utah Municipal Airport (KPVU). "The new facility will triple the production space from the current factory, allowing enough room to build one hundred SD-1 Minisports a year," Glavin added. The space will also permit new development work.
Since announcing their manufacturing intentions in 2013, SkyCraft reported making several upgrades and refinements to the design for the SD-1 Minisport. "Most recently, the mechanical brakes on the SD-1 were replaced with a stronger, smoother, hydraulic brake system, which will shorten the landing distance of the aircraft and improve taxi operations," said Glavin. "Historically, many airplane manufacturers have struggled to keep their initial price point during these developmental stages of production, however, SkyCraft has been able to maintain its highly impressive $54,850 price tag for the SD-1 Minisport in spite of the many improvements that have been made." In a welcome summary, SkyCraft said it remains committed to the quality and affordability of its airplanes. A flying SD-1 Minisport will be shown publicly for the first time at EAA Airventure Oshkosh 2014.