TEAM Aircraft – Air Bike
By Dan Johnson, August 1, 1995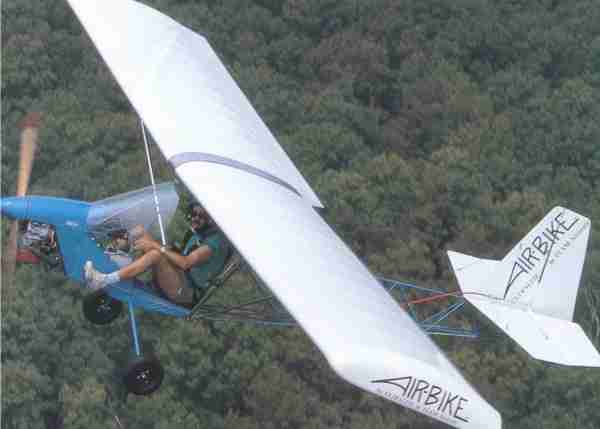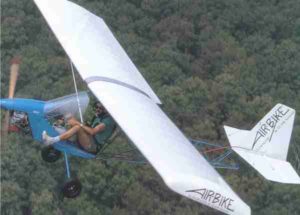 "Wow! …what a great little machine," is how many airshow attendees regarded the unique plane TEAM introduced at Sun 'n Fun 1994. When the company unloaded the Airbike at the Florida event, it was immediately surrounded with admirers who didn't leave it alone for the entire week.
The mystique encompassing the Airbike is more than looks. A delightfully simple and light machine, it meets the weight requirements of Part 103 with 30 pounds to spare! An airplane you get on not in, TEAM's Airbike is aimed at newcomers, or anyone looking for a good time in the air. Derived from their early (never released) EZE-MAX, an all wood design with an equally narrow fuselage, the Airbike represents a departure for TEAM. She's made up of a welded steel main structure, wood wings, fiberglass upper cowl, aluminum support structure… making the Airbike a genuine "composite."
Flying an Airbike confirms one thing. Handling of the TEAM model line is a very crisp. Plus, takeoffs and landings can be done at such slow speeds that things happen at a comfortable pace. The Airbike is intended to be a mellow flyer, cruising in the mid-40s. Novice and experienced pilots will find something to like in the Airbike.
Then, you have the TEAM team. Many customers say the TEAM mates are the main reason they keep coming back. A talented bunch, they're also widely regarded as genuinely caring about their customer's satisfaction. Company requests for their builders to bring their planes to the airshows regularly brings a crowd no other manufacturer has matched. Airbike, MAX-103, or any other of the TEAM planes will put a smile on your face while giving relief to your wallet.
TEAM was featured in the October 1993 and November 1992 issues.