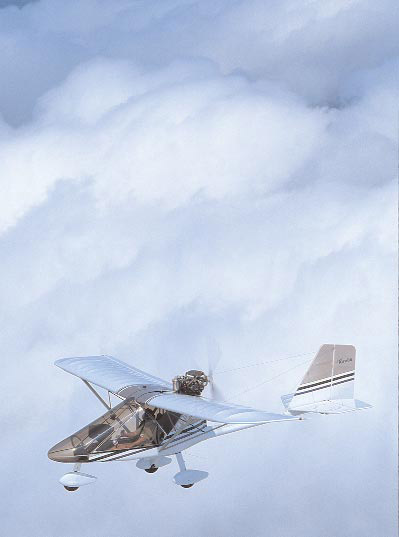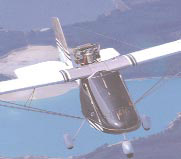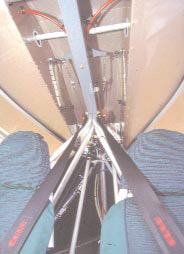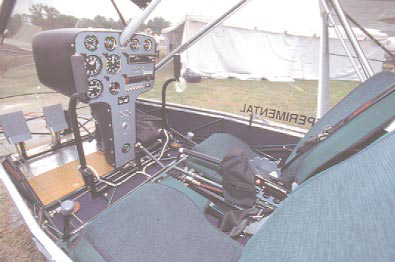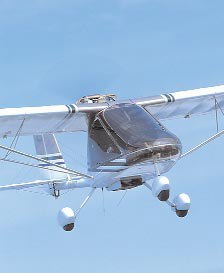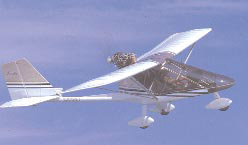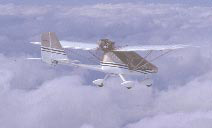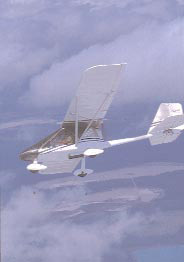 A brave new world of "sport pilot" approaches. Like all things new, it has plenty of allure and some uncertainty attached to it. Its promise is great, but no one, including FAA, can predict how it will turn out. In such times familiar and reliable aircraft become as comfortable as a well-worn helmet. Such standard bearers may not seem as exciting as a new machine, but you can count on them to behave with good manners. In aviation, no proof is better than years of field experience in the hands of many owners.
Into this hazy future flies one aircraft
that qualifies as a known
quantity. The RANS Inc. Airaile
S-12 and S-14 models have established
themselves as some of
ultralight aviation's most popular aircraft.
RANS reports close to 1,000
Airailes sold (800-plus S-12s, more
than 100 S-14s, and about a dozen S-
12S models). This blows away every
RANS model line except the ubiquitous
S-6 Coyote series; however, even
the S-6 counts only a couple hundred
more deliveries. The Airaile is clearly
very important in the history and
success of RANS.
RANS boss Randy Schlitter and his
team upgraded the S-12 to the "Super
Airaile" a couple of years ago, and it
perfectly fits the proposed light-sport
aircraft category. Plus it offers many
features that ultralight enthusiasts
love and has the sophistication of the
Rotax 912 engine and a full enclosure
with interior.
Familiarity Renewed
As the new millennium was about
to dawn, RANS brought out the S-12S
Super Airaile. Because common RANS
model names tend to sound alike (S-
6ES, S-6S, S-12XL, S-12S), I'll refer to
the newest model as the Super Airaile.
The Super Airaile follows a long
line of development for the Hays,
Kansas-based company. RANS introduced
the S-12 as an open-cockpit
machine and then upgraded it incrementally,
first adding a nose fairing,
then a windscreen, then a front and
rear fairing, and then a full enclosure.
Throughout all its changes, this
model has been one of the world's
successes among ultralight aircraft.
Interestingly, designer Randy
Schlitter says he prefers tractor-engine
aircraft. However, in the world
of ultralights, pushers are the most
common, and they work well for aircraft
trying to keep their weight low.
In addition, many pilots have come
to prefer the wide-open view of a
pusher design. Among the many
RANS models, only the Airaile and
Stinger series use pusher configurations.
Many veteran ultralight pilots
think of RANS as a kit builder for the
homebuilt crowd, but recently RANS
also earned FAA Primary category certification
for its S-7C Courier, a
longtime project. RANS also builds the sleek S-16 Shekari
that some pilots call an "RV killer." This term refers to the fact that the Shekari looks, performs, and handles like a Van's Aircraft RV series airplane. Since Van's kit aircraft are the most popular in the world, this is a high compliment for the Shekari.
However, RANS' newest models are the S-17 Stinger and the S-18 Stinger II, aircraft which clearly reflect the company's continuing interest in the ultralight side of the business. Randy has proven he can move in more than one direction. Competing airframe builders have long since learned not to underestimate the capabilities of RANS, which remains one of America's largest aircraft builders.
Many Airailes
Personally, I've long favored the look and feel of the sports-car-like RANS S-14. This reflects my keen interest in single-seat aircraft. Frankly, the S-12 is not my first choice among two-seat ultralight-type aircraft. Yet with the Super Airaile, I had to reconsider my attitude.
The Super Airaile takes the venerable S-12 ultralight trainer and deftly makes it into a little kit plane cruiser. With its full enclosure and fourstroke engine, this plane should find appeal among those who earn their sport pilot certificate in the next few years.
The Super Airaile I flew weighed 650 pounds empty, a couple hundred pounds more than the lean and light S-12 trainer models. The extra weight comes mainly from the heavier four-stroke, four-cylinder engine and the structure it takes to support the weight and power of the larger powerplant. However, quite a few more pounds come from the addition of features that are optional on the simpler aircraft.
A base model Super Airaile—with the Rotax 582 two-stroke engine—is priced at $19,650 for the 500-hour kit. RANS would probably prefer you added several options, especially the engine ones. All manufacturers, just like carmakers, count on those option sales to boost profits. You'll increase the cost to $30,000 or more if you add the 100-hp Rotax 912S powerplant, but it continues to generate rave reviews from many users.
Will RANS build ready-to-fly aircraft for the special light-sport aircraft category? No one knows, but the S-12S may be a typical trainer purchase, so the experimental section of the new proposed rule is more likely. RANS can then supply a kit at any level of completion. Because RANS is a successful airframe builder, no one would expect it to be left behind with regard to sport pilots.
Those without fat wallets can certainly stick with the much less costly two-stroke engine, and they will still have one sharp aircraft that flies well, has enough features to make it versatile, and will get you around the countryside at nearly 100 mph.
Nonetheless, RANS considers the
Super Airaile an entry-level machine
with the Rotax 582 engine. The company
prefers you use the four-stroke
912 (80-hp) or 912S (100-hp). Then
buyers can add options and features
to personalize their flying machine.
The S-12S Super Airaile RANS introduced
at Sun 'n Fun 1999 was a
substantial change in that it used design
features of the lower,
longer-looking S-14 single-seater.
RANS has never been one to merely
tinker with wheelpants or a different
prop when it redesigns; rather it
goes all the way.
The overall airframe changes reflected
in the Super Airaile give it a
sleeker appearance and reduce the
effect of the large enclosure blocking
a central section of the wing. It
seemed to fly better than earlier S-12
models—especially the front- and
rear-faired S-12
models of the mid-
1990s.
The open-cockpit
S-12XL released in
the later 1990s retained
the original
ultralight-like feel of
the first models, but
it is primarily a
trainer. You aren't
as likely to fly it
cross-country, and,
in my opinion, you
must wear a helmet to protect yourself
against wind blast and airborne
matter (of course, I prefer a helmet
in any sport aircraft).
Long and Low
The changes the company made
to the Super Airaile include a significantly
lower cabin and
engine-mount height. Randy says
this results in "less frontal area and a
lower thrust line." Headroom still
seems more than adequate; RANS
says it will accommodate pilots up
to 6 feet 6 inches tall.
These "chopped and channeled"
changes brought about an increase
in cruise, climb, and glide ratio and
a decrease in stall, says RANS, and
my hour-long flight experience reinforced
these claims. I also felt that
the Super Airaile's handling improved
in both roll and yaw. That's
good; I wasn't as big a fan of the
older models. The Super Airaile features
large, tapered ailerons that
yield a very respectable roll rate. The
controls are typically light in the
RANS tradition, partly owing to the
company's use of stainless steel
hinges with ball bearing bell cranks.
RANS' S-12S has large flaps that
slow landing speeds down to more
common speeds familiar to ultralight
pilots. Landing in short or
unimproved fields should present
little challenge to experienced lightaircraft
pilots.
I've long believed in large vertical areas at the tail for control authority, which is helpful in crosswind conditions, but the Super Airaile's big tail also adds stability in cruise flight.
The Super Airaile replaces the older S-12 model's mechanical, nondifferential brakes with hydraulic brakes that operate differentially for added ground maneuverability. A tapered spring steel gear absorbs the landing shock of hard landings.
Some buyers will buy optional wheelpants, which complement the standard gear leg fairings. Airfoil struts further clean up the exposed tubing design. Incidentally, the rear strut can be adjusted to fine tune wing twist.
A large percentage of sport pilots will specify folding wings when listing features they want. Super Airaile makes this available, as do most RANS models.
Dual Controls
The Super Airaile follows company convention by providing dual controls and seats, though my test plane had hydraulic brakes only on the left side. The pilot and passenger are seated side-by-side. The flaps are standard, as on other RANS models, and an elevator trim tab eases the pilot's workload. It's set via a trim wheel located on the center flap lever.
On the S-12S, basic instruments are standard: ASI, hour meter, tachometer, and CHT gauge. You can add any additional instruments you want; the helicopter-like central instrument pod has adequate room for quite a few gauges.
The Super Airaile has a useful load of 500 pounds. Subtract the weight for full fuel, and you still have room for two 200-pound occupants. The tandem seats in the Super Airaile allow two good-sized people to fly without rubbing shoulders constantly. The seats may look simple, and they are. But given RANS' reputation as the country's largest recumbent bicycle manufacturer, you might not be surprised to hear the lightweight seats are quite comfortable.
RANS designers have given the Super Airaile a comfortable cabin with some interior finishing. Seats adjust by a clevis pin arrangement on a multiple-hole track, allowing more legroom for tall pilots, 2 inches more from the "standard" position, to be exact.
Taxiing the Super Airaile feels good. Visibility is excellent because of an enclosure of nearly all-transparent material. Taxi precision is good as well, with conventional trigear steering and adequate suspension to absorb the bumps of the typical sport aviation airstrip.
Super Airaile in Flight
Excellent ground visibility before takeoff is part of the Super Airaile cabin design. Using all that clear plastic and swinging around in a circle to check traffic, I had a panoramic view that assured me I would have the strip to myself for takeoff. As you push in the throttle for the 912 Rotax, you'll feel the power of 80 or 100 horses doing their job. Lacking the high-pitched noise of the two-stroke engine, the Rotax 912 choice will be appreciated by any occupant.
Most standard S-12s use the Rotax 582 engine at 65 hp, but the Super Airaile's extra 200 pounds of empty weight may dictate more power. The 912's 80-hp or the 912S's 100 horses reveal themselves quickly. Rollout on takeoff was short, barely 200 feet as I flew solo. Initial climb was also strong, just short of 1,000 fpm. While adding a passenger would affect both figures, the 912 engine has the power to make the difference slight.
Pitch control in the Super Airaile seemed sensitive, and while I acclimated, I occasionally touched the tailskid as I practiced full-stall touchdowns. Virtually every RANS design I've flown (which is most of them) is quite light in pitch. Once you get used to it, you'll probably love it, but it will take some time before you stop over controlling it.
In all the other S-12s that I've flown, I've made tailskid-touching landings. RANS later raised the tail boom somewhat to give more flare room and to accommodate float installations. Though ultralights are often thought to have slower handling, virtually every RANS has a snappy response; it's a RANS characteristic. The Super Airaile is no different.
The Super Airaile's roll forces and roll rate were excellent, very pleasant to use. Although pitch was light enough to coordinate the controls, control familiarity may take time. In contrast to the light joystick pressures, the Super Airaile's rudder pedals were somewhat stiff. Putting a finer point on it, the controls may have worked harmoniously enough, but they felt otherwise. Once you've acclimated, however, other airplanes may seem to handle sluggishly. Until then, you might conclude the controls have less than perfect harmony.
In obvious ways, the RANS designers have worked to improve the Super Airaile's handling and stability. Note that fins have been added aft of the cockpit fairing and along the boom aft of the cabin to direct any errant airflow.
Despite the full enclosure and 912 engine, the Super Airaile is still an ultralight at heart. Randy told me I should see stall at 38 to 40 mph and trim cruise at 4600 to 4800 rpm, which should produce 75 to 80 mph. The four-stroke engine didn't seem to be working too hard at this setting. If you push it to high cruise, you'll see close to 100 mph, though most pilots will enjoy the environment more at the lower power setting—you'll feel less vibration and noise and softer turbulence. According to Rotax, the engine can be run nearly wide open for extended periods without problems.
While slow flying, I saw speeds below 45 mph when I had power in the 4000-rpm range with a couple notches of flaps.
Reviewing stability characteristics, I found the Super Airaile to be a generally secure and solid platform. Add to that its stability at a good range of speeds, and I believe most pilots will feel confident with this aircraft's flight characteristics.
Every stall I attempted had straightforward results. I found no divergent characteristics, even when aggravated significantly. Neither did I find a tendency for the wing to fall, though the nose wanders a lot just below stall.
The S-12S is very light in pitch, yet when I investigated longitudinal stability, it checked out fine, returning within a few oscillations to level flight after being pushed out of trim cruise. However, as with all highthrust- line aircraft, it noses over distinctly on power up, especially with all those horses pushing. Certificated general aviation airplanes, such the Lake Buccaneer amphibian, behave this same way.
Is It RANS Time?
The Super Airaile that I flew sells for more than $30,000. For a complete and brand new aircraft, this price represents a good value even if the figure seems high—remember, the base price on the 912S engine alone is $10,995. Most pilots will also want certain options that alter the final price.
RANS has a list of optional extras that goes on and on. Fortunately, the RANS website has a lot of good information, including prices on its many optional extras.
You can also compare the Super Airaile with several other RANS' designs. The company has more than a dozen distinct models, and that's before decisions like tri-gear versus taildragger.
RANS' sales of a thousand of the earlier Airailes proves good public acceptance; this is one of a few ultralight designs to cross into fourdigit deliveries. Go visit a RANS dealer—the website can help you locate one near your home—and take a Super Airaile flight. I bet you'll agree the Kansas company did a super job refining one of its most popular models.
Published in Experimenter Magazine
| | |
| --- | --- |
| Seating | 2 side-by-side, 41 inches wide |
| Empty weight | 650 pounds |
| Gross weight | 1,150 pounds |
| Wingspan | 31 feet |
| Wing area | 152 square feet |
| Wing loading | 7.6 pounds per square foot |
| Length | 20.5 feet |
| Height | 7.8 feet |
| Fuel Capacity | 18 gallons |
| Standard engine | Rotax 582 |
| Power loading | 14.4 pounds per hp* |
| Max Speed | 120 mph |
| Cruise speed | 90 mph |
| Economy Cruise | 3.5 gph |
| Stall Speed | 38 mph |
| Rate of climb at gross | 900 fpm |
| Takeoff distance at gross | 225 feet |
| Landing distance at gross | 350 feet |
| Range (powered) | 425 miles |
| Notes: | * As flown; it can be 11.5 with the 100-hp Rotax 912S engine. The standard engine is a Rotax 582, and its power loading is 17.7. |