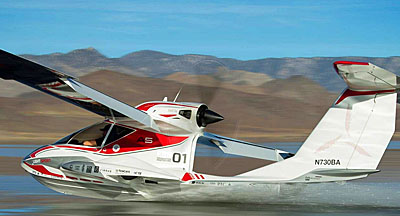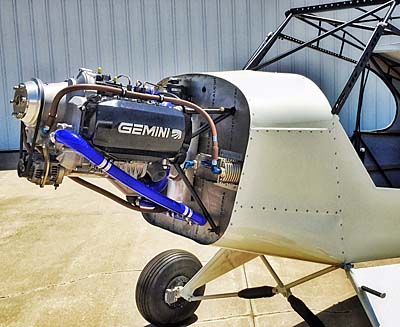 I promised to tell you what was under the blue wrap disguising the powerplant on the unnamed taildragger in my earlier article. Here it comes with other opening day news from AirVenture 2015.
Icon Aircraft made their first delivery of an A5 after a tremendous media build-up, as this California company has clearly demonstrated it can do brilliantly. Not only was a huge crowd in attendance but a large flock of young people in matching tee-shirts accompanied the airplane as it was towed down the main drag — called Celebration Way — to Boeing Plaza and the runway.
The reason for the young folks was because airplane number one went to EAA's Young Eagles, but this is especially fitting as Icon has aimed their aircraft in a different direction than any other airplane maker with which I am familiar. One pilot who flew the A5 said, "It has an automotive-like interior. As a pilot I didn't understand right away" — he referenced a simpler altimeter lacking the usual three needles. Indeed, Icon has worked hard to make the aircraft more user friendly than the usual aircraft that presents an array of bewildering instruments that cause aviation newcomers to quickly assume they have a steep learning curve ahead of them.
Icon again moved smoothly taking EAA president Jack Pelton aloft over AirVenture. Pelton obviously enjoyed the experience, using the words "incredible" and "remarkable" multiple times in a short article appearing in AirVenture Today." His complimentary comments echoed those of others who've flown the aircraft. I am hoping for my turn later today.
Superior & Legend paired up for an announcement few expected. Superior Air Parts only announced their Gemini Diesel engine at Sun 'n Fun barely three months ago, but they teamed up with American Legend to show the new powerplant already bolted on a Legend Cub airframe.
The two Texas companies are located only 80 miles apart noted Darin Hart, principal at Legend, so the link-up is logical and convenient, an unbeatable combination. Yet having an engine on an popular Light-Sport Aircraft was also a coup for Superior to show the speed at which they are moving with this newest project. Superior's Scott Hays said they expect to run the engine by fall and to move forward briskly with ASTM approval.
Gemini has been originally developed in England so this is not a new CAD-designed powerplant; it has history. It extends the range of Superior into diesel, and that is surely more significant outside the U.S. As Darin observed, his company is having a strong year and fielding an increasing number of inquiries from other countries. In many places outside American, avgas is definitely expensive but often not available at any price. However, diesels are able to burn lesser-refined fuels that owners can find in more locations, giving American Legend an advantage for international sales.
Dynon is well known to Light-Sport Aircraft enthusiasts. Even going up against giant Garmin — which repeatedly proves to be a very able competitor — Dynon maintains a leadership market share in LSA around the globe. They took over Advanced Flight Systems in the past and now has an offer many homebuilders may find compelling.
Dynon suggested, "For those who would rather leave their whole panel to the experts, [our] Advanced Flight Systems division offers the Quick Panel System. Each Quick Panel is a fully-engineered and integrated panel of aviations that is professionally wired, configured, tested and ready to install." Advanced's Quick Panel includes all switches and harnesses, which all connect through the exclusive Advanced Control Module. More here.
Your favorite LSA or ultralight may not have a wide panel like the nearby photo. Dynon still has you covered with their nifty little D2 Pocket Panel Portable EFIS. Even better, D2 will be available at AirVenture 2015 at the lowest price ever. "With a list price of $1,095, pilots can expect even better pricing from dealers at the show," the company said.
Stay tuned … more Oshkosh light aircraft news to follow!