Named "Ultra Air," the newest Hawk Single sounds like it might be Apple's new laptop computer. In our analog world, Hawk Ultra Air is nearly the exact opposite… except it is a light aircraft. Many might say it's "ultra" fun so, hey!, the model name works.
"Less is more" is also a phrase that might apply to both Hawk and Apple. Hawk Ultra Air looks lighter and slimmer by removing the fabric enclosure. Appearing lean and minimal has appeal to many consumers.
Forty one years after its splashy introduction, Hawks now number more than 2,500 aircraft, a fine accomplishment for any manufacturer but especially for one so modestly priced and significantly hand built.
Saying Hawk is "hand built" speaks to some of the work Bob Santom, and his son LB have done as they took over one segment of the Hawk lineage. They have laboriously reassembled some earlier aircraft making extensive notes and preparing for continued manufacture, but became better informed than when they started.
One part of their Hawk education was a thorough restoring of Hawk #1 (article). As they worked to discover more about the first-article Hawk, they learned the passion and loyalty attached to this beloved aircraft.
The phrase was so often repeated it earned its way onto a tee shirt: "It's Hard to be Humble When You're Flying a Hawk."
Affordable in a
Particular Way
In a phone conversation with Bob while preparing this article, I kidded him that his website needed some updates. Ultra Air is not found as a model, for example. As we discussed the challenge of maintaining a website, I discovered something startling in the lack of update.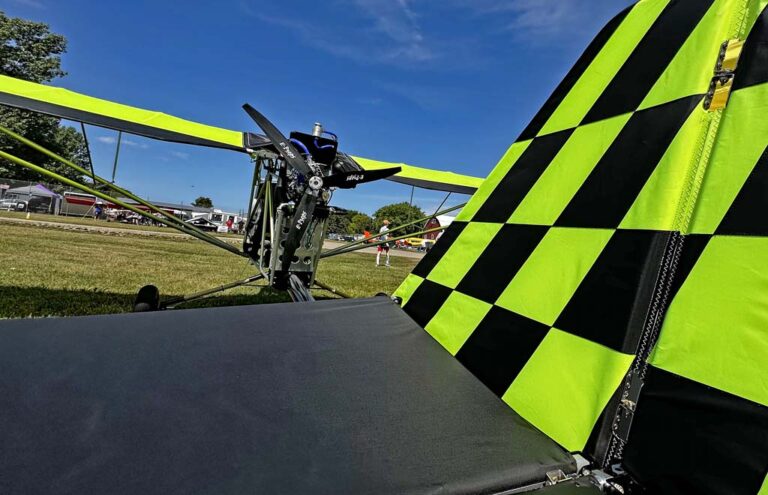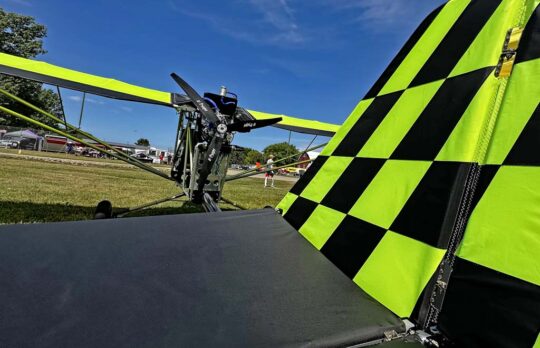 Despite showing July 2018 dates about prices on the CGS Hawk website, those numbers remain current! Let me restate. The price of a Hawk Ultra — now the Ultra Air version — has not gone up in price over the last five years! Tell me anything in your life that compares. Nearly everything you buy has gone up 50-100% or more in the last three years alone.
So, I can say with confidence that you can likely still buy a Hawk Ultra airframe kit for $12,500 (no increase since 2018) and you can assemble it in 250 hours. Add a Polini 303 engine for $6,000 plus basic instrumentation or other minor accessories and you'll invest about $22-23,000 to get airborne in a brand-new CGS Hawk. Mount a used engine and you could airborne for less than $20,000. In 2023 America, that is an excellent price.
You can also get a Hawk fairly fast. Even after taking a handful of orders at this year's Oshkosh, Bob quoted "between 90-150 days for delivery." That's less than many other kit producers.
A factory built Hawk Ultra Air adds $7,500 but has you airborne for about $30,000 although the delivery lag then rises to "nine or 10 months." Bob noted that "assuming a 250-hour average build time, our fee implies $30 per hour for factory assembly." Of course, we imagine Bob, LB, and Al Hernandez  can do it faster than the average builder, but this fee still represents a bargain, I'd say. As Bob notes, "My lawnmower repair guy charges $65 an hour."
CGS Hawk Single and Ultra as a company, producing only the single seat line of Hawks, has been manufacturing "12, 13, 14 per year over our six years," recalled Bob. "This year I expect we'll produce 16-20, of which about one in 10 will be factory built. Most choose kits and I encourage it," he added. "You become intimate with your airplane and can fix anything."
What About Two-Seaters?
This article has looked only at single place Hawks like Ultra Air, but those who want two seaters are served by another enterprise. As the original CGS Aircraft company evolved to its current state, Bob Santom and LB have focused exclusively on the single seaters where Joseph Shirley's CGS Aviation has been at work on the two-seat Hawk line. A couple years ago Joseph showed what he's capable of doing with the Hawk Tundra (article) as I named it.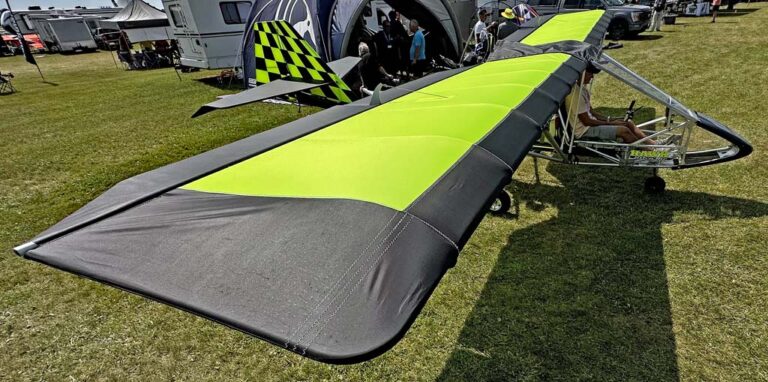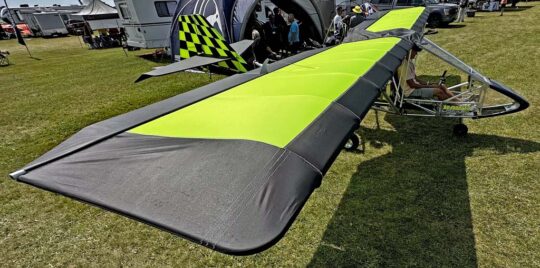 We didn't see the two-place Hawk organization at airshows this year, but I did run into a young engineer who is working with Joseph. Our paths crossed while attending AirVenture 2023. He was excited to tell me how their team is going deeply into a full CAD rework of the Hawk SLSA and other two-place models.
I know from personal experience at following the Hawk for many years that engineering documentation was not developer Chuck Slusarczyk's strong suit. His design has clearly proven itself through decades, but the original engineering work was closer to back-of-the-envelope sketches. Like other gifted designers, Chuck simply knew it all in his head.
Both organizations have pursued putting all components into CAD so drawings can be sent electronically to machine shops, practically the only way to do it anymore. "We have all the machined parts and many other fittings complete in CAD files," Bob said. "We're about 75% done at building DFX files we can ship to our suppliers." Both single and two-seat Hawks will be the better for this yearslong effort.
Once again, this story supports my belief that as many Part 103 ultralights are sold in America every year as Special LSA. Hawk Single and Ultra has been gradually (wisely) increasing their pace and the customers are ready.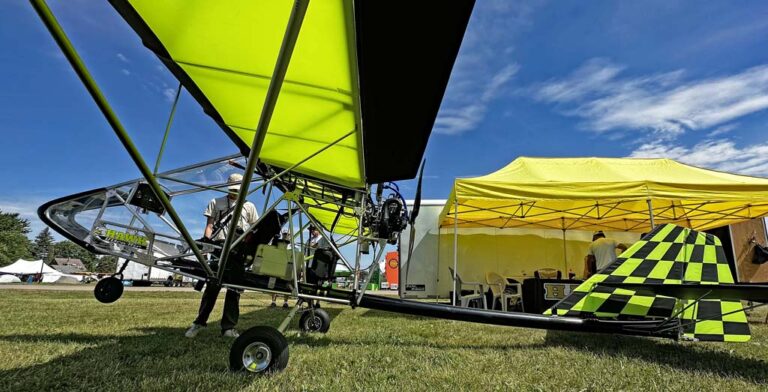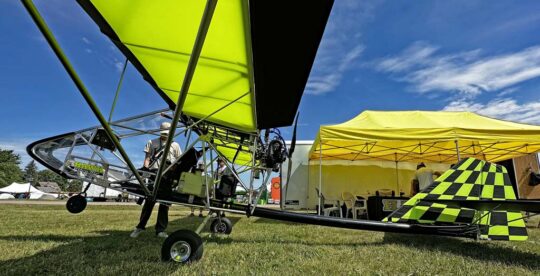 At it for seven years now, building single place Hawks, Bob emphasized, "I wouldn't trade those seven years for anything. It has been a learning experience but we have met so many great people, pilots who love their Hawk." Now with Hawk Ultra Air capturing attention and given its modest cost, I feel sure CGS has a bright future.
ARTICLE LINKS:
---


Hear about Hawk #1 in this video — Yes, the original CGS Hawk dating back to the very early 1980s, even before we had Part 103 ultralights. Bob Santom and LB restored this piece of light aviation history; this video documents the beginning of the project.