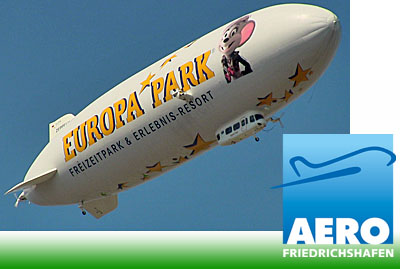 I always love traveling to Aero Friedrichshafen because of the new aircraft I will see. We media types live for the new stuff (because it's what we believe our readers or video watchers want to consume). I made my last dash through the hall on Saturday — Aero ran from April 20-23, 2016 — and I am now in Zurich, Switzerland awaiting my flight back to the USA.
I saw many aircraft worthy of closer examination. I will prepare articles on those and more detail about the ones below, too. Later on, some of my Aero videos will hit YouTube after some editing. While the memories are fresh, though, I want to give an early peek at four aircraft that grabbed my attention …and that of many others, judging from the challenge to get near them during opening hours. I present these in no particular order.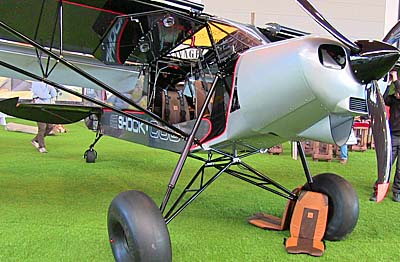 Zlin Savage Shock — Shock definitely created awe at Aero. On my final visit to their unique space with carpet that looked for all the world like grass (not that astroturf stuff that does a crude imitation), I saw visitors literally crawling under Shock, poring over its exterior details, and getting inside for a simulated experience. If you've seen Savage before — called Outback in America — you'll want to take a much closer look when it appears at Oshkosh this summer. This machine is a piece of work.
Importer Bill Canino of SportairUSA gave me a full tour. Actually, he had to do it twice as I experienced… um, technical difficulties with my new video camera's audio. Here are some highlights.
What's most obvious is the Just Aircraft SuperSTOL-like large shock absorbers and the big balloon tires. Shock also uses three sections of automatically-deploying leading edge slats (to SuperSTOL's two) per side. It has Fowler flaps with an integrated slat and vortex generators neatly tucked between the surfaces. The tail is larger to coordinate with a bigger wing (both deeper and of longer chord) and the tailwheel is, again like SuperSTOL, equipped with a shock absorber.
More changes inside include, most notably, a rearrangement of the welded steel cage to provide much more headroom so that pilots in the outback can comfortably wear a helmet. In all, this is a very thorough and detailed update. Add a 180 horsepower Titan engine and this baby is ready to scream.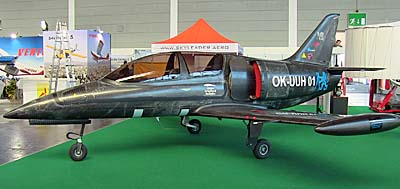 UL-39 (at SkyLeader display) — I acted like everyone else when I first saw the UL-39. Although I'd already seen photos of it flying, thanks to my EuroColleague, Jan Fridrich, I still had to marvel. This pointy nosed, fighter-looking aircraft appears in most ways to be jet powered. It closely emulates the popular L-39 Czech military jet (200 of which are reportedly flying in America), so of course, it had to look jet-like.
UL-39 is presently powered by a BMW motorcycle engine driving a type of ducted fan though it uses impellers (13 of them!) with the engine running at a high revolution, more than 10,000 rpm at cruise, I was told. This aircraft uses retractable gear, naturally, as it tries to look like the fighter aircraft.
Yet UL-39 is in some ways more modern and I don't mean it has a glass cockpit. Indeed by the use of all carbon fiber (an L-39 is metal), this dashing aircraft can actually make Europe's ultralight class meaning gross weight is confined to 472.5 kilograms or a bit less than 1,042 pounds. Amazing …and I clearly was not the only who thought so.
Led by professor Robert Theiner, UL-39 is a university project 17 years in the making. Composite parts were made by one of the partners with assembly of the pieces by LSA manufacturer, SkyLeader.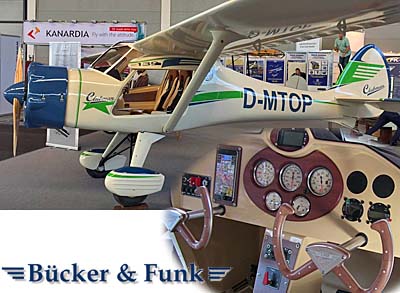 Bücker & Funk Clubman — He's done it again! A few years ago I got a big smile out of my longtime friend Peter Funk after seeing his latest Aero showplane …a supersexy version of his FK-14 Polaris with a LeMans look to the cockpit. I called him the Steve Jobs of the light aviation world for his showmanship and superb craftsmanship. He rightfully beamed over the compliment but he comes back nearly every year with something equally attention getting.
This year it was a Clubman complete with a seven-cylinder radial engine that, like the airplane, looks old but is new. "Retro" was how Flight Design director Christian Wenger described it and he only referred to the aircraft. Not to leave it at that, Peter convinced all his exhibit space partners that a dress code was part of the environment he wanted to create. Indeed, the whole team was in dapper period costumes. Peter shared his space with BRS Parachute rep for Europe, Frank Miklis; he and daughter Stephie got into the game, too. The space had a vintage motorcycle, an old tabletop radio, and a collection of furniture built new to look old.
However, this was not simply a display. These aircraft Peter creates are built in small batches and sold to customers. Even this idea seems to work. By limiting the number available, they tend to sell out quickly. Marvelous. Well done, Steve …er' I mean Peter!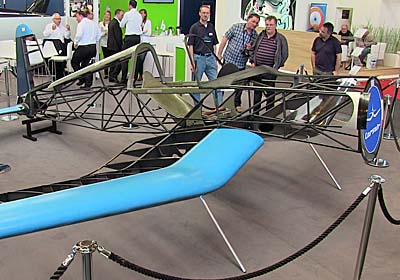 JH Aircraft Corsair — Conveying a look something like the UL-39, I almost passed this by before Bill Canino of SportairUSA told me this wonderful creation could qualify as a U.S. Part 103 (or the German 120-kilo Class) aircraft. "You have to be kidding me," I exclaimed to Bill! I was intrigued by its resemblance to the F4U Corsair military fighter with its inverted gull wing design but I thought this was some heavier kit-built airplane. Of course, that would have been interesting, too, but I don't cover the heavy segments of aviation.
Yet Jörg Hollmann's creation is indeed aimed at Germany's 120 Kilogram Class of airplanes that are remarkably close to America's Part 103 category. Part 103 has a maximum empty weigh of 254 pounds — a shade more than 115 kilograms. Alternatively 120 kilograms is 264.5 pounds but we're splitting hairs because Jörg is targeting 110-120 kilograms so he should easily be able to make Part 103.
I was still skeptical as all that large diameter welded steel structure surely weighed too much. Wrong. That isn't steel in the photo; it's all carbon fiber tubes, deftly cut and laminated together. To prove the light weight, Jörg got inside and picked up the whole bare airframe like it was nothing.
Jörg said his superlight Corsair will fly by Aero 2017 and be available for sale by Aero 2018. At a reasonably affordable $60,000, this might be the sexiest Part 103 aircraft ever.
I plan to come back with more on these aircraft and others seen at Aero Friedrichshafen 2016. I imagine this appetizer whetted your hunger for more.