I promise I will not keep reporting futuristic eVTOLS or multicopters. However, since the Jetson One article went over better than expected and since I've focused mainly on Part 103-sized multicopters, how about one that is LSA-sized?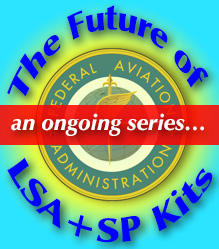 I still would not follow one multicopter article with another except for developer Doron Merdinger, saying this, "Suggested [selling price is] $135,000 to $150,000." That got my attention. From what I've seen so far, any eVTOL larger/heavier than a Part 103 entry is way, way more expensive.
Beyond that come air taxies… 4-6-8 seater urban air transport aircraft. Those I will never report as they are commercial by design and cost far beyond any Sport Pilot's budget. In addition, it could be years before they actually enter the market.
Can Doroni Do It?
However, a two-seater, ducted-fan, LSA-like aircraft with a 500 pound payload for $135-150,000 could actually be something some readers might consider. So, here's a brief update on Doroni.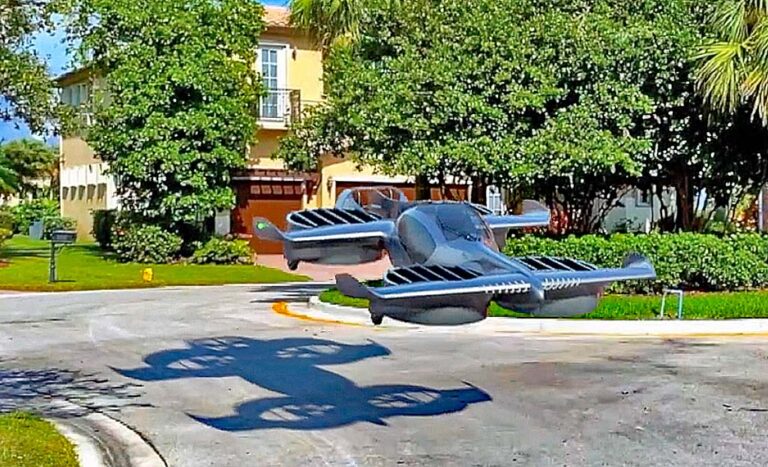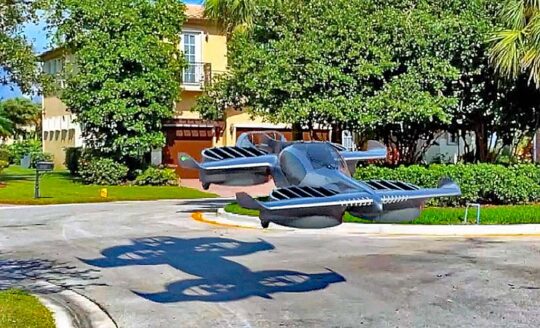 No one commenting on Jetson One or the other Part 103 multicopters I've reported mentioned a need for a second seat. Many said that a 20-minute range was not enough but no one seemed to care that it was for solo flight only. Based in Coral Springs, Florida, Doroni Aerospace wants to let you take a passenger with you or carry a couple hundred pounds of other payload. If it actually came to market at LSA prices, is this of interest?
For the record, I will note that in 1999, Cirrus offered their first SR20 at $139,000. It's now a multiple of that with top-end models reaching nearly $1 million. In the LSA market, Icon's A5 also came to market at $139,000 and is now around $350,000. So, perhaps (probably?) Doroni's $135-150,000 forecast will also be short-lived. However, if they somehow could retain that price, would that be of interest to any current Sport Pilots? Only each one of you know the answer.
Doroni Details
FutureFlight.aero reported, "Doroni H1 is an electrically-powered. two-seat eVTOL vehicle with four ducted fans fitted in a main wing and canard, and a pair of small pusherprops at the rear of the fuselage." Each ducted fan location houses two electric motors spinning counter-rotating props. H1's main application is personal transportation, but the company also sees a potential for future light freight deliveries.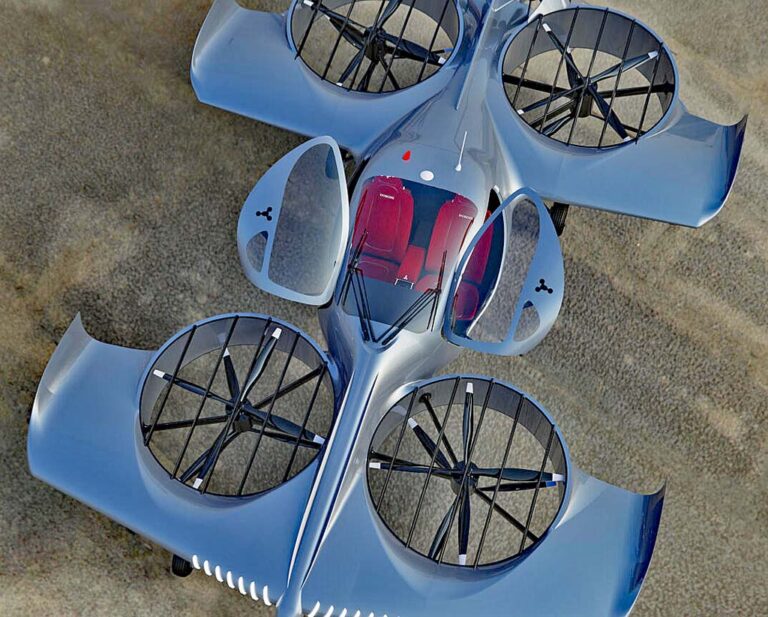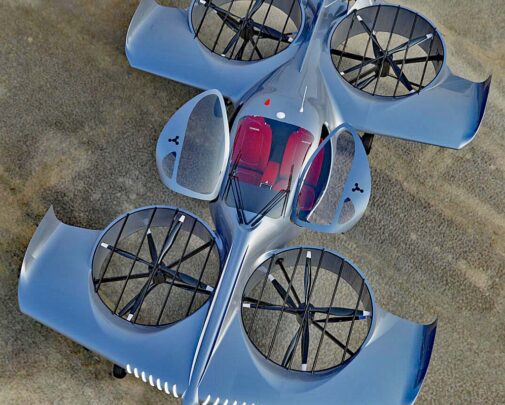 Doroni Aerospace stated, "The aircraft will have a range of around 60 miles, a cruise speed of 100 mph, and a top speed of 140 mph." H1 is compact enough to store and recharge in a two-car garage and light enough to be towed by the family sedan.
The aircraft boasts a 500-pound capacity (what I'd call "payload") and may be flown by an onboard pilot or remotely controlled. The company offers payload and passenger options:
Pilot and passenger
Pilot and 200-pounds of cargo
Up to 500 pounds of cargo with pilotless delivery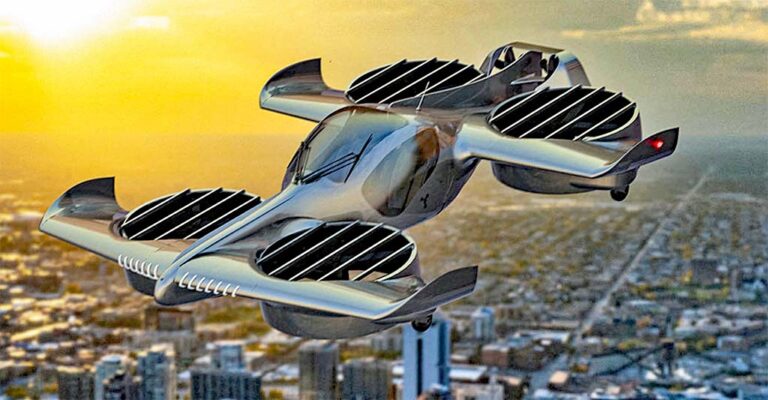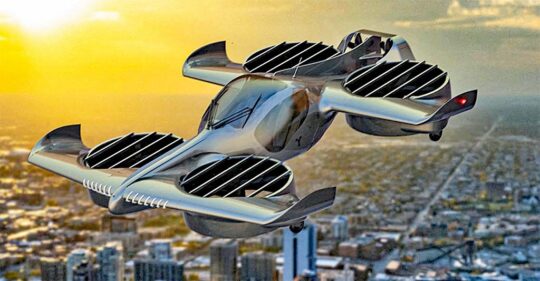 Safety is addressed with features such as: programmed emergency landing protocols, an energy-dissipating body, multiple redundancies, air bag, ballistic parachute, and multiple anti-collision sensors. H1 is, Doroni explains, "a smart vehicle with advanced electronics, GPS, laser [range finders], cameras, a barometer, and accelerometers."
Doroni Aerospace is "expected to complete construction of a full-scale prototype by June 2022, with a view to starting flight testing by the end of the year," wrote FutureFlight.aero.
A major difference between the usual multicopter and Doroni is the ducted fan design.
Ducted Fan Configuration
By reducing propeller blade tip losses, a ducted fan can be more efficient in producing thrust than a non-ducted propeller of similar diameter, that is, while producing a similar amount of thrust, a ducted fan can use a much smaller diameter than a free propeller, allowing for more compact equipment. Given their enclosure, they can also be safer than a free-spinning prop.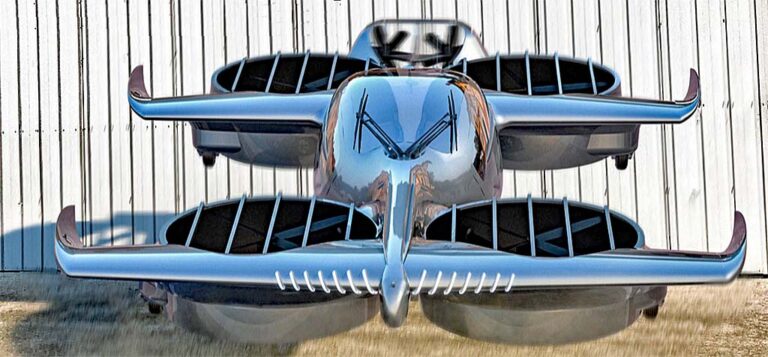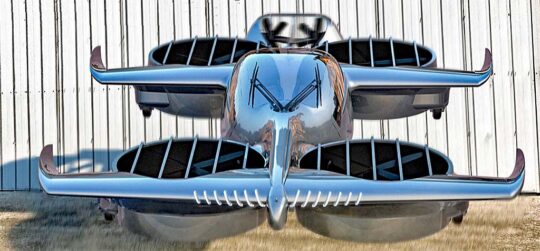 Ducted fans are also quieter than propellers: they shield the blade noise and reduce the intensity of the tip vortices. This is important for neighbor relations (especially when your unusual aircraft will also attract more than a usual share of attention).
Here's a big point in favor of Doroni's use of ducting: Ducted fans can allow for a limited amount of thrust vectoring, something for which normal propellers are not well suited.
Smaller props housed in ducting require high revolutions and minimal vibration but those parameters are easier to achieve with electric motor propulsion. Naturally precision ducting adds manufacturing challenges and adds complexity compared to simpler multicopter approaches.
On projects as diverse as the Martin Jetpack (company now defunct) or a modern airship, ducting has proven workable. Honestly, I'm surprised we haven't seen more of this in eVTOL designs.
The fact is that ducted fan technology is not universally applauded. Some say they are less not more efficient. Yet a related configuration that has wide appeal is high-bypass-ratio turbofan engines that are used on nearly all airliners.
That's It for Now
I'm done writing about multicopters for now though I may cover more as interesting designs emerge. Many proponents and industry observers predict huge revenues for such aircraft. Perhaps, but as the old saying goes, "The proof of the pudding is in the eating." We will see which of these exotic designs succeed in the marketplace.
The future is devilishly hard to predict. Remember Atari, Compac, Radio Shack, Commodore? These were all big brands in the early days of personal computers a few decades back. None exist today.