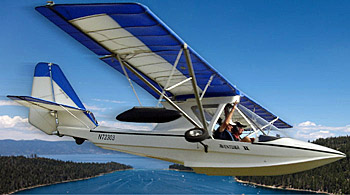 Icon Aircraft receives a high percentage of the attention paid to LSA seaplanes. They've worked hard on marketing and been quite successful; their Facebook page has nearly 300,000 "Likes!" Yet, as I've written, this is a growing subset within the LSA industry with several interesting designs already flying plus new ones to come that are really going to widen people's eyes. However, some of that remains in the future while we have present-day success stories. If you want a seaplane you can afford and you want it soon, you have several choices, for example: Progressive Aerodyne's SeaRey and the hot little SeaMax, both of which are SLSA approved, plus Edra Aeronautica's Super Petrel LS, and in the world of light kits, don't forget another longtime player, Aero Adventure. The latter Florida company recently reported news.
"Here We Come Tavares," exclaimed a recent newsletter from Aero Adventure! "We are delighted to announce we are officially up and running at our new location in Tavares, Florida." The company said their move started in spring this year from their longtime location in Rockledge, Florida. Reporting that it took all of summer 2013 to get fully moved, owner Alex Rolinski said, "This move has been chaotic to say the least. We have been received by warm, hospitable people such as Tavares City Manager, Bill Neron, and the friendly folks at Al's Landing. We are more than honored to be part of the growth that is happening all around this city." A few years ago, the city of Tavares — about an hour northwest from Orlando — established a new seaplane base (photo) and proclaimed themselves "America's Sea Plane City." With Progressive Aerodyne only minutes away and with the arrival of Aero Adventure, the claim is gaining momentum. Even Icon took a look at the city, but it appears that company will locate elsewhere.
Aero Adventure has remained an Experimental Amateur Built (51%) kit aircraft company. The kit goes back a long way, originally called the Buccaneer, though the changes have been so plentiful that the connection is only one of history today. At Sebring 2013, we caught up with Alex and shot a video in which he tells watchers about his acquisition of the company, although he did not know then about the move to Tavares. He also told us how many are flying and spoke of his ambitions to take the company forward in various ways. One effort recently came to a fruition.
The company's newest addition is their Aventura II V, with the "V" evidently representing the choice of powerplant. "We are getting ready to officially introduce our newest addition to the Aventura line of amphibious aircraft." Alex went on to note that the Aventura II V still offers the classic features of the design such as two side-by-side seats with dual throttles, retractable landing gear for amphibious operation, BRS emergency airframe parachute, and numerous other options. Now, he said the Aventura II V is fitted with a 110-horsepower Honda Viking Engine. Alex detailed that the Viking is, "fuel injected, water and oil cooled, has less noise and vibration, is very reliable, and boasts low maintenance." He added, "The Honda Viking is a perfect pair to the Aventura." The pictured cowling is available as an option and lends a sleek look to Aventura. We also shot a video about this engine at Sebring that will help you understand its differences. Congratulations to Aero Adventure, on their move and the new model!