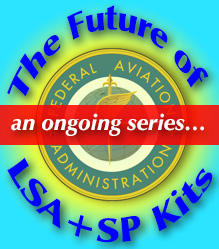 Barely after we rang in the new year, here's a review of 2021 market shares and info regarding the state of the light, recreational aircraft industry. After a surprisingly strong 2020 despite Covid, 2021 returned to Earth a bit but with some shifting between categories. This year the contrast that stood out was between Factory-Built and Kit-Built.
In 2020, perhaps because builders were locked down at home and completed more projects, kit registrations blew the doors off factory-built. For 2021, the ratio equalized again with kits narrowly edging out factory-built (nearby chart).
Note that for this reporting, datastician Steve Beste said, "We define kit-built as aircraft registered as Experimental Amateur Built. Factory-built are everything else, including SLSA, ELSA, Exhibition, Primary, and Standard." To understand how Steve solves the FAA database mysteries, check this PDF.
How Healthy Is the Market?
Generally speaking, the leaders from 2019 and 2020 remain in similar positions for 2021 — the second year everyone endured the virus pandemic. While actions to reduce the problems caused upset in many industries, light, recreational, affordable aviation seemed to have prospered surprisingly well.
As I relate performance numbers below, please keep this important point in mind: Factory-built LSA registrations generally mean a new aircraft that got built and delivered in the last year, where kit-built aircraft were probably delivered some years earlier and finished in the year discussed. This mismatch evens out over time. Also, these numbers may not identically match what producers claim they sold in any given year.
Steve Beste wrote, "Of the 19 companies that registered 10 or more aircraft in 2020, 15 did so again. Those who slipped from 2020 included AutoGyro, BRM Aero, Kolb, and Scoda. New to the list were Aeropro and Quicksilver. Standouts were Icon, whose A5 amphibian registrations almost doubled from 13 to 25 and Aeropro, whose two Aerotrek models got 13 registrations, up from 5 last year.


Two other important factors in 2020-2021: Overseas shipping rates have skyrocketed (I've been told three to five times as much per container). That mainly affects imported aircraft but all have been challenged by rising insurance costs as agents lost a couple underwriting companies, which notably tightened availability. Older pilots have seen additional difficulty gaining insurance. As a category, gyroplanes seem even more highly affected.
Who's Leading the Market?
Zenair/Zenith (up 9%) retained their market leading position. In fact, their builders registered a third more than builders of #2 kit maker, Rans (up 22%). Trailing Zenith with Rans was Kitfox (down 4%). These are the Big Three among Sport Pilot kit suppliers.
All the top kit-built producers increased their growth except Sonex, which slid 32%. The company changed hands from founder John Monnet to longtime manager Mark Schaible and we may see them resume their position for 2023 (except for that time delay between kit sales and kit completions).
Van's (up 5%) and their RV-12 again came in as the #1 producer of fully-built LSA. Their registrations show the hard work of our premiere datastician Steve Beste. Anyone can access these numbers but none I've found can match Steve's gift at deciphering what the registration variations mean. Van's registered 43 Experimental LSA, 9 Special LSA, 5 Experimental Amateur Built, and 1 Other. With the ELSA likely delivered ready-to-fly as they can be, an owner can then register as Experimental LSA and gain some privilege at the loss of being able to use the aircraft for paid flight instruction.
Among factory-built manufacturers, Progressive Aerodyne had strong results, growing 44% to register 26 new Searey LSA in 2021. Icon also rebounded from a low 2020 to output 25 A5s last year (a 92% growth).
Another factory-built producer, Aeropro — sold in the USA under the name Aerotrek — was up 160% in 2021. This company is one of the steadiest producers in all of light aviation. The company famously refuses to expand and as a result is extremely consistent about production. The big growth in 2021 surely reflects some registration delays in 2020 more than any spike in manufacturing.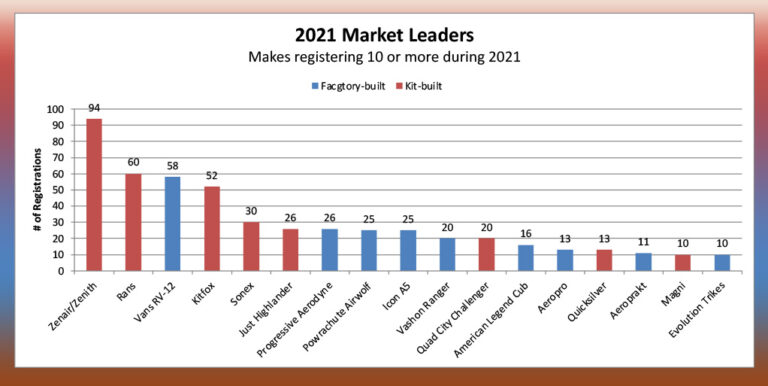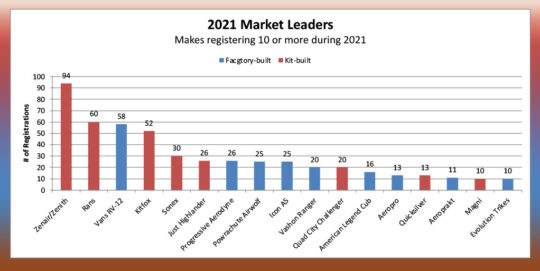 The first chart above, counting total registrations of factory-built versus kit-built shows that for 2021, both grew at almost an identical pace.
When you combine both production methods, the total (317 aircraft in 2021) compares favorably to deliveries of Part 23 single engine piston aircraft (the closest comparison). As you can see, for 2020, kit-built aircraft had more than double the factory-built totals but for 2021, the equilibrium returned.
The Light(est) Stuff
Although their numbers are modest, it's good to see Air-Tech and their assumption of all production of the Quicksilver line had good growth in 2021 (up 63% in registered aircraft without including Part 103 unregistered models). The longtime Louisiana supplier of Quicksilver aircraft and accessories took over all rights other than the GT500 and they continue to serve this market well.
Among Alternative Aircraft — Gyroplanes continue on a long slope downward, not declining fast but steadily. Difficulties with insurance may be a problem plus they are the only category of LSA not allowed to fully build aircraft. This should be solved with Mosaic in 2024.
For this report Steve Beste wrote, "Gyroplane registrations were way down. Only SilverLight and Tango had (slight) increases. This once-hot segment cooled a bit in 2020 and now even more in 2021."
Among other categories, weight shift trike sales were off to their 2018 level (Part 103 trikes are doing better but don't show up on the registration database).
Powered parachutes enjoyed continuing growth, led by Powrachute (up 25%).
One More (New) Thing — A new trick for our datastician Steve was to count Part 103 aircraft that were registered as Experimental Amateur Built. Conforming Part 103 vehicles do not need N-numbers.
"Perhaps the owners wanted to add features that bumped the planes over the 254-pound ultralight limit. If so, credit to them for being honest about it and registering the planes," wrote Steve.
Aeromarine LSA leads among Part 103 manufacturers with their Zigolo registering 10. Air-Bike registered 7, Phantom and Legal Eagle 5 each, Affordaplane 4, and Cloudbase (maker of Skylite and Lil' Bitts) 3. All these are in addition to any Part 103 models the companies delivered. For lots more information and links to every producer and all 89 models, see our new Part 103 List.
Market Observations
Steve Beste wrote, "Many manufacturers have left the market. Tableau Public for LSA tracks 140 manufacturers who are registering aircraft with FAA. Of those, only 71 manufacturers registered an aircraft last year." He added a caution, "This is a world in which a lot of dreamers bring promising aircraft to market… and then fizzle. Prospective buyers — especially prospective kit buyers — should keep this mind."
The LSA and Sport Pilot kit industry can be compared fairly well to single-engine piston models of conventionally-certified aircraft. Some years it's been closer, but for 2021 Steve noted, "GA sales dwarf these LSA and Sport Pilot kit numbers. Just to keep our beloved world in perspective, in 2021, Cirrus registered 272 single-engine piston aircraft; Cessna, 148; Piper, 92. Just those three companies registered 512 aircraft in 2021, to the light recreational aircraft industry's 317 combined Factory-Built and Kit-Built.