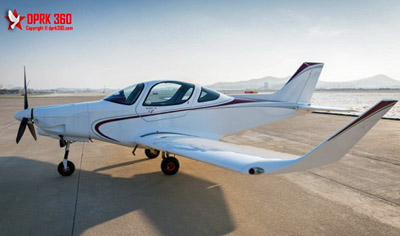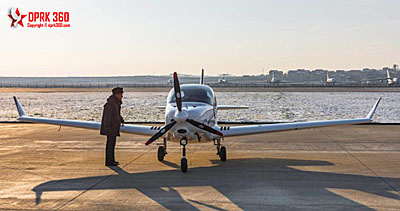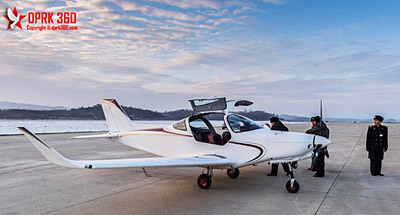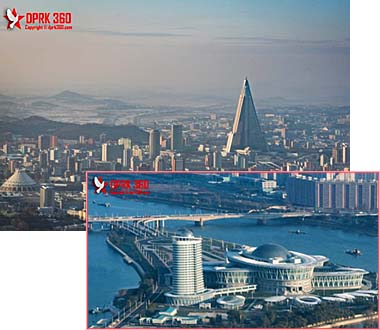 Here's something you simply never hear about … lightplanes in North Korea and flying one above the country. My LAMA Europe associate and friend Jan Fridrich alerted me to the existence of a handsome light aircraft allegedly developed and built in that isolated country.
I don't know what your thoughts are about North Korea. Our government officials, media, and other critics have related stories of terrible human abuse by the ruling elite. I have no doubt this is indeed a repressive regime and I certainly don't condone coercion. However, neither do I have any first-hand information about the country; I only know what I can see and read elsewhere.
Yet like most of you, I love airplanes and I enjoy viewing especially attractive airplanes. The one in the nearby images qualifies and according to those who have visited — and evidently gone aloft in it — this is a North Korean-designed aircraft. About the machine, Jan said, "The plane looks like combination of [the Italian] Pioneer with [Germany's] Fascination and [Slovak's] Dynamic." However, this is a four seater, unlike those European LSA-like designs.
Singapore-based photographer Aram Pan publishes a website featuring photography of North Korea. He reports spending several years creating photos and video of the isolated, secretive nation. Aram also offers tours of the country and his latest feat is arranging what he calls "the first foreigners to fly over Pyongyang in a North Korea-built light airplane."
A PetaPixel article on Aram's work contains a 15-minute YouTube video of his pioneering aerial photo shoot. The airborne scenes depict the nation's largest city, which looks comparable to any other national capital.
"We work together to … push the limits of what can be achieved in North Korea," Mr. Pan told the PetaPixel website. "We work with the local officials to constantly make our requests known. Since 2013, I have been allowed to do things not previously possible and have opened up the avenues for new media possibilities."
PetaPixel said that Aram shot the world's first collection of 360-degree virtual tours back in 2013 and the first state-sanctioned GoPro footage in 2014.
Starting last year, Aram began petitioning the North Korean government for permission to shoot aerial photos and videos over Pyongyang, the capital city. In November 2015, the country launched the first helicopter joyrides in which picture-taking was allowed. Pan was personally invited by North Korean officials to take an exclusive ride on a one-of-a-kind locally-made light plane, reported PetaPixel.
The aircraft is not named or described anywhere and I could uncover no more about it. Another article shows an image of Kim Jung Un near what appears to be a Cessna, but no reference could be found of the airplane pictured in this article.
If any ByDanJohnson.com visitors know more about this mystery aircraft, please advise me and I'll update this article. For now, at least we have some evidence of lightplane flying in North Korea.
All images here and more to be seen at the article link above are by Aram Pan. You can see some wonderful "spherical" photos of the inside of a Russian Ilyushin Il-1 on his website. I've been seeing some of this kind of imagery in Wall Street Journal (they make spherical videos which are quite interesting to observe on a mobile device as you can actually spin around and see all around you in every direction). Aram's spherical still photos are excellent quality.
For the more adventurous among you, he is offering a tour to North Korea in April 2106. I have no idea if Americans are welcome on this tour but for those who may wish to inquire, you can visit his website for more details. The cost is surprisingly modest. Aram has already visited North Korea eight times.
On his website shows, Mr. Pan wrote, "Using photography as an outreach for peace and understanding, I have come to realize that all it takes is a wide smile and an outstretched arm to change the way people react and treat you." I like his positive approach.
If you're a social media fan, you can visit Mr. Pan's Facebook page for more info and images.
I may be getting on some government list, having done an article about a Light-Sport Aircraft built in Iran and now a story about flying in North Korea. However, I think more knowledge of aviation around the world is a good thing.