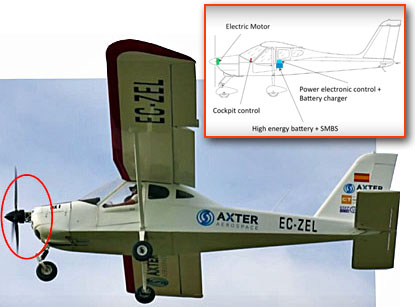 A few years back at Aero 2009, Flight Design and Rotax teamed up on a very interesting project. Based on the R-912 engine they added an optional electric motor that could provide additional torque (a characteristic electric motors have in abundance) for takeoff and climb or for emergency power in the event of a failure. The idea more than intrigued me and many others but it quietly disappeared.
Recently a Spanish university announced it had taken this concept to the next step. The team investigating this seemed focused on the emergency factor but opened the door to combined used of electric motor and gasoline engine. In case of a conventional engine failure, while very unlikely, an electric motor can, they said, deliver another 20 kilometers or 12.5 miles of range. That would be a literally saving grace to the pilot and occupants of a troubled aircraft.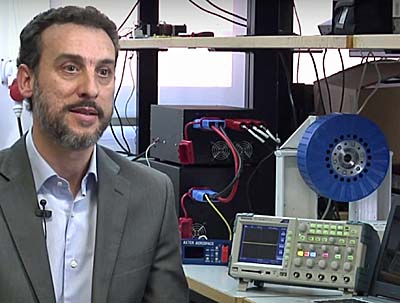 Researchers at Universidad Carlos III de Madrid (UC3M) and the Axter Aerospace firm developed an electric propulsion system to install in light aircraft to deliver extra power and range in emergency situations. The group believe their new hybrid system could prevent 600 accidents a year after studying aviation accidents on two continents.
The team was lead by Andrés Barrade assisted by Miguel Ángel Suárez and Daniel Cristobal. They started with a Tecnam P92 and while the changes appear modest, you can discern the results (top photo, circle).
Barrade said, "The basic goal of this project is to improve the safety of light and light-sport aircraft, that is, two- and four-passenger planes weighing a maximum of 750 kilograms" (1,650 pounds, a value that covers all LSA and up to a Cessna 150). "We are trying to saves lives and prevent accidents related to loss of power during flight, when the engine fails or the fuel runs out," clarified Suárez. He works with Axter Aerospace, the company which collaborated with UC3M to develop this new system.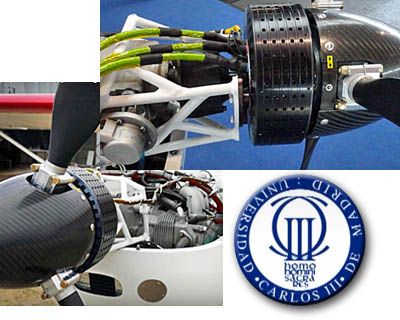 The idea is to equip the plane with an electric engine mounted aft of the propeller but outside the engine compartment (at least in the test article). Such an installation suggests this could be an add-on to existing aircraft once the company decides to commercialize their work.
"If there is a problem with the main engine, this electric engine will start to function, which will provide an additional range of about 20 kilometers, enough for the pilot to land safely," said Barrado, head of the UC3M Electric Power Systems group and one of the other promoters of this invention.
The system features an electric engine that is connected to the conventional engine, a high-efficiency lithium battery, and an electronic system that draws energy from the battery and adapts it to the needs of the plane. It also has a battery charger which operates during the flight.
"We maximize the capacity of the battery in generating movement with the electric engine, and we have found that we can also use the system as a hybrid for light aircraft; the pilot can activate it when she wants, adding up to 40 horsepower for takeoff or whatever is needed," said Daniel Cristobal, now also with Axter Aerospace and an alumnus of the UC3M. "This way, it could be used as if it were an electric turbo to increase the power of the aircraft in certain maneuvers."
So, while the UC3M/Axter team see safety as the main point, they are pursuing this idea in the same general directions as Flight Design and Rotax did six years back. Note that the Tecnam P92 has a Rotax 912 for its main powerplant.
This system, which is being marketed and patented internationally, can be installed in light aircraft, new or already operating, they said. It might also eventually be applied to other types of aircraft, such as gyroplanes, gliders, drones and other unmanned aerial vehicles. Besides saving lives and reducing financial losses resulting from accidents, the UC3M group said its architecture reduces the airplane's operating and maintenance costs, lowers fuel consumption and reduces the emission of greenhouse gases and noise pollution.
I wish to give credit to Product Design & Development website, part of Advantage Business Media where I first discovered the work of the UC3M/Axter group.