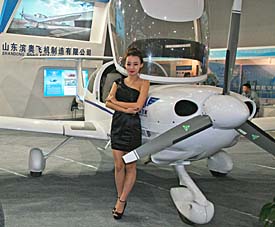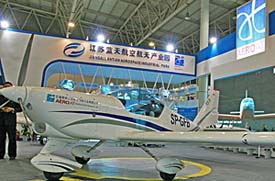 My LAMA Europe counterpart and friend, Jan Fridrich, took another trip to China in October as he attended Xi'an, said to be the largest General Aviation exhibition in the country. While the show was large with expansive, expensive exhibit stands, airplanes were sparser than events such as Aero Friedrichshafen. Like a few American events (thinking of AOPA's just concluded Summit and NBAA's giant show), Xi'an's convention hall housed indoor displays while the "static" display of more airplanes was at an airport. U.S. organizers usually try to colocate these two displays. In contrast, Jan reported, "The static exhibition was at the airport in Pucheng, which is about 100 kilometers (62 miles) from Xi'an! Practically speaking, it was only accessible by bus and only during one official day and the journey takes 2.5 hours … Without Chinese friends it is very complicated to get anywhere." Jan added that viewers at the airport were unable to get within 60 feet of airplanes. "Only VIPs can get inside a 'first zone' around the aircraft." Still, it is fascinating to watch this country expand its non-military, non-airline aviation sector.
In the USA, we hear about Chinese purchases of famous American aviation brands such as Continental Motors, Cirrus, Mattituck, Glasair. Icon and Lisa reportedly got Chinese investment and they aren't the only ones. However, Chinese investors have also bought into products from European countries. Jan reported, "AT-3, a sibling of an LSA Americans know as the Gobosh, was bought by Chinese investor Jiangsu Lantian Aerospace Industrial Park with an investment of $60 million. They intend to produce up to 100 aircraft per year. Another large exhibit featured the Slovak Tomark along with their Viper thanks to Chinese investor Qingyun Group."
A couple years ago, Adam Yang bought Progressive Aerodyne and their SeaRey, which he exhibited at Xi'an. Jan wrote that according to Adam, their Chinese Type Certification is well under way. The company earned warm remarks from FAA last fall when their first-ever SeaRey SLSA passed an audit with the best marks yet. Still more exhibited brands known to Americans included Tecnam's Twin, P92, and Sierra; three Flight Design CTLS, of which one even flew (photo); Nynja; Magni, Apollo, and AutoGyro gyroplanes; SportCruiser (represented by a Taiwanese dealer); Zenair's CH-701 and 801; Jabiru's J230; an IndUS Thorpedo; Quicksilver's Sport 2S and a GT500 outfitted with ag spraying equipment (as were a few other light aircraft); a Challenger ultralight; an Apollo trike with an Aeros wing; plus a student-built Team MiniMax.
The only Czech exhibitor was TL Elektronics. Representative Martin Balda unveiled iDrive, a controller of the digital Integra. This solves a problem experienced by many pilots, where after tightening seatbelts they cannot easily reach the controls on the panel. Using iDrive connected to Integra you have seamless control of all knobs and buttons not only for instruments in front of you but on the co-pilot's side. Jan added, "If you find this controller familiar, you're probably a happy owner of a BMW vehicle, which originated the idea." Of course, Rotax is present in China. Jan wrote, "The Peiport company is the distributor of Rotax with six branches in China and one in Hong Kong where the company originated." The company also represents Woodcomp props and showed hydraulically and electrically adjustable constant-speed propellers.
Jan concluded, "The exhibition in Xi'an shows the current status of Chinese GA aviation. From a European perspective it is at the beginning of development. GA flying is considerably reduced by lower airspace restrictions with a larger opening expected in 2015. Another limiting factor for flying is very poor visibility; most of the day it is not even possible to see the sun. On rare days with a visible sun disk visibility is usually 1-3 kilometers. I cannot imagine VFR flying and especially training in this environment." Nonetheless Jan sees promise, "In any case it is useful to watch the progress of GA in China, because in near future it could become the largest market in the world!" Thanks to Jan Fridrich of LAMA Europe and Czech Light Aircraft Association for this report.