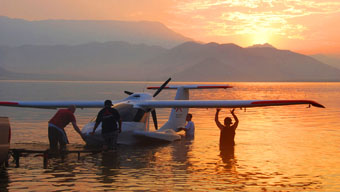 On this website, we zoom around the world following Light-Sport Aircraft, from near the Arctic Circle — you know, where Santa and the wee elves are pulling some heavy overtime about now — to the warm balminess of Southern California. I know of what I write, having once lived in the snow belt and now hanging with the family in Palm Springs, California for Christmas. It seems everywhere I look I see LSA seaplanes in sea trials and this is happening in the dead of winter.
Why be surprised? Perhaps you've noticed boat shows happen in the winter months. When living in Minnesota, I was always amazed that boat shows were held in January and February, a time of year when it would be months before the ice melted from the state's 10,000 lakes to allow use of those boats. Yet this is when people were shopping, I suppose anticipating an upcoming season of boating fun. So, why not seaplanes in winter?
As I recently wrote about the Atol Avion undergoing first water trials in the freezing cold waters of Finland, it seemed appropriate to update readers on continued development for one of the most watched Light-Sport Aircraft ever, Icon's A5. The company's extensive use of social marketing has netted them a million Facebook likes and they've logged a reported 1,200 orders. Just before Christmas they issued a report which I'll summarize here.
Since its completion, engineering A5 serial number one (ESN-1) has been undergoing extensive flight testing and systems performance verification, the company said. "The objective of this process is to confirm that the production version of the A5 meets or exceeds the performance of the proof of concept (PoC) aircraft, which underwent more than 700 test flights for aerodynamic, hydrodynamic, and systems development." Icon added, "The ultimate goal is to prepare the production A5 for ASTM compliance and delivery to the first customer next spring [2015]."
In these preproduction preparations, Icon's team performed several days of water testing on Lake Isabella, California. "Icon Aircraft's engineering team pushed ESN-1's design to further improve water-handling characteristics." They report that the new hull design's performance exceeds the POC's in several ways: The preproduction prototype "can land easily at a range of airspeeds and deck angles (attitude) without porpoising (a pitch oscillation exhibited by most seaplanes);" aggressive step-turns on the water can be accomplished, similar to the performance of personal watercraft; the newest A5 demonstrated that static and dynamic lateral-stability requirements have been met throughout the design envelope in a range of water conditions, gross weights, and center-of-gravity (CG) locations; water handling has been verified in rougher water and larger waves; and, "ESN-1 can cope with high-wind situations, especially maintaining water-rudder effectiveness when turning to downwind."
ESN-1 was subjected to the full range of weight loadings and CG positions including performing a full-aft-stick water landing at minimum speed. "The purpose of this exercise is to intentionally land the aircraft tail-first to determine if it will porpoise, a task that involves a highly unusual landing attitude that appears visually unsettling," observed Icon.
The fuselage of engineering serial number two (ESN-2) has been fully instrumented with strain gauges and will undergo testing to ensure it complies with ASTM strength requirements. Icon engineers and technicians are simultaneously assembling the third production A5, called aircraft serial number one. "ASN-1 is the final aircraft which will undergo FAA inspection to ensure the A5 complies with ASTM standards." Icon's manufacturing facility, documentation, and quality systems will also be reviewed before serial production begins.
ASN-1 also marks a significant milestone as it is the first aircraft that will be delivered to a customer next spring, culminating nearly a decade of research and development leading to serial production, the company concluded in its winter 2014 report. As we admire the thoroughness Icon is demonstrating, we wish them the best in getting A5 into production.
As they gear up for production next year, Icon said it is hiring. "We are looking for talented individuals to fill key roles in Design, Engineering, Finance, Operations, and Production," said the company. Interested persons can see their Careers page on their website.