As Labor Day approaches each year, pilots in the Midwest U.S. — and some from much further away — start heading to Mt. Vernon, Illinois. About an hour's drive East of St. Louis, Missouri, Mt. Vernon is home to a dedicated sector show that has emerged as a favorite.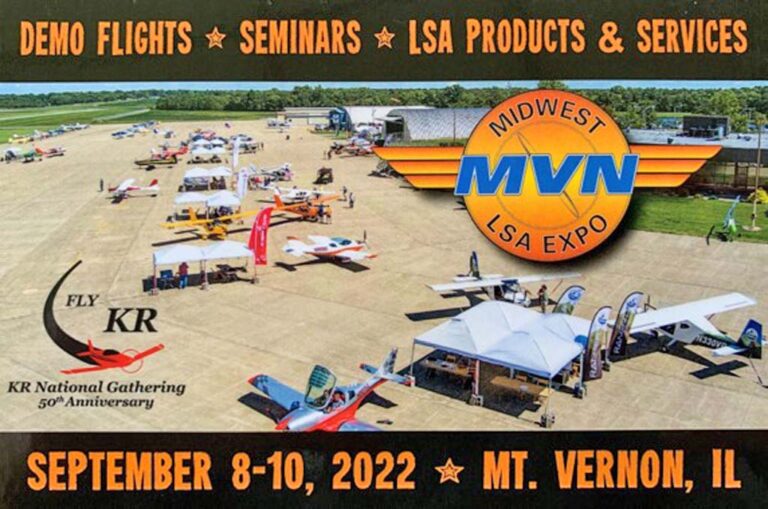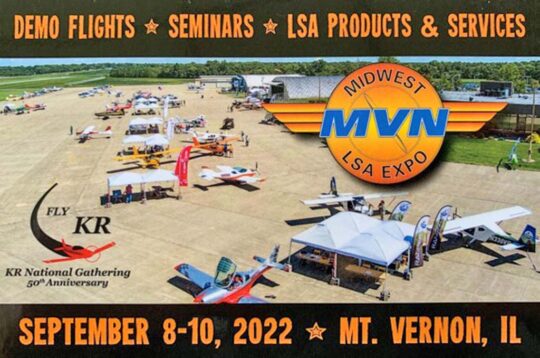 This is the 14th year for the Midwest LSA Expo, so airport manager and all-around good guy Chris Collins is starting to psyche up for his benchmark 15th year in 2023. Putting this in perspective, that's as old as the Sebring LSA Expo ever got before it disbanded. I'll bet Chris never really thought about running one of the most established shows in the country.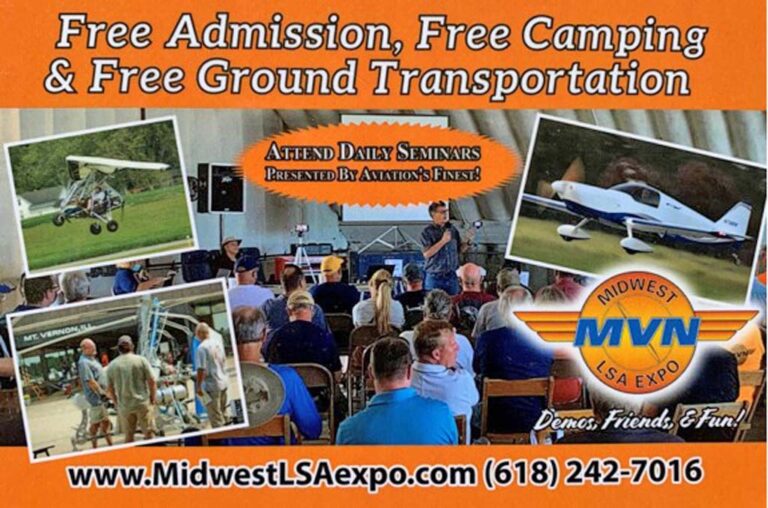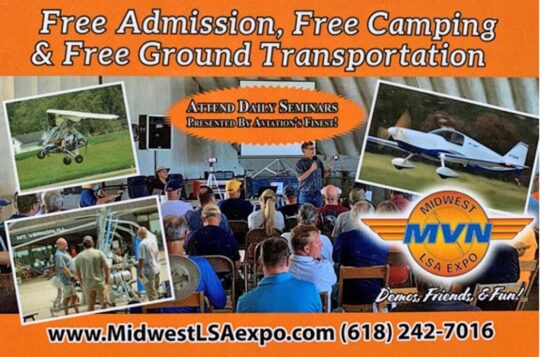 While I cannot speak for every attendee, I can tell you that vendors return year after year for a very good reason: they sell airplanes. Pilots can thoroughly examine an airplane and perhaps make their decision. The result: both aircraft sellers and aircraft buyers go away with bigger smiles than when they arrived. That spells success.
Another key reason is that when you arrive at Mount Vernon airport (KMVN), by car or airplane, you will be greeted by people in bright orange shirts who will treat you exceedingly well. Lead by the very affable and determined to-satisfy manager Chris, I have never seen an airshow group go to more effort to make sure every single person present, both attendees and vendors, feel extremely welcome. To maintain such great customer service for 14 years is nothing short of remarkable.
At no airshow I attend is it easier to go for a demonstration flight than at Midwest LSA Expo. Since Chris commands the airport — with solid support from the city that hired him to run the operation many years ago — airplane representatives can get you airborne fast. I've often seen it literally take minutes from the time a pilot says "Let's go!" until an aircraft vendor can have you roaring down the runway for takeoff.
Finally, on an affordable aviation-oriented website like this it's a pleasure to mention that that Midwest is free to attend, free to car park, and free to fly in and park. If you do the latter, the airport has shuttle drivers available to run you back-and-forth to hotels that are just a few miles away.
If you arrive on Thursday, you even get a free meal. "Join us at the close of day one inside the historic fixed base operations building on the east side of the flightline (look for the Titan Aviation Sign)," wrote organizers. "The orange shirts will be serving up Grandma Deb's famous BBQ with all the usual fixins'. New for 2022 will be fried fish prepared by Evans Aviation. Decompress with industry friends in a great aviation atmosphere."
This Year's Special Attraction
Back for their eighth Gathering are the KR type-enthusiasts. "We are pleased to welcome the KR Aviation Family on its 50th Anniversary," said Chris.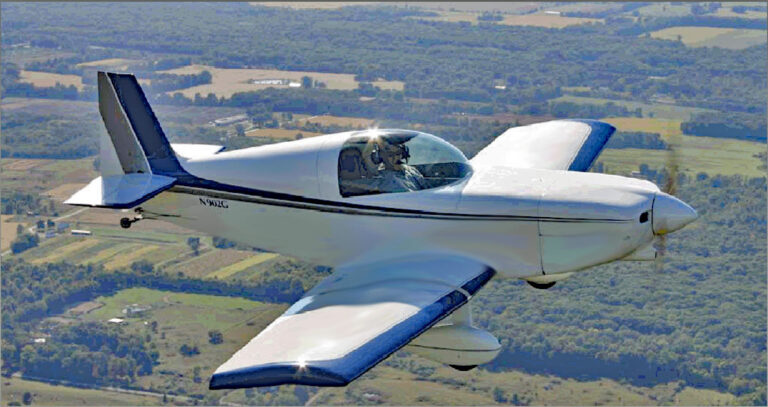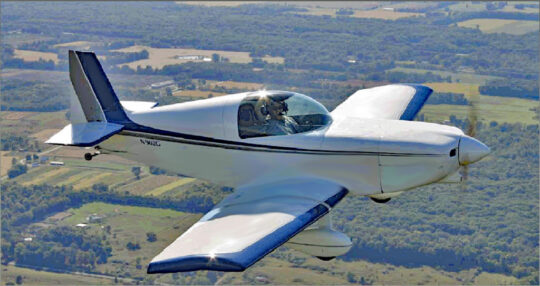 They'll return better than ever for 2022. When the KR group first attended, these aircraft may not have seemed very similar to Light-Sport Aircraft or Sport Pilot kit aircraft. As we await FAA's Mosaic regulation, KRs may qualify to be flown by someone using Sport Pilot privileges, like most other aircraft that regularly attend Midwest.
When Ken Rand designed his KR-1 in 1972, he also pioneered a state-of-the-art foam-and-fiberglass composite construction method which has now become standard in homebuilt, commercial, and military aircraft. Its strength-to-weight ratio is superior to conventional construction methods, and the ease of shaping compound curves produces fast, clean surfaces that even a novice kit builder can master. The resulting KR aircraft are lightweight and trailerable.
KR-1 is the single-seat, low-wing, retractable monoplane typically powered by VW engines. KR-1B designates a motorglider with modified outer wing sections making the original KR-1 into an excellent self-powered glider.
KR-2 is a high-speed, two-place, side-by-side monoplane. Like all Rand's designs, KR-2 is equipped with removable wings and your choice of retractable, fixed conventional, or tricycle gear.
KR-2S is the latest in the fleet, boasting a 16-inch stretch in the fuselage over the standard KR-2 giving more head and leg room. Its angled canopy and fixed landing gear give it a racy appearance that is only exceeded by its performance. A KR-2S can accommodate engines including VW, Jabir, and Continental C-85 or O-200.
This year this year KR gathering organizers are expecting about 30 pilots and 10 show-worthy KR aircraft. Come check out the variety of these airplanes when you attend Midwest LSA Expo 2022.
Mosaic and More Knowledge
Every year, the Midwest team puts a number of forums together for attendees to gain more knowledge in specific areas. Here's the forum schedule for 2022.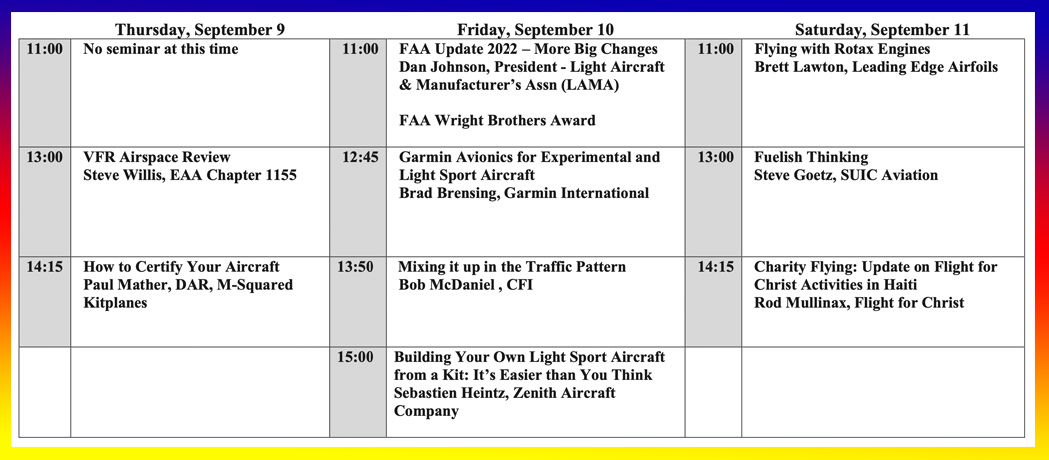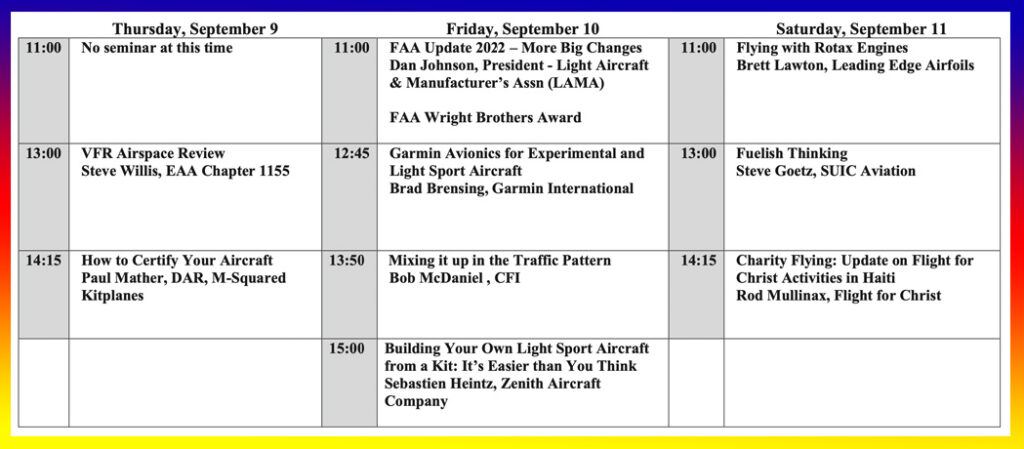 I am hard at work on a fresh presentation that will update everything we learned about Mosaic at Oshkosh. Regular ByDanJohnson,com readers have already seen much of this, but a live presentation offers a good chance for Q&A that I will try to extend this year as I have learned attendees ask good questions that those who could not attend would like to ask. I'll do my best to answer using knowledge acquired in recent weeks.
Come learn what "The Boss" had to say at EAA AirVenture Oshkosh 2022.
Who Can You Visit?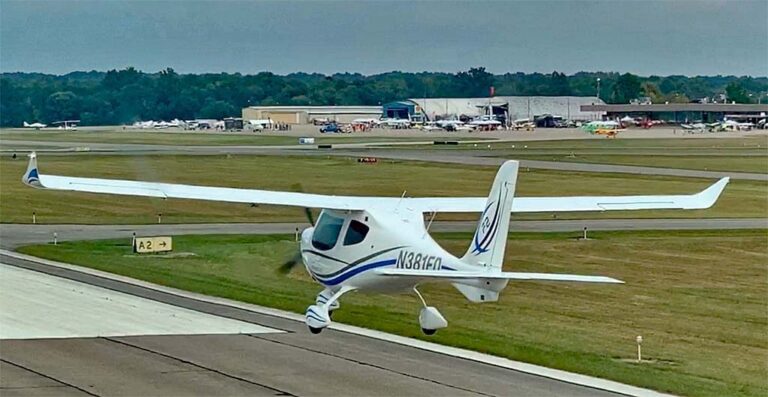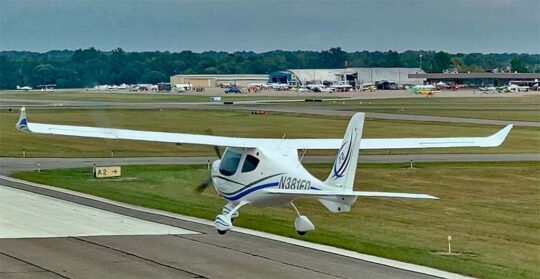 Who can you expect to see at Midwest LSA 2022? The following companies have indicated they will show but last-minute changes may alter the exact list (aircraft and engines are shown first; other exhibitors follow).
Click the links to learn more about each vendor…
ARTICLE LINKS:
---
Next Show
Fall 2022
Get full information on the brand-new Aero Showcase that follows on from the five-year-old DeLand Showcase.