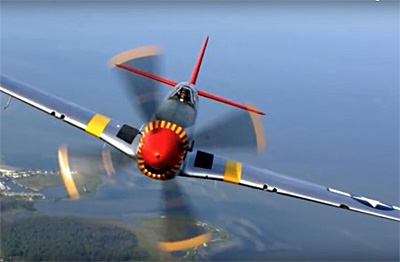 Many pilots who first set eyes on the SW51, a precisely faithful 70%-scale imitation of the famous North American Aviation P-51 Mustang managed to utter a single word: "WOW!"
Can you blame them? Look at this bird. The shape is classic and the detail is exquisite, finished down to the last rivet to mimic the famous World War II American fighter. Except, it's a kind of fake. I better explain.
We've seen this spectacular execution of Hans Schwöller before. It was then called FK51 and we reported it earlier in more detail as to its construction. Now welcome ScaleWings Aircraft.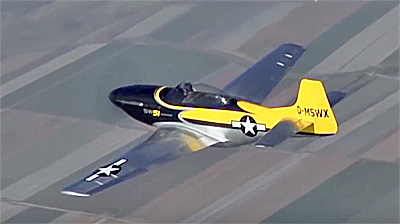 Thanks to his youthful associate, Christian von Kessel, SW51 has been refunded and reenfranchised, bringing it to reality. The earlier producer group stumbled and this amazing construction never reached market.
Can you handle a machine that looks this awesome? As you hear Hans and Christian state in the video, SW51 is easy to take off and land and docile in flight. Early test flight were done by a Lufthansa airline captain (image). In fact, other P-51 clones also boast relatively manageable flight qualities, unlike the North American original that demanded considerable training and good skills, according to those with experience in the powerful machine. (If you have extra time on your hands, you can read my own experience with the prototype Titan Aircraft T-51 that provided — how shall I say? — …a learning experience.)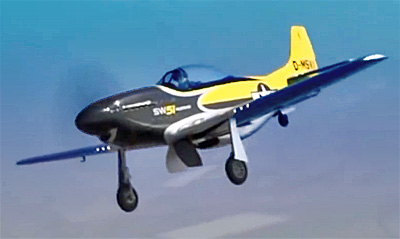 For those ready for the hottest action, you can build the Experimental version and install a Chevy V-8 engine, but that's well beyond the scope of this website. If you're curious, though, ScaleWings says the airframe can take up to 600 horsepower.
The most distinctive quality of SW51 is its tight adherence to the original look, albeit it as a 70%-scale replica of the historic P-51 Mustang. The earlier report referenced above goes into more detail but I must repeat that although this looks remarkably like a riveted structure, it is not. SW51 is a carbon fiber execution of the original so true that a reported 100,000 rivets are molded into the finish. I saw people examining the example at Aero Friedrichshafen run their hand over the skin and they may still not have realized it was something of an illusion. Yes, it's that good!
Actually, it's better in one way. The North American P-51 was originally a single seater. Imagine your first flight in that aerial hot rod!
ScaleWings' model will accommodate pilots from 4 feet, 11 inches (150 cm) to 6 feet, 7 inches (200 cm) in a cabin that is 22.8 inches wide (58 cm). That aft seat uses enclosed foot wells to prevent interference with front seat belts while using the rear pilot pedals but obviously the SW51 will allow flight training as needed. Engine controls plus throttle and prop controls are provided at each seat.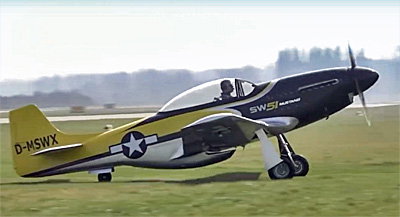 SW 51 also bests the original with detachable outer wing sections that feature an autoconnect design; wing locking connects flaps, ailerons, pitot tube, electric and fuel lines. The developer reports the process takes one person a mere five minutes to complete.
If you want the LSA version, it will be supplied with a fixed gear configuration; the manufacturer understands what is needed for the U.S. market. For those that want the whole Walter Mitty effect with big engine and high speeds, learn more here about their kit-building program.
Manufacturer Specifications
Wingspan — 25 feet, 11 inches (7.9 meters)
Length — 23 feet, 4 inches (6.88 meters)
Height — 5 feet, 6 inches (1.97 meters)
Wing area — 118 square feet (11 square meters)
Maximum takeoff weight (LSA) — 1,320 pounds (600 kilograms)
Maximum takeoff weight (EAB) — 2,646 pounds (1,200 kilograms)
Empty weight (LSA) — 750 pounds (340 kilograms)
Empty weight (EAB) — 889 pounds (400 kilograms)
Standard Engine (LSA) — Rotax 912iS Sport (100 horsepower)
Optional Engine (LSA) — Rotax 915iS (141 horsepower, max)
Powerplant choices (EAB) — see video or downloadable brochure
Never exceed speed — 216 knots
Maximum load factor — +6/-4 g
Carbon reinforced composite structure with carbon pushrod linkage
Windshield frame as rollover bar for improved occupant protection
Aramid cockpit lining for occupant protection
Electrically retractable landing gear (fixed gear configuration for U.S. SLSA)
Sliding and swiveling canopy
Hydraulic disk toe brakes front and rear with parking lock
Leather finish to both with five-point harness
Manually adjustable rudder pedals
Electric trim all axis
Fuel capacity — 2 x 13.2 U.S. gallon (50 liter) wing tanks
Electrically Retractable Landing Gear
Baggage compartments:

Front (before windshield) 33 pounds (15 kilogram) with external baggage door
Rear (behind cockpit) 33 pounds (15 kilogram)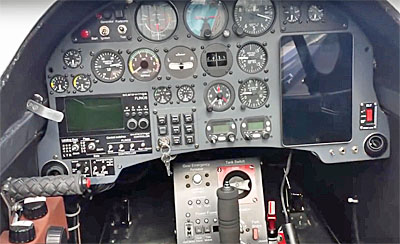 Gulp! Can you afford this beauty? Budgets vary by person, but SW51 is roughly comparable to other higher-end Special LSA. In Europe, the assembled base price is about $182,900, though shipping to the U.S. and other countries will add expense. Yankees wanting the retractable version will indeed have to choose a kit, with the cost starting at around $140,000 for a quick-build version, however, this does not include the engine. A wide range is available if you kit build, up to a very powerful V8 engine. Given what you may be acquiring, those prices are reasonably affordable if you yearn for the full fighter jock sensation of flying your own 70%-scale P-51 Mustang lookalike.
Learn more on our video from Aero Friedrichshafen 2018. If you have additional questions, get more answers via email. You can also download their detailed brochure in English here.