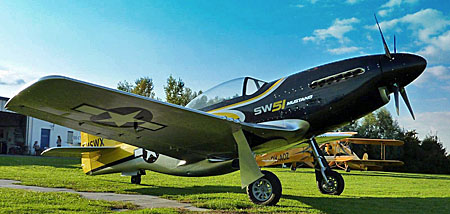 (This article has been updated in June 2018 to reflect a new manufacturer.)
At Aero 2013, I covered one of the most interesting replica airplanes I have ever seen in many years of scouring airshows for light aircraft of interest. My videographer and I did a video story about this exciting project. The airplane was again displayed at Aero 2014 though not in such a high traffic location but that hardly dampened enthusiasm. No question … FK Lightplanes continued their approach of great showmanship in displaying the most authentically realistic reproduction of a 70% scale P-51 Mustang you can imagine. Most replicas have to approximate some qualities but FK Lightplanes and their design partner, Austria-based ScaleWings AeroTec, made what they are now calling SW51 into something different. It has detail beyond what you can envision without seeing the construction in person.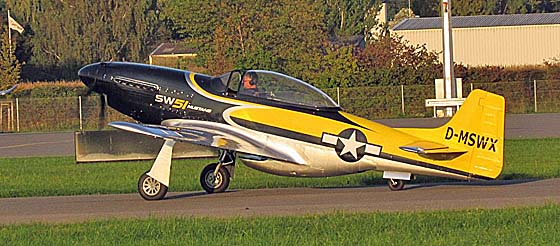 First named FK51, SW51 reproduces the 100,000 or so rivets and screws that put together an original World War II vintage P-51 Mustang. The work is all done in composite so those are not real screws or rivets but you'd have to be a P-51 mechanic to tell the difference, even when you put your hand on the skin to be sure your eyes are not deceiving you. SW51 is magnificent! "Every rivet row, every screw and every maintenance door matches the original plane," said creator ScaleWings. A reported 40,000 man hours have been invested.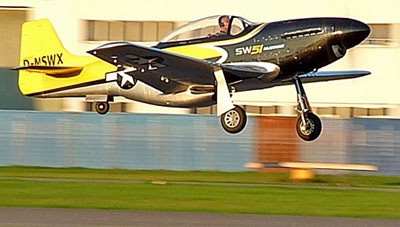 Today, Jon Hansen of Hansen Air Group called to say that SW 51 flew in October 2014 and the initial flight went very well. "It looks to exceed our flight expectations for it," exclaimed Jon. Because demand is already spiking, FK Lightplanes' Poland factory will be working to build about one SW51 per week. The design has been optimized not only for a very high degree of authenticity but for swifter production. Jon explained that using modern CAD manufacturing, the assembly of the components can happen fairly fast. "When the fuselage halves go together, much of the wiring and other details will already be in place," Jon explained. A European-style ultralight version will have retractable gear and in-flight adjustable prop because such is allowed under rule in the EU. "For the USA, we will be offering a Light-Sport version with fixed gear and propped to stay within the 120 knot limit of LSA," clarified Jon. Weight, all parties have said all along, will not be a problem because the design is created for sale in Europe as well where the limits are 472.5 kilograms (1,041 pounds) to include the German required airframe parachute. SW51 is also designed to accommodate aerobatic flying.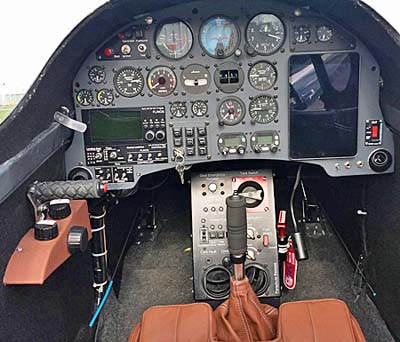 Developer ScaleWings said, "[Our] Mustang is an absolute true to original … replica of the legendary P-51 Mustang." What was formerly called FK51 "will be produced in a complex but extremely strong carbon-honeycomb construction … a guarantee for an extremely lightweight construction with maximum strength. [SW51] Mustang will look deceptively similar to the original Mustang in all surface details." To be sure structures and aerodynamics were professionally engineered, ScaleWings worked closely with the founder of FK Lightplanes, Peter Funk. Using his years of experience, Peter is responsible for the aerodynamic and static design, structure layout, dimensioning, load tests, flight tests and the certification of the SW-51 Mustang, said ScaleWings. This was a smart decision as today Peter focuses on engineering and new development after turning over manufacturing over to Rolland Hallam in Poland.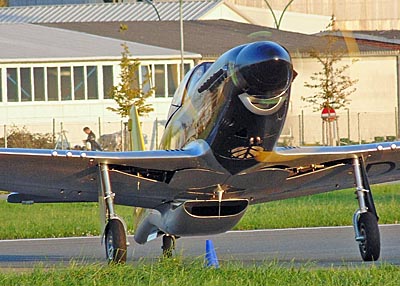 We see that yellow taildragger Cubalikes sell briskly in the USA where many aviators have a sweet spot for vintage aircraft. Yet none that I recall inspire as much interest as the P-51 Mustang, easily one of the most highly regarded aircraft of all time. The problem is that only a very few people can afford an original and probably even less are qualified to fly them today. This gives an opening to creations like the 1990s Loehle all-wood 5151 Mustang, the Titan T-51 Mustang (video) and heavier versions such as the Stewart S-51. The latter, driven by a 450-hp Chevy Corvette engine was also quite costly and the Loehle was more ultralight than most folks want. Titan is successfully selling T-51 models as a 51% kit but for pure accuracy in recreating the original and in fully-built form, SW51 from FK Lightplanes and ScaleWings looks hard to beat. If this moves you as it does many, you might want to contact Hansen Air Group sooner than later. Jon Hansen told me today that he and the Poland factory expect most SW51 to sell in the USA and Jon believes they'll sell out their entire 2015 allotment in a short time. The first example in America is unlikely by Sebring but will certainly show at Sun 'n Fun.
Watch SW51 take its first crow-hop flight in this video. (Note: turn sound up for interview with FK Lightplanes director, Rolland Hallam.)