Air taxis — eVTOLs — UAVs — UASs — UAMs. I like "multicopters," but the name game continues.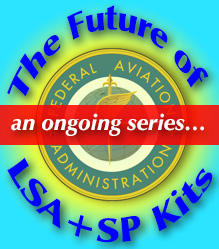 Maybe these new-fangled flying contraptions have numerous (indecipherable) names because they're still deciding which way they're headed?
I believe aircraft like these are nearly inevitable and I not only don't resist, I'm rather enthusiastic about them. I'd love to get picked up from my driveway and whisked by air to an appointment across town in minutes, free of clogged roads. C'mon, UberAir!
However, that dream may be years in the future. Oh, the technology is nearly ready now. It hasn't been proven to be in-the-field robust yet but engineers know today most of what they need to make air taxis viable. Their much bigger challenge? Gaining public acceptance and winning regulatory approval. That could take a long time. Meanwhile…
What's Here TODAY?!
Air taxis may be fuzzy in the distance but another class of these machines is nearly ready for market. I like "recreational multicopters."
I refer to those multicopters with a single seat and which can qualify for FAA's Part 103 rule. Do you doubt that's possible? I can understand.
These machines are so different they were not even remotely envisioned by those who wrote Part 103 41 years ago. Nonetheless, two of these machines have already proven they can meet the definitions and now comes a third (with a fourth recently hinted to me).
It's time for the George Jetson-mobile — Actually I think this modern (and real-life) Jetson 103 is cooler because it isn't a passenger sedan like Cartoon George had. In use, it's closer to a motorcycle of the air. I don't know about you, but I think this thing looks mighty fun …you know, once that flight-control software is super-robust.
Recently an individual who's been in the LSA industry for a number of years took over as CEO at Jetson, the Stockholm, Sweden-based creator of Jetson One.
Jetson announced the appointment of Stéphan D'haene as its new CEO. "Stéphan brings extensive industry experience and a proven track record of driving growth and innovation in the aviation industry," wrote Jetson's Head of Communications.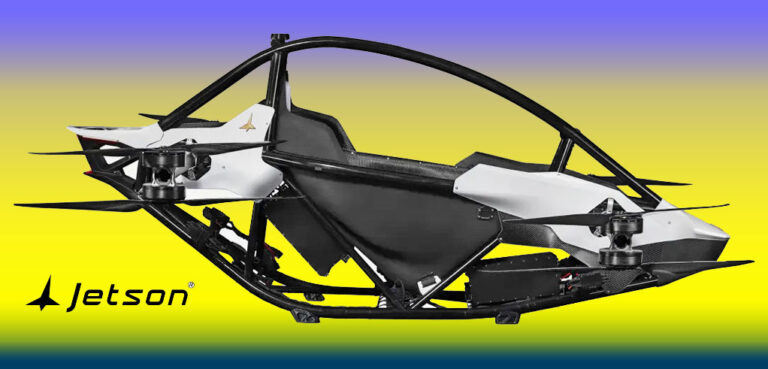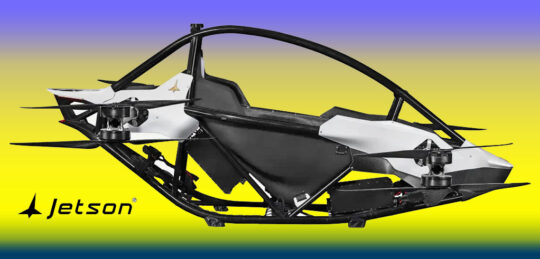 Before joining Jetson, Stéphan worked for Icon Aircraft, where he served as COO since 2021. Stéphan and I knew one another from his days working for two well-regarded European manufacturers of LSA-type aircraft. He worked for two speed-driven companies: BlackWing in Sweden and Porto Aviation Group in Italy, producer of the Risen. With 10 years before that at BRP-Powertrain (Rotax), Stéphan has accumulated experience that can now be applied to Jetson.
"Seeing Jetson for the first time about a year and half ago, I was extremely excited about their flying concept vehicle," said Stéphan. He believes that the team led by Tomasz Patan and Peter Ternström had "cracked the code" to make flying more accessible than ever. Jetson was founded by Tomasz and Peter in 2017.
"The dream of flying has never been more accessible with the paradigm shifting Jetson One, powered by an environmentally-sustainable electric drivetrain. Together, we will push the boundaries of what is possible in the eVTOL industry and deliver game-changing solutions that will have a positive impact on the environment and society as a whole," finished Stéphan.
"We are confident that Stéphan's expertise and leadership will help us achieve our goals and take the future of transport to a new level," said a company statement.
Pricing and Availability — The Company started modestly with a reported 14 units in 2022, followed by 186 booked for this year. All those slots are sold out.
In 2024, another 52 order slots are filled, perhaps filling the books through March, although the company may choose to increase production if all is going well.
Jetson is asking for an $8,000 deposit against a current price of $98,000.
About Jetson One
Company Statements — "Jetson One is constructed of a race car-inspired lightweight aluminum space frame and Carbon-Kevlar composite body. Thanks to the intuitive joystick controls and a flight computer which keeps it stable in the air, everyone can learn how to fly it in just a matter of minutes.
"Jetson One is powered by eight electric motors, has a flight time of 20 minutes, reaching a top speed of 63 miles per hour. It runs on a high discharge lithium-ion battery and can carry a pilot's weight of 210 pounds.
"Jetson is an eVTOL company with a mission to change the way we travel. We aim to make the skies available for everyone with our safe personal electric aerial vehicle. The Jetson One, is a commercially available personal electric aerial vehicle that you can own and fly. We intend to make everyone a pilot."
ARTICLE LINKS: