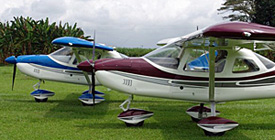 I am only aware of one company* in the USA that offers you a choice of a conventional three-axis fixed wing or a weight-shift control (WSC) flexwing. Why do this? Simple. Not all pilots want the same kind of aircraft and some of us like both kinds of flying.
It happens that the boys from Zephyr Hills airport have two interesting machines and you ought to know about them. "Boys" in this case refers to Abid Farooqui, Larry Mednick, and Phil Mednick; the latter are a son and father combo. Abid and Larry are trike guys while Phil is the fixed wing fellow and they display not only expertise, but as the impressive Revo development shows, they bring genuine creativity to the aircraft. This trio of talent operates several businesses, including a flight school.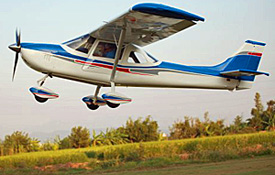 One company, Apollo Aircraft, offers the Columbian-designed Ibis Magic as well as the Apollo LSA (formerly Apollo Fox). This Florida company started by representing — indeed takes its name from — the Hungarian trike and fixed wing producer by that name; their representation of the European manufacturer started Tampa Bay Aerosports in the sales business. Along the way, Apollo Aircraft got more involved with aiding the manufacturer, an action they now apply to the Ibis Magic as they push the all-metal high wing through ASTM certification.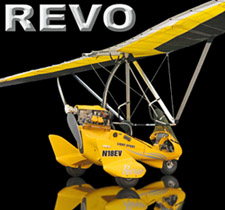 Another company, Evolution Trikes, offers the Revo, the latter being THE most stunning example of a weight shift among the many I've flown; and I don't say that lightly as some other WSC machines are superb. Many attributes of the Revo are surprising, such as this open-air cockpit providing cabin heat… and it works! The highly engineered Revo carriage (gear, cockpit, engine… that attaches to the wing) is closer to a Honda Goldwing touring motorcycle than the basic weight-shift trikes of the 1990s.
Evolution designed the rig and has components built in the USA by contractors near their home base. Formerly, Evolution worked with Powrachute, but they've since shifted to local resources to enhance quality control.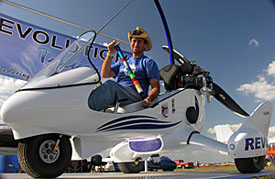 The Tampa Bay Aerosports operation offers trike instruction and handles maintenance plus customer support at Zephyr Hills Airport, located to the northeast of the Florida metropolis on the Gulf of Mexico. As proof of their effort, "Revo won the Grand Champion Light Sport Aircraft at the 2011 Sun 'n Fun airshow," boasted Larry. Now adding the Ibis fixed wing, this Florida enterprise can supply what American pilots may seek, and at prices most can afford.
* Though you probably didn't realize, Pipistrel — maker of sleek machines like Virus, Sinus, and Taurus fame — also makes a weight shift design.