At the season-ending DeLand Showcase 2021, I gave a keynote address on Saturday attended by airplane owners and sellers.


This is a slightly more condensed version of the talk I gave at the Midwest LSA Expo. Even if you've seen that video — part of this article, or seen on Dave Loveman's YouTube channel — this one covers the material in a different way.
Since the video below is only 35 minutes, this one can get you up-to-date quicker than the other, hour-long videos I've done on this important topic.
Every time I post about this subject, interest has been very strong, so going over the material again is worthwhile. At the end you'll hear questions from the audience that are the same as I hear over and again — training questions, inquiries about speed increases, and questions about whether a Sport Pilot can fly general aviation airplanes.
Let's Review…
Below you will see an information-packed slide that was shown as part of a presentation from FAA. The slide is only one of several FAA presented but this one has so much detail that it is worth reviewing again. Discussing this slide before the group at DeLand, I pointed out a few things in the video, such as:
Will LSA gain additional capabilities such as weight, speed, capacity, extra seats, retractable gear, in-flight adjustable props and more? Which of the new aircraft will Sport Pilots be allowed to fly? Answers are hinted but another division inside FAA called Flight Standards will decide.
"Rotorcraft" will be included. This suggests gyroplanes — finally to be approved as fully-built aircraft — but the term rotorcraft can imply accommodations for helicopters, too.
Aircraft that have received weight exemptions should no longer have to rely on exemptions. Those increased weights may now be incorporated into the regulation so the exemptions (intended as a short-term fix) can be ended.
New powerplant options will arrive in concert with the capabilities mentioned above.
A homebuilt sector with "greater range" is expected and with that a formalization of the professional build center concept that has been ongoing for some time.
The Big One — All these changes are subject to a mantra: Keep Light-Sport Aircraft "light and docile." What does that mean, exactly? In the video I touched on this several times. FAA wants industry and the flying community to define this. That means extra work for ASTM volunteers but permits us, the recreational flying community, to make decisions.
I'm pleased about much of what FAA proposes. These things have a way of changing in unexpected directions but since I've been listening to these rule writers for several years, I've gained confidence that most of the changes will be well received by pilots and manufacturers alike.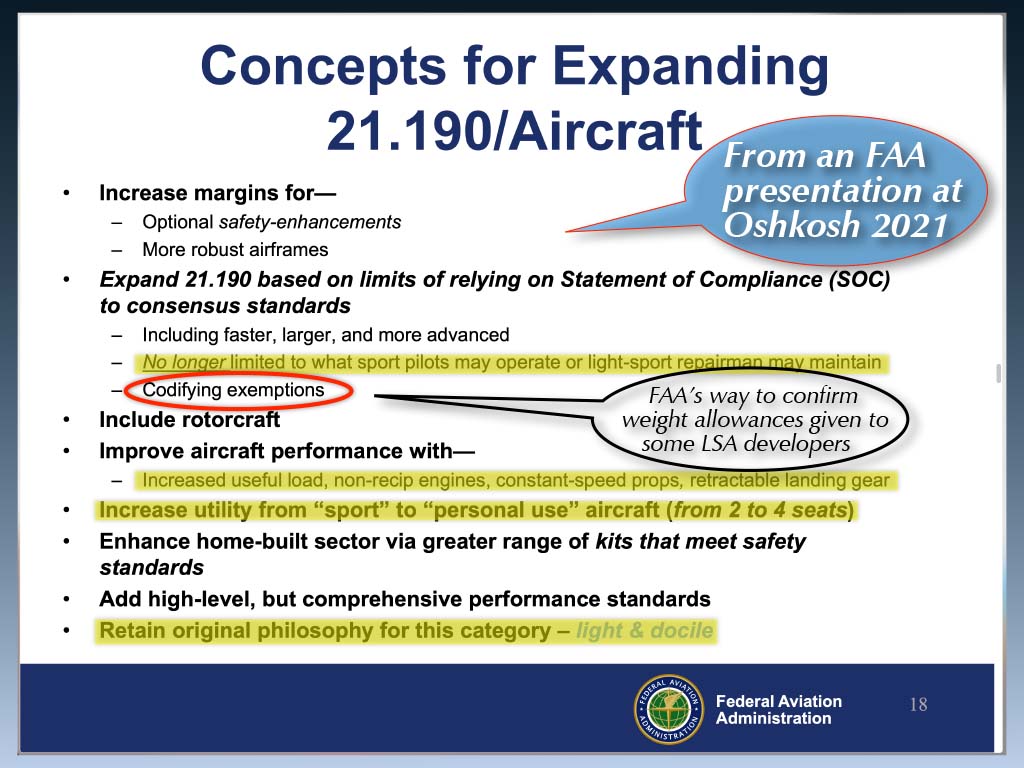 A Caution — Everything stated in the video or in these articles is subject to further interpretation and change. Until the Notice of Proposed Rule Making (NPRM) is released — I'm betting this will happen at AirVenture 2022 — everything here is "informed speculation." Follow the conversation, yes, but expect changes.
Now… let's get right to the video…


---
In the talk I often referred to the "training problem" and "LODAs," or Letters of Deviation Authority. For more on this subject, have a look at this article with video created by my advocacy partner, Roy Beisswenger, or this earlier report as the problem emerged.