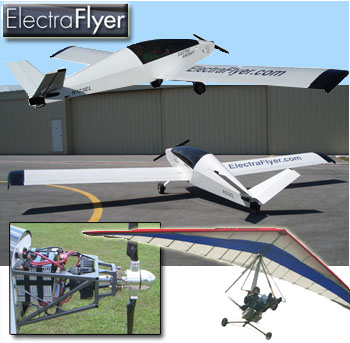 Randall Fishman's ElectraFlyer Trike pumped me up. As a trike enthusiast, my real interest is soaring. A lightweight trike with an electric motor offers real advantages (see my earlier SPLOG).
I want to climb high enough to find lift, shut off the power, and hop from thermal to thermal. To me, that's pure flying! An electric motor starts up readily if you lose the lift. It doesn't vibrate. It doesn't have smelly fuel or oil. It's quiet, other than a bit of prop noise. But was it powerful enough?
With his second project, Randall has again motivated me. The Moni he renamed ElectraFlyer C is a motor glider at heart. Again, an electric powerplant sounds perfect.
"You can fly for an hour and a half on less than $1.00 of power"…and that assumes you keep the power on. Randall and I will look each other up in Florida this winter and I'll investigate for a further report.
Fishman's project is not the only one. Sonex is also at work on ePower; another soaring enthusiast, Greg Cole, is electric powering his Sparrowhawk SL carbon motorglider; and the builder of the NASA-prize-winning Pipistrel is pursuing a two-seat electric-powered LSA.