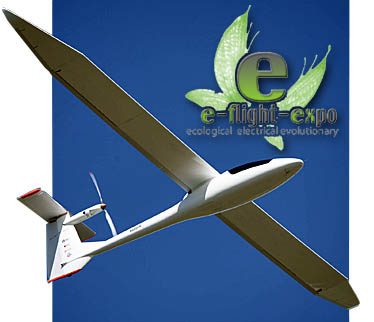 A new season of airshows is about to erupt now that April has arrived. Among all the gasoline-powered aircraft that show visitors can see will be a growing collection of electric aircraft. As I often repeat, the pioneering development of electric propulsion will come first in light aircraft … at least until batteries go through a major breakthrough in energy density, as today's best cells still weigh far too much for larger aircraft to use them effectively.
First up, in mere days, is the e-flight-expo, organized in cooperation with Flying Pages, the company operated by European publisher Willi Tacke who is well known for his Directory of Leisure Aviation.
Aero officials said "e-flight-expo will again be a major section at Aero Friedrichshafen 2015." They note that as in other industries such as automobiles and drones, electric power continues to gain in importance in the man-carrying aviation sector. "In order to better meet future sustainability requirements in aviation, alternative methods of propulsion are indispensable." As an alternative to conventional propulsion systems, electric propulsion aims to move away from increasingly expensive fossil fuels while also reducing environmental pollution and minimizing noise.


"The 'e' in e-flight stands for ecological, electrical, evolutionary to promote ecological sustainability and progress in aviation," added Aero promoters. In addition to a special exhibition for the e-flight expo, Aero will present dedicated e-flight lectures. "High caliber speakers will talk about the history and development of electric flight."
Immediately following Aero starts Sun 'n Fun 2015, making for a stuffed-full month for those of us that need to go to both events. Unfortunately that will exhaust my traveling for a while but otherwise I'd love to attend the CAFE Electric Aircraft Symposium at the very beginning of May.
On May 1st and 2nd, 2015, leading experts from around the globe will head to California — near Sonoma wine country — for the Ninth Annual CAFE Electric Aircraft Symposium or EAS IX. The gathering of electric aircraft engineers and developers represents a major aerospace scientific meeting to discuss and advance technologies pertaining to electrically powered aircraft.
"The diverse, international CAFE EAS faculty of innovators and visionaries will present graduate-level lectures on the latest breakthroughs that are enabling electric aircraft of all types," said CAFE organizers. "This meeting drives the design and building of transformative new aircraft and their propulsion, energy-storage, safety and guidance systems." For those interested in attending, registration is open now but they caution seating is limited.
"All of the ingredients for emission-free flight will be covered, including linkages to EV and driverless car markets, sustainability, solar and wind power, battery breakthroughs, 3D printing, civil and peaceful use of UAVs ('Sky Transit'), nanotechnology, and integration with high speed rail and hyper-loop," said CAFE. "This event will help define the future world of aviation."
The list of speakers includes several known to enthusiasts of light aircraft: Baraby Wainfain, a longtime writer in Kitplanes magazine; Calin Gologan of Electra One fame; Pipistrel engineer Tine Tomazic; and, Eric Raymond, creator of the Sunseeker Duo (nearby photos) and director of Solar Flight Inc.
Among the keynote presentations by an impressive collection of seasoned electric aircraft experts, topics will include:
5X battery breakthrough news from NREL, NTSB, and several universities
Highly advanced new aircraft motor designs
Swarming sentient and cooperative robots
Regional, zero-emissions "Sky Transit" without roads or rails
Affordable electric aircraft for general aviation
See how fueling your ePlane can work in this video of the CAFE Electric Aircraft Charging Station: