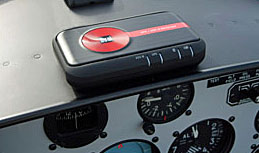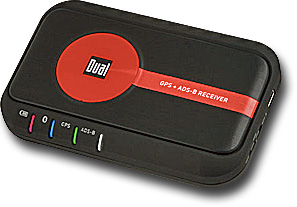 Aviation has embraced tablet computers like iPad to an extent no one would have imagined only three years ago. These devices are being used for far more than showing a sectional map or approach plates. In fact, with companies like Tecnam supplying Apple's iPad Mini as standard equipment in their new Astore LSA model, these tablets are serving as more than reference or information tools. They can now act as Primary Flight Displays. They can show weather and identify airborne traffic. I'm reasonably sure even the bright folks in Apple's engineering department never foresaw such a use, but their iPads can be seen all over the aviation spectrum.
To make tablets like iPad or those running Android more functional, we began to rely on panel top devices. Tablets and smartphones weren't designed to work aboard aircraft. One early leader with panel top gear was Dual Electronics, which formed an aviation division to market their capability. First came the XGPS150. The smaller receiver was inexpensive, just $100, and pulls in a GPS signal and sends it via bluetooth to your smartphone or tablet. I've used it aloft and while bike riding or hiking and it works great. By the way, Dual has some cool audio gear for your car, too (such is the company's original product line).
The physically larger model does a lot more and provides data to more than one device at a time. It captures ADS-B signals to gain weather and traffic plus GPS, selling originally for $799 although Dual was able to lower the price. Their website now promotes the XGPS170 for $699. I find it amazing to think that only a few years ago, when few pilots even knew what "ADS-B" meant, installations of the equipment were expected to cost tens of thousands of dollars. Only big iron would have them, many thought. Yet, market realities like iPad and Dual's receivers brought that stratospheric figure down so low that Light-Sport Aircraft and kit-built aircraft were some of the first to embrace these small pieces of equipment.
The latest development is that Dual Electronics recently announced their XGPS170 + ADS-B Receiver will play nicely with panel mounted EFIS systems from GRT Avionics, providing ADS-B weather and traffic information to selected GRT instruments via USB. "Being able to connect the XGPS170 directly to the panel is a definite advantage to the pilot. The value of seeing critical weather and traffic information on the primary instruments is obvious, but the added reliability and simplicity of a wired connection gives additional peace of mind," said Greg Lukins, a pilot and vice president at Dual Electronics. Fortunately, your iPad or Android tablet won't be left out of the game. XGPS170 can simultaneously wirelessly deliver the same data to two Apple or Android tablets. Dual says XGPS170 is the most widely supported ADS-B receiver, working with a growing number of apps, including: AOPA FlyQ EFB, Avilution, Bendix King myWingMan EFB, Flight Guide iEFB, Hilton Software WingX Pro7 and Naviator.