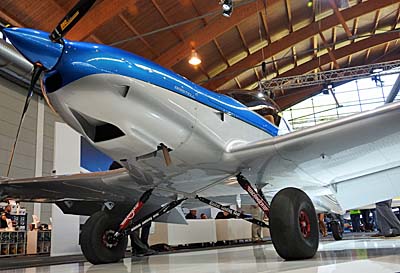 BRM Aero boss and chief design, Milan Bristela, has convincingly proven his visionary credentials. Here's an article about his company expansion over the last few years.
BRM has several models of their Bristell Light-Sport Aircraft. Most models are tricycle gear as that is how most pilot are trained these days. However, for those who love "standard" gear, that is, taildraggers, BRM Aero offers a choice that remains as sleek and beautiful as all their models.
The Taildragger option — or TDO, as BRM Aero named it — was introduced in 2013 and a year or so later it made its way to the USA thanks to the involvement of then-new distributor, Bristell Aircraft USA. While tricycle gear models still outsell TDO, it addresses a sweet spot for many pilots.
Milan has also built a retractable version (of the tricycle gear model) for those flying in countries where such configurations are permitted and where higher allowed speeds make adding the complexity and cost of retractable gear worthwhile. If you want to fly fast, BRM Aero can take you to the top of the LSA speed limit, whether tricycle or taildragger …or, in some countries, retractable tricycle.
Big Beautiful Bristell in the Bush
Bristell in all models features a handsome interior that is one of the widest among LSA. The model boasts a 50-inch (128 cm) wide cabin that should accommodate even large occupants without pressing them up against their cockpit companion.
All that space might be useful for another kind of enjoyment: bush flying, landing on river beds, camping …that sort of adventure.
For the new "bush" version of TDO, BRM again did a great job of finishing the interior, both in creature comforts (as seen in the nearby photo) or equipment.
To mount big Alaska tundra tires on their TDO, BRM teamed up with Beringer wheels and brakes — and shock absorber systems, and taildragger innovation, and more.
Milan's son Martin flew the big-boy-tire model from their home base in the south of Czech Republic to Friedrichshafen German in about four hours, averaging about 95 knots. This is certainly not as speedy as the more streamlined, wheel-pant-equipped versions but that's not a bad cruise.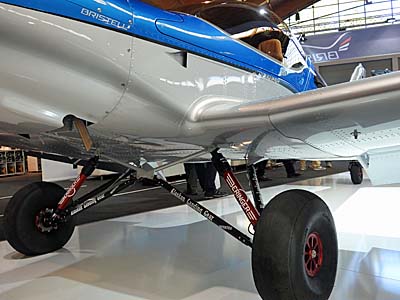 What's great about the Beringer/Alaska adaptation is that it follows Milan's mantra to keep as many new innovations as possible retrofittable to older models. That works here, too, but owners get a bonus.
Through the design of this Bush TDO model, Milan made sure a mechanically-savvy owner can switch back and forth. Use your fiberglass gear and wheel pants to go fast for travel but swap to bush mode when you want to fly for fun on the weekend, maybe at your cottage. Cool, huh? What wonderful versatility.
Bristell Never Slows Down
BRM celebrated reaching 300 aircraft barely a year ago, and Milan said they are already at serial number 365 by mid-April 2018. This company is obviously doing very well and their continued inventiveness paired with good looks and high quality is clearly drawing new customers at a steady pace.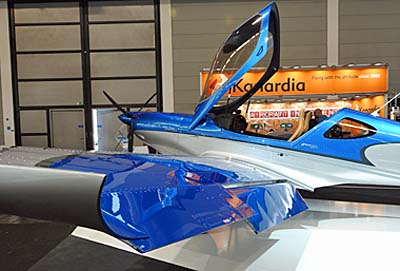 U.S. representation is very strong with Bristell USA run by industry veteran — and inventor of the famous "Landing Doctor" technique for always making good touchdowns — Lou Mancuso. He has assembled a qualified team to work with him including John Rathmell and John Calla.
With such a speedy aircraft, some buyers have asked about flying with reference to instrument. Lots of LSA sellers shy away from such sales (and if they do, that's probably appropriate for them). However, Bristell USA has researched this and is willing to offer a suitably and properly equipped aircraft. Learn more from a flight I took with Bristell USA team member, John Rathmell or, if you prefer, hear it on video.
Despite being one of the newer companies in Light-Sport Aircraft (formed in 2009), BRM and its Bristell appear on course to remain a major contributor to this newest sector of aviation.
Now, get the words directly from the boss, Milan Bristela at Aero Friedrichshafen 2018…